| | |
| --- | --- |
| Tigers pull off the almost impossible to gain first ACC win | |
---
| | | |
| --- | --- | --- |
| Saturday, January 10, 2015, 2:18 PM | | |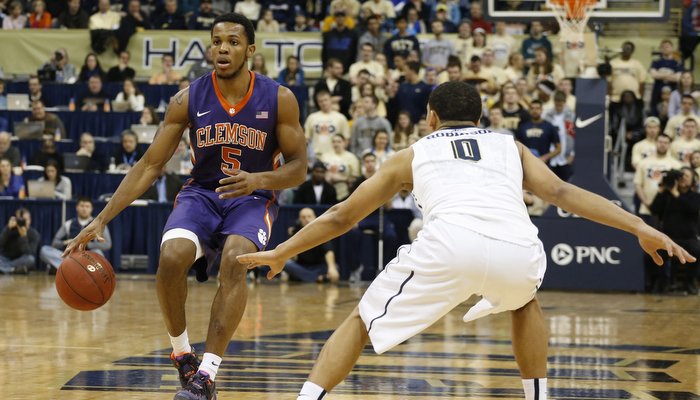 Clemson didn't pull off the impossible Saturday afternoon, but what they accomplished is something that has been historically tough to do.
Clemson (9-6 overall, 1-2 ACC) avoided an 0-3 start in the ACC for the first time since the 1999-2000 season and denied Pittsburgh (11-4 overall, 1-2) head coach Jamie Dixon his 300th career victory in upsetting the Panthers 71-62 at the Petersen Events Center Saturday afternoon. The win was the 250th victory for Clemson head coach Brad Brownell.
Jaron Blossomgame

Jaron Blossomgame
RS So. Forward
#5 6-7, 215
Alpharetta, GA
View Full Profile led the Tigers with 18 points, 12 of those in the critical second half. Rod Hall

Rod Hall
Sr. Guard
#12 6-1, 205
Augusta, GA
View Full Profile added 12 as eight different Tigers scored points. Sidy Djitte

Sidy Djitte
So. Center
#50 6-10, 240
Fayetteville, NC
View Full Profile had eight and Josh Smith

Josh Smith
Jr. Forward
#33 6-8, 245
Charlotte, NC
View Full Profile added seven for the Tigers, who got 23 bench points.
The Panthers are tough to beat at home – heading into the contest Pitt was 7-0 this season at the Petersen Events Center, owned a 200-27 all-time record and was 79-24 against league foes. Pitt had won 129 of its last 181 overall games, 278 of its last 372 contests, 119 of its last 181 league regular season games and 163 of its last 179 non-conference games.
Clemson shot 47.1-percent from the field (24-51), hit 13-of-17 free throws (76.5-percent) and were 8-of-18 (44.4-percent) from beyond the arc. Seven players scored at least three points.
"I'm really proud of my players," Clemson coach Brad Brownell said. "I thought we competed extremely well. Tonight, [we] came back off a tough loss at Louisville. I thought we played really well. We had a late start, and got back really late. We didn't practice much on Thursday—actually didn't do anything. Then we came here having travel problems. To wake up and compete as hard as we did was a testament to how hard our [players] want to win this game. I just thought we played really well. We made shots, which we haven't done in a long time. We executed really well in a lot of different areas. Mixing our defensive [styles] up was effective and we beat a very well-coached team today."
The Panthers pulled to within seven at 69-62 on three free throws by James Robinson with 35 seconds remaining, but Landry Nnoko

Landry Nnoko
Jr. Center
#35 6-10, 255
Montverde, FL
View Full Profile and Hall each hit a free throw apiece over the final half minute and the Tigers were able to claim their first ACC win.
The Tigers opened the second half with a three-pointer by Donte Grantham

Donte Grantham
Fr. Forward
#15 6-8, 205
Martinsburg, WV
View Full Profile , but Pitt wouldn't go quietly as the Panthers went on a 13-5 run over the first seven minutes of the second half to tie the game at 44-44 with 13:46 to play in the game.
Center Landry Nnoko was forced to the bench because of foul trouble midway through the second half, but the Tigers received critical minutes from both Djitte and Smith. Djitte helped fuel a 12-2 run with four points and the Tigers went back ahead at 56-46 with eight minutes remaining.
The lead swelled to 11 at 60-49 on a layup by Djitte with 5:52 remaining, However, Pitt's Chris Jones hit a three to make it 65-59 with 1:50 to go to seemingly give the Panthers new life.
A free throw by Hall and a 3-pointer by Blossomgame gave the Tigers a 10-point lead at 69-59 with 41 seconds remaining in the game.
Clemson had arguably its best first half of basketball in recent memory as the Tigers led by as much as 11.
The teams traded baskets over the first six minutes of the game before a jumper by Cameron Wright gave the Panthers a 14-11 lead with 13:41 to play in the opening half.
However, Clemson went on a 15-5 run over the next eight minutes to open up a 31-19 lead with just over three minutes to play in the half, but the Panthers would battle back to make it a five-point game at 36-31 at intermission.
"We didn't play really well the first four minutes defensively," Brownell said. "We tried something different, with screens, and made a mistake on our part because we didn't practice it. We were just a half-step slow so we went to zone [defense] to see if it would slow the game down, and if it would help us. It did. Then we started playing well offensively. When our guys play well and produce like they did today, it energizes [the starters]."
Clemson had eight different players score during the first half – the Tigers had 16 points off the bench – and was led by Jordan Roper

Jordan Roper
Jr. Guard
#20 6-0, 165
Columbia, SC
View Full Profile with eight points and Josh Smith with six.
The Tigers return to action when they travel to Charlottesville to take on Virginia in an 8 p.m. tipoff.
Team Notes
• Clemson won its first ACC game of the season Saturday at Pittsburgh. It is the sixth time since 2000 that the Tigers started ACC play 0-2 but won their third conference game.
• The Tigers won at Petersen Events Center, a venue that had seen the Panthers post a 200-27 record prior to Saturday.
• Clemson's win was just the 25th by a conference opponent in the history of Petersen Events Center
• The win was Brad Brownell's 250th as a head coach. He now has a 250-149 record in his 13 seasons.
• Clemson's win Saturday was its first in four tries against the Pitt program. The Panthers won the first meeting in 1958, and both last season in Pitt's first ACC season.
• Clemson won the rebound margin with a +17 figure. It was the largest rebound advantage over Pittsburgh since Georgetown had the same mark on Jan. 23, 1999.
• The Tigers outscored Pitt's bench by a 23-7 figure. It was Clemson's largest advantage in bench points since the season opener.
• Clemson's .471 shooting percentage was its highest since the Gardner-Webb game, the Tigers' third contest of the season.
• The Tigers made 8-of-18 three-pointers Saturday, tying their season-high for a game.
• Clemson's 15 assists matched a season high, achieved first vs. Oakland on Dec. 22.
Individual Notes
• Jaron Blossomgame led the Tigers in scoring with 18 points; he has scored double figures in 12 straight games and 14 out of 15 overall.
• Blossomgame has made eight of his last 13 three-point attempts after starting the year just 2-for-21.
• Rod hall added 12 points and four assists Saturday; with the four assists, he now has 338 for his career to move into 12th place on Clemson's all-time list.
• Hall matched his career high with seven rebounds, set last year vs. Maryland in double overtime.
• Donte Grantham was 3-for-6 from three-point range to match his single-game high, first achieved against LSU on Nov. 24.
• Damarcus Harrison made a pair of three-pointers Saturday and his streak has reached 11 straight games with at least one make.
• Jordan Roper hit multiple three-point goals in the first half, the first time he has hit more than one since the season opener.
• Josh Smith set a career high with seven points Saturday; he made 2-of-4 field goals and 3-of-4 at the line.
• Sidy Djitte matched his career high with eight points on 4-of-5 field goals. He added seven rebounds in an active 14 minutes.