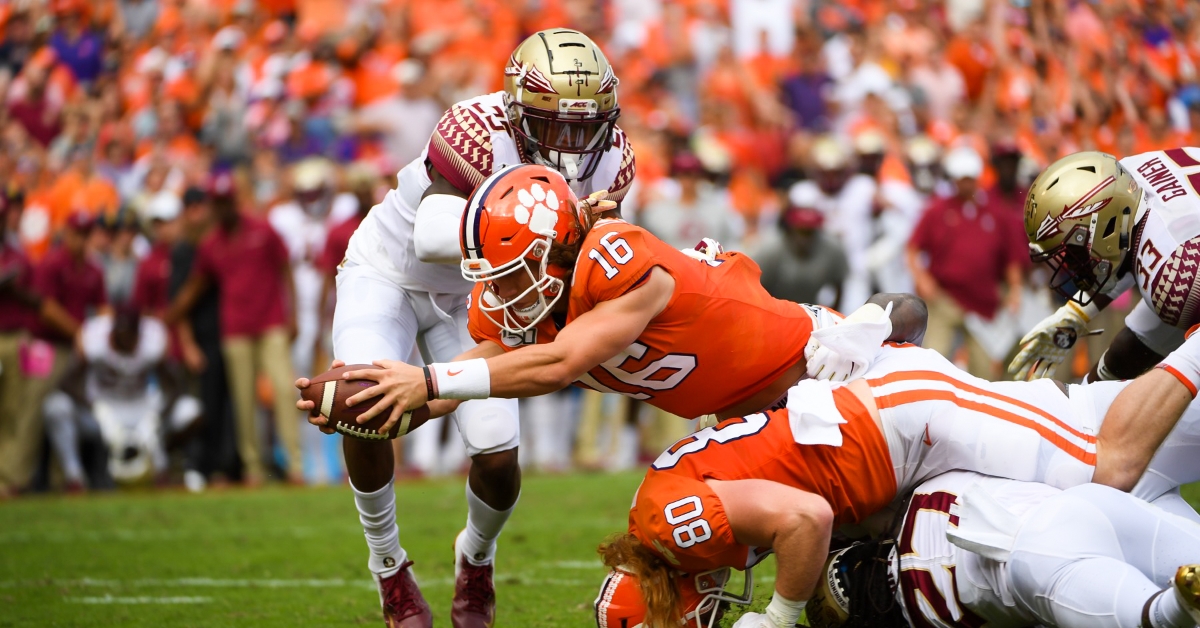 | | |
| --- | --- |
| Twitter reacts to Clemson's impressive half vs. FSU | |
---
| | | |
| --- | --- | --- |
| Saturday, October 12, 2019, 5:22 PM | | |
No. 2 Clemson is up 28-0 against Florida State at halftime on Saturday afternoon.
Clemson has 367 total yards while Florida State has only 63.
Trevor Lawrence is currently 17-for-25 for 170 passing yards with three passing touchdowns and one interception. He also has an 8-yard rushing score.
Twitter users were impressed by the Tigers' offense and obviously the shutout on defense.
This was me thinking Florida State had a chance to beat Clemson after 3 solid weeks of improvements and a bye week ???? pic.twitter.com/tnuOvJSGCk

— Chris MFTK Guthrie?? (@chrisguth1389) October 12, 2019
Look I'm no coach, so maybe this isn't much help, but my advice to Willie Taggart at the half would be to leave early and get ahead of the line at Smokin' Pig. No need to stick around for the second half.

— THE™? David Hale (@ADavidHaleJoint) October 12, 2019
Make that TWO years in a row 0-28 to Clemson in the FIRST HALF.

THIS IS NOT FSU FOOTBALL.

Fire everyone. Clean slate. Start from scratch.

— FSUeyedoc (@FSUeyedoc) October 12, 2019
Six years ago FSU won at 3rd ranked Clemson 51-3. My, how times have changed.

— Brent Martineau (@BrentASJax) October 12, 2019
https://t.co/4iNzpOfNeZ pic.twitter.com/P9BWQgxGJE

— #1 Barstool Clemson (@BarstoolClemson) October 12, 2019
Too early to say this, but cannot believe Clemson was just -16 for the first half. I get taking FSU for the game because garbage time potential, but 1st half, angry Clemson off a bye, no Janarius Robinson 1H, wild.

— Bud Elliott (@BudElliott3) October 12, 2019
Hardees has a giveaway if Clemson gains over 400 yards of offense you get a free sausage biscuit with ticket stub. Get busy making sausages, Hardees!

— Corey Clark (@Corey_Clark) October 12, 2019
Probably not the ideal time for FSU to face a pissed off Clemson team coming off a bye....

— Danny Kanell (@dannykanell) October 12, 2019
Clemson is a Ferrari. FSU is a Chrysler.

— A (@Noles_AJ) October 12, 2019
Clemson leads #FSU 14-0 at the end of the first quarter. Travis Etienne has more passing yards (23) than James Blackman (17) or Alex Hornibrook (20) and more rushing yards (55) than the Seminoles have total yards (45). Rough start.

— Tashan Reed (@tashanreed) October 12, 2019
Before today, it had been 19 years since a Clemson quarterback had rushed for a touchdown in five of the first six games of a season.

2000 Woody Dantzler ?2019 Trevor Lawrence pic.twitter.com/G2hGhOOnvH

— Clemson Football (@ClemsonFB) October 12, 2019
So Clemson is going Clemson today.

— Tom Fornelli (@TomFornelli) October 12, 2019
Guess Clemson got some stuff cleaned up since that trip to Chapel Hill.

— Andy Staples (@Andy_Staples) October 12, 2019
Pretty much every legitimate criticism of Clemson's offense has been addressed today. Committed to the run, spreading the ball to weapons, looking to dictate.

— William Qualkinbush (@QualkTalk) October 12, 2019
Clemson looks like it has reached the Stop Screwing Around part of the season.

— Pat Forde (@YahooForde) October 12, 2019
FSU fans can take solace that the Noles aren't giving away the game. Lawrence is just throwing absolutely dimes. Clemson earning every bit of this blowout.

— Bud Elliott (@BudElliott3) October 12, 2019