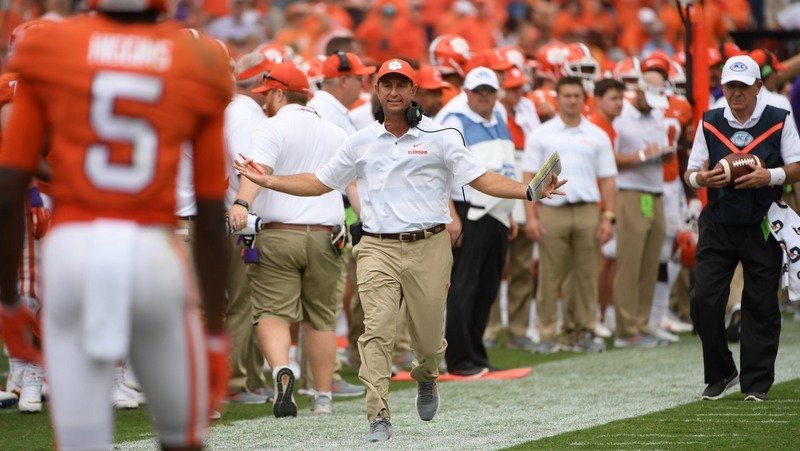 | | |
| --- | --- |
| Swinney expecting more from punting game | |
---
| | | |
| --- | --- | --- |
| Monday, November 12, 2018, 9:14 PM | | |
Clemson coach Dabo Swinney was asked about some struggles in the punting game on his radio call-in show Monday.
In more traditional measures, Clemson is rated 93rd in yards per punt (39.3) and 99th in net punting average (35.7) - also rating 94th in punting efficiency per SB Nation with a 52.5 success rate on attempts.
Sophomore Will Spiers' punting average has gone down by over a full yard (40.6 to 39.3) season to season, coinciding with a drop in the rate of punts being fair caught or landing inside the 20 (73 percent in 2017; 67.5 in 2018 per SB Nation).
"Sometimes people look at stats with punting and it can be incredibly misleading," Swinney said. "For us, we play on a short field most of the time. Lots of our punts are more pinning them instead of flipping the field. Occasionally we get those. At Wake Forest we hit one about 60 yards and bombed it and (flipped the field). When we get those, that's the one area where we need to be more consistent. We do a good job of pinning them. And we've done a good job coverage-wise for the most part."
Swinney said the punt return touchdown versus Boston College fell on the coverage group.
"That night the weather was bad and we knew it and went to more of a rugby punt," said Swinney. "We got it executed the way we wanted and just relaxed on it and the returner thinking he wasn't going to catch the ball...We didn't do a good job there."
The Tigers head coach says there's no question with who he will run out at punter moving forward.
"I definitely think that Spiers is definitely our best punter. He's incredibly talented," Swinney said. "The biggest thing with Will is just taking it to the game field. That's the biggest thing. He has got a huge leg. Honestly when it's all said and done, I think he will leave here as one of the best we've ever had. He's a young player. He's still a kid who really wasn't a punter in high school - more an athlete and played quarterback and ran out there and punted it. He's still getting more consistent with his process and things like that.
"I think he's got a ton of potential... It's critical to be able to flip it when we need to. Hopefully we will get better and become a little bit more consistent."