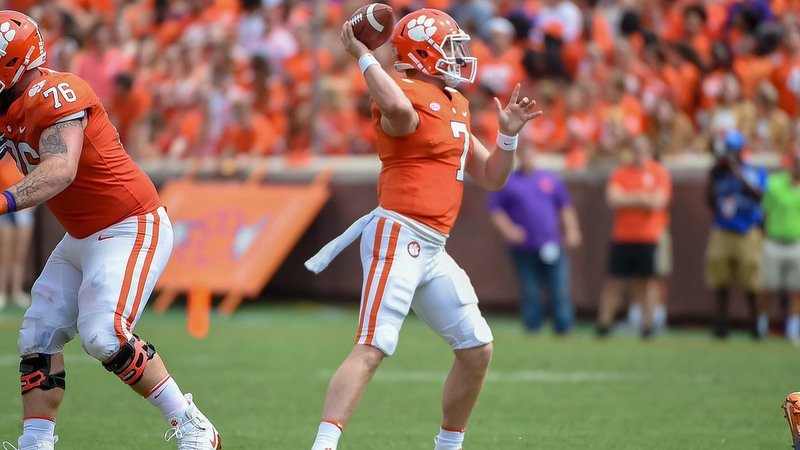 | | |
| --- | --- |
| Playing time breakdown: Tigers turn to bench with injuries, absences | |
---
| | | |
| --- | --- | --- |
| Monday, October 1, 2018, 7:02 PM | | |
A week after a full 72-man travel roster saw action at Georgia Tech, the rotation looked very different in Death Valley versus Syracuse, for a variety of reasons.
Noting some of the movement (full depth chart-plus listed below):
* Redshirt freshman quarterback Chase Brice played more than double his career-high total in snaps (49) due to new starter Trevor Lawrence's second-quarter injury. Four of Brice's seven completions were chunk-pass plays (15-plus yards).
* Travis Etienne added a career-high 47 snaps (previous best of 35 versus NC State last year) to the same new bests in yards (203), carries (27) and rushing touchdowns (3).
* The Clemson receiver rotation narrowed to seven contributors with the starters all topping 60 snaps for the first time this season. Cornell Powell (academic issue) and Diondre Overton (coaches' decision per Jeff Scott) did not play. Freshman five-star prospect Justyn Ross played a career-high 25 snaps, seeing four targets with three catches for 40 yards.
* With starting right tackle Tremayne Anchrum out early due to injury (ankle), redshirt junior Gage Cervenka stepped in on a shuffled O-line mix and made an impact - particularly in the running game - with his career-best 58 snaps. The starting quartet of Mitch Hyatt (85), Sean Pollard (85), John Simpson (79) and Justin Falcinelli (75) all played 75 or more snaps.
* Freshman tight end Braden Galloway played his fourth game of the season and was in on some crucial plays down the stretch. He played his second-most snaps of the 2018 campaign (9).
* It's noted below but we are five games into the season and therefore some redshirt calls are officially in (played more than four games) with most being no-brainers in Xavier Thomas, Trevor Lawrence, Ross, Derion Kendrick, Kyler McMichael and B.T. Potter. McMichael was called into duty with Trayvon Mullen's injury (ankle) and he posted a tackle in his 28 snaps. Thomas grabbed the game's lone sack and has played double-digit snaps in four of his five games (20 per in the last two, with 6 tackles and a sack).
* Clemson paired down its rotation as much as anywhere at linebacker versus Syracuse's uptempo scheme, with Kendall Joseph returning from injury to lead the way (62; 12 tackles) in a 5-man group (from nine at Georgia Tech).
* In his 67 plays, sophomore first-year starter A.J. Terrell saw plenty of action, totaling three stops, Clemson's first interception this season and a pass breakup.
Here's a larger look at week five on the Clemson participation report:
Clemson snaps breakdown: Syracuse
(Players assigned positionally by place on the depth chart; the initial participation report is provided by Clemson and represents all non-special teams snaps; season totals in parentheses; this breakdown notes all depth chart contributors and select scholarship players)
Offense (23)
Quarterback (2): Chase Brice 49 (74), Trevor Lawrence 35** (155).
Running Back (3): Travis Etienne 47 (164), Tavien Feaster 21 (74), Adam Choice 14 (81).
Wide Receiver (7): Amari Rodgers 68 (212), Hunter Renfrow 65 (203), Tee Higgins 62 (209), Justyn Ross 25 (83), Derion Kendrick 11 (62), Trevion Thompson 10 (90), T.J. Chase 3 (40).
Tight end (3): Garrett Williams 47 (144), Milan Richard 28 (128), Braden Galloway 9 (35).
Offensive Line (8): Mitch Hyatt 85 (295), Sean Pollard 85 (220), John Simpson 79 (286), Justin Falcinelli 75 (254), Gage Cervenka 58 (132), Cade Stewart 29 (123), Tremayne Anchrum** 6 (222), Matt Bockhorst 6 (60).
Defense (21)
Defensive End (4): Clelin Ferrell 61 (229), Austin Bryant 60 (218), Xavier Thomas 17 (71), Logan Rudolph 6 (42).
Defensive Tackle (5): Christian Wilkins 50 (188), Dexter Lawrence 48 (175), Albert Huggins 22 (128), Nyles Pinckney 14 (105), Jordan Williams 2 (13).
Linebacker (5): Isaiah Simmons 61 (236), Tre Lamar 54 (186), Kendall Joseph 62 (201), J.D. Davis 22 (138), Jalen Williams 3 (67).
DB (CB/S/NB - 7): K'Von Wallace 69 (238), A.J. Terrell 67 (250), Tanner Muse 57 (207), Trayvon Mullen** 57 (207), Kyler McMichael 28 (40), Denzel Johnson 22 (96), Nolan Turner 14 (94).
Special teams-only: DE Justin Foster (60), LB Shaq Smith (48), TE J.C. Chalk (30), LB Judah Davis (28), RB Lyn-J Dixon (28), TE Cannon Smith (25), LB Chad Smith (25), LB Baylon Spector (20), CB Mario Goodrich (15).
Did not play (non-true freshmen): CB Mark Fields (110), WR Diondre Overton (66), WR Cornell Powell (65), DT Xavier Kelly (40), CB LeAnthony Williams (38), OL Zach Giella (35), OT Chandler Reeves (27), James Skalski* (23), OL Blake Vinson (23), DE Chris Register (13).
(Fields was out due to violation of team rules; Powell was out for an academic issue)
True freshmen participation (8): Xavier Thomas 5 games, Trevor Lawrence 5, Justyn Ross 5, Derion Kendrick 5, Kyler McMichael 5, B.T. Potter 5, Braden Galloway 4, Lyn-J Dixon 4, Mario Goodrich 4, Jackson Carman DNP (3), K.J. Henry DNP (3), Jordan McFadden DNP*** (1). Darnell Jefferies DNP (0), Jake Venables DNP (0), Ben Batson DNP (0), Mike Jones Jr. DNP (0), Justin Mascoll DNP (0).
* Expected to redshirt (can play in four games; has played in one).
** Missed significant time or was out due to injury.
*** Did not play.
Snaps by week

Upgrade Your Account
Unlock premium boards and exclusive features (e.g. ad-free) by upgrading your account today.
Upgrade Now

Tags: Clemson Football
,
Chase Brice
,
Trevor Lawrence
,
Travis Etienne
,
Cornell Powell
,
Diondre Overton
,
Justyn Ross
,
Braden Galloway
,
Xavier Thomas
,
Derion Kendrick
,
Kyler McMichael
,
Trayvon Mullen
,
Kendall Joseph
,
AJ Terrell
,
Tavien Feaster
,
Adam Choice
,
Amari Rodgers
,
Hunter Renfrow
,
Tee Higgins
,
Trevion Thompson
,
TJ Chase
,
Garrett Williams
,
Milan Richard
,
Mitch Hyatt
,
Sean Pollard
,
John Simpson
,
Justin Falcinelli
,
Gage Cervenka
,
Cade Stewart
,
Tremayne Anchrum
,
Matt Bockhorst
,
Clelin Ferrell
,
Austin Bryant
,
Logan Rudolph
,
Christian Wilkins
,
Dexter Lawrence
,
Albert Huggins
,
Nyles Pinckney
,
Jordan Williams
,
Isaiah Simmons
,
Tre Lamar
,
J.D. Davis
,
Jalen Williams
,
Tanner Muse
,
Denzel Johnson
,
Nolan Turner
,
Justin Foster
,
Shaq Smith
,
JC Chalk
,
Judah Davis
,
Lyn-J Dixon
,
Cannon Smith
,
Chad Smith
,
Baylon Spector
,
Mario Goodrich
,
Mark Fields
,
Xavier Kelly
,
LeAnthony Williams
,
Zach Giella
,
Chandler Reeves
,
Blake Vinson
,
Chris Register
,
Jackson Carman
,
Jordan McFadden
,
Darnell Jefferies
,
Jake Venables
,
Ben Batson
,
Justin Mascoll
,
Jeff Scott