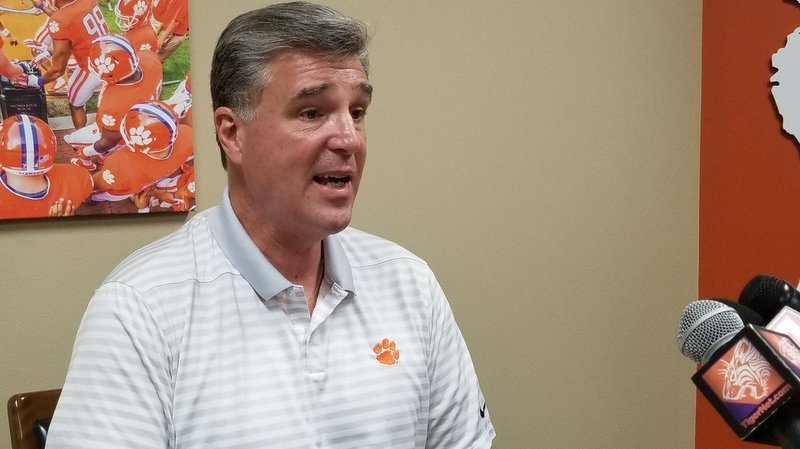 | | |
| --- | --- |
| Clemson AD reaches out to SEC AD for potential future series | |
---
| | | |
| --- | --- | --- |
| Tuesday, October 22, 2019, 8:57 PM | | |
Social media can sometimes bring conversations you would never see to a public platform. Tuesday evening, Florida athletic director Scott Stricklin put out a call on Twitter for a quality, future home-and-home series with a Power 5 conference team.
Clemson's Dan Radakovich answered with the Tigers' interest:
Hey @ScottStricklin .... Call me !Clemson would enjoy a visit to the Swamp and I am sure the Gators would like a visit to the original Death Valley...37-38?? pic.twitter.com/kuXvQ5W0yF

— Dan Radakovich (@ClemsonDRad) October 22, 2019
Now we're onto something!
?? v. ?? https://t.co/zgPTl6xuam

— Graham Neff (@GrahamNeff) October 23, 2019
Of course, that would be a long ways off due to some more headliner games already set in motion for Clemson.
Clemson has dates with Notre Dame set for 2020 (away), 2022 (away), 2023 (home), 2027 (home), 2028 (away), 2031 (home), 2034 (away) and 2037 (home). Outside of the South Carolina series, Clemson also has series with Georgia (2024 in Atlanta; 2029 at home, 2030 away, 2032 away and 2033 at home), LSU (2025 at home and 2026 away) and Oklahoma (2035 at home and 2036 away).
Clemson and Florida have not met since 1961 and the Tigers have a 3-9-1 all-time record versus the Gators.
Thanks Dan. Gators would love a H/H with Clemson … any chance we could do it sooner? 17 years is a long time to wait. https://t.co/X3W1rCBtKB

— Scott Stricklin (@ScottStricklin) October 23, 2019
Thx Scott ... have a couple of your SEC pals ( UGA and LSU ) plus the Irish and the Sooners already inked. Wish you had called earlier....but as we know things sometimes change...the Gators are now at the top of the call list !!!

— Dan Radakovich (@ClemsonDRad) October 23, 2019
Mr.Stricklin I'm sure the Clemson Tigers would love come to the swamp and play and also have the gators come play at the real Death Valley https://t.co/GmYwAyDkbt

— Cj Spiller (@CJSPILLER) October 23, 2019