TigerNet

is the oldest and largest Clemson Community online with 155,295 members, 59,359 news articles and 29M forum posts.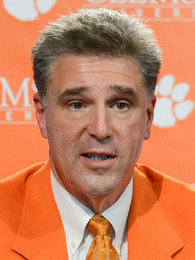 Dan Radakovich
| | |
| --- | --- |
| Position: | Director of Athletics |
| Born: | June 9, 1958 in Alliquipa, PA |
| College: | 1980 graduate of Indiana (PA); MBA from Miami (FL) in 1982. |
B I O
It has not taken long for Clemson fans to understand the level of respect Dan Radakovich has on a national level. Just seven months after he opened his McFadden Building door, he was named by NCAA President Mark Emmert as one of 10 athletic directors from around the nation to a new advisory commission that will be charged with making recommendations as to the future of NCAA rules and policies.

Radakovich became Clemson's 13th director of athletics on December 1, 2012. He came to Clemson with a wealth of experience after serving in significant athletic administrative roles at Miami (FL), Long Beach State, South Carolina, and Louisiana State in addition to athletic directorships at American University and Georgia Tech. His athletic administrative career spans over 25 years.

Radakovich came to Clemson from nearby Georgia Tech, where he served with distinction for six years (2006-12). Just Clemson's fifth athletic director since 1940, he replaced Terry Don Phillips, who retired after over 10 years directing the Tiger program.

"Dan Radakovich understands the academic, business, and competitive aspects of college athletics," said Clemson President Jim Barker in making the announcement of his appointment on October 29, 2012.

"He knows what it takes to win championships, he has a proven track record in fundraising and revenue growth, and he is committed to compliance and student-athlete welfare. He has been successful in the ACC and SEC, and he is known and respected among coaches and athletic directors nationwide."

The Tiger program had a strong finish to the 2012-13 academic year under his guidance. The program finished with eight different teams achieving top-25 status. There were two ACC Championships recorded by the women's track program. Both indoor track teams had top-25 finishes and both tennis teams had top-25 finishes in the spring.

During his career at Georgia Tech, the Yellow Jackets had 51 teams advance to either NCAA Tournament play or bowl games in his six years. That includes five sports (football, women's basketball, softball, women's tennis, men's golf) that made the postseason every year that he was in Atlanta. The baseball program missed just once.

Eleven different sports programs finished in the top 25 of at least one major poll 27 times. That includes a National Championship women's tennis program in 2007, just the second NCAA team title in school history. There were 14 ACC titles celebrated in addition to nine regular-season conference or division titles.

The football program played in a bowl game each year he was at Georgia Tech, including the 2010 Orange Bowl, the program's first BCS-level bowl appearance since the 1967 Orange Bowl.

On an individual basis, the program had 51 first-team All-Americans in 10 different sports, 30 academic All-Americans, two national coach-of-the-year selections, and two national player-of-the-year selections. The program had 13 ACC Coach-of-the-Year and 13 ACC Player-of-the-Year choices as well.

The construction of new facilities or upgrades to existing ones was a focus of Radakovich's tenure with the Yellow Jacket program and it certainly will be at Clemson as well. The John & Mary Brock Football Practice Facility, which opened in 2011, and McCamish Pavilion, which opened for basketball in 2012, are two of the top facilities of their kind in college athletics.

Radakovich also saw the completion of Shirley Clements Mewborn Field, home for Georgia Tech's softball program, which was unveiled prior to the start of the 2009 season. The Zelnak Center, a practice facility for Georgia Tech basketball, was in place prior to the start of the 2009-10 season.

Other facility upgrades under Radakovich include the transformation of Georgia Tech's former football locker room on the ground floor of the Edge Athletic Center into a new Technology Center, which benefits academic support services for all student-athletes, and cosmetic and functional improvements to Bobby Dodd Stadium.

Radakovich also initiated the Athletic Director's Initiative Fund, started in 2006, which raised cash and pledges of more than $12 million.

The native of Alliquipa, PA was first made aware of Clemson athletics through the basketball exploits of Butch Zatezalo, who was also from the same town. Zatezalo was a three-time All-ACC player whose legendary 25-point scoring nights received a lot of attention in Pennsylvania in the 1960s when Radakovich was a youth.

Prior to his tenure at Georgia Tech, Radakovich worked as a senior associate athletic director at Louisiana State from 2001-06. He had many responsibilities that dealt with the football program and worked closely with then Head Coach Nick Saban, including the year the Tigers won the National Championship (2003).

Radakovich became a director of athletics for the first time at American University in Washington, D.C. in 2000.

Between 1994-00, Radakovich served as chief financial officer at South Carolina. During that time, he worked with current Clemson football administrators Woody McCorvey and Brad Scott.

Radakovich gained experience on the West Coast from 1989-94, when he was a senior associate athletic director with the Long Beach State program. He got his start in administration at Miami (FL) in 1983 as the athletic business manager.

His resumé includes experience in private business in the early 1980s, working in the Miami area for Ernst & Whinney CPA firm, The Travelers Insurance Company, and Margaretten & Company, a mortgage banker.

Radakovich is a 1980 graduate of Indiana (PA), where he earned a bachelor of science degree in finance. He was also a football letterman and student coach with the Crimson Hawk program. He was enshrined into the Beaver County Sports Hall of Fame in 2008 and was recognized as a distinguished alumnus from Indiana (PA) in 2009.

He earned his master's degree in business administration from Miami (FL) in 1982.

Radakovich, born on June 9, 1958, and his wife, Marcie, have two children, Christian (23), a 2012 Georgia Tech graduate, and Grant (19), a student-athlete who plays football at Mercer.


*Courtesy Clemson Media Guide
| | |
| --- | --- |
| | VIDEO HIGHLIGHTS |
Latest Dan Radakovich News
Dickie V -

Click the link below to read more!