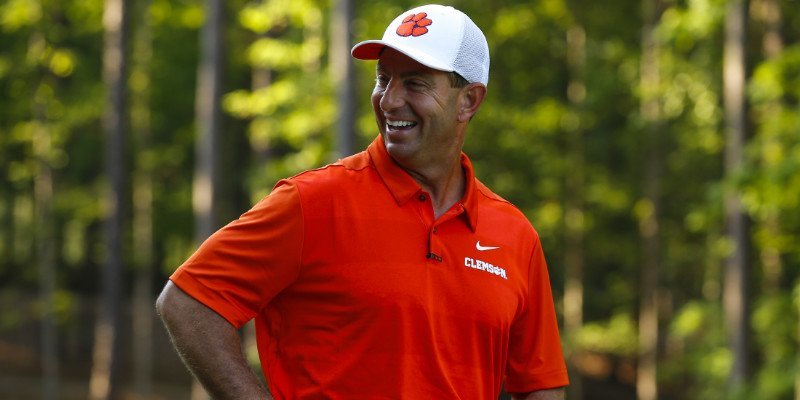 | | |
| --- | --- |
| Chick-fil-A Peach Bowl donates $75K to Clemson Charities | |
---
| | | |
| --- | --- | --- |
| Saturday, May 4, 2019, 5:09 PM | | |
Atlanta (May 2, 2019) – Clemson head coach Dabo Swinney and current assistant football coach Bill Spiers earned $75,000 in scholarship and charity from the 2019 Chick-fil-A Peach Bowl Challenge charity golf tournament, raising Team Clemson's all-time winnings from the event to $300,000. The $75,000 from the duo's top-three finish in this year's tournament, as well as Bill Spiers' victories in the celebrity division of the Closest to the Pin and Long Drive competitions, will be split equally between Dabo's All In Team Foundation and an endowed scholarship at Clemson University.
Dabo's All In Team Foundation aims to raise awareness of critical education and health issues in order to change lives of people across the state of South Carolina, concentrating on Breast Cancer Research, The Phoenix Center, The Rise Program, Call Me Mister Program, and grants based on need and fit within the foundation's mission statement and focus areas.
The Chick-fil-A Peach Bowl Challenge is the country's premier head coach and celebrity charity golf event featuring NCAA head coaches and former athletes and celebrities from the same school competing against their rivals, all for scholarship and charity.
Following its mission to support scholarship and charity at all levels, Peach Bowl, Inc. through its Chick-fil-A Peach Bowl Challenge will pay out a total of $650,000 to its 12 participating teams this year, with the winnings being split evenly between a charity or foundation of the coach's choice and an endowed scholarship at each university.
In addition to the $650,000 charity and scholarship purse, another $181,280 was generated for charitable organizations bringing the 2019 total to $831,280 in charitable giving. Since its creation in 2007, the event has contributed a total of $8.4 million in scholarship and charity, helping make the Chick-fil-A Peach Bowl college football's most charitable bowl organization. The Bowl leads all other bowl game organizations in charitable and scholarship contributions, giving $33.8 million to organizations in need since 2002.