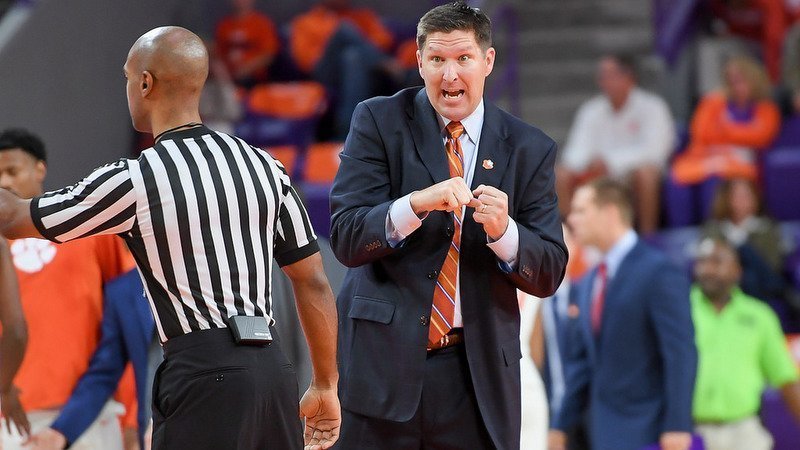 | | |
| --- | --- |
| Brownell, Radakovich set to meet soon over program, next steps | |
---
| | | |
| --- | --- | --- |
| Tuesday, March 26, 2019, 8:01 AM | | |
Clemson's 2018-19 season came to a close at home in the second round of the National Invitation Tournament on Sunday. The 63-55 loss to NIT 6-seed Wichita State finished off a 20-14 season, where they also ended up ninth in the ACC standings.
The Tigers suffered seven defeats by five points or less while straddling the line in search of another NCAA Tournament bid. Ranked relatively high in efficiency metrics along the way, a 1-10 record versus Quadrant 1 teams (Home versus NET 1-30, neutral vs. 1-50, away vs. 1-75) ultimately stuck out on Selection Sunday.
When reached for comment on his view of the basketball program after the season, Clemson athletic director Dan Radakovich said he will meet with Brownell soon for their annual year-end discussion.
"I will set a time in the next few days to meet and look at the program and what opportunities lie ahead," Radakovich said in a statement to TigerNet Monday.
The campaign held some extra expectations with four starters returning after a Sweet 16 run. Brad Brownell's Tigers were ranked as high as No. 22 preseason (AP) and picked sixth in the ACC.
A number of metrics favored the Tigers throughout the year, including carrying top-35 ratings in the NET (35) and KenPom (29) going into Selection Sunday.
Clemson went 2-6 in games decided by three points or less and 3-7 in contests in the 5-point or less range - four of those losses making up the Tigers' 1-10 record in Quadrant 1 matchups.
"There's no question we were a team that couldn't quite finish enough games to have a great season," Brownell said Sunday. "We did a lot of good things throughout the year and won some good games. We beat most of the teams we were supposed to beat. But certainly there were 4-5-6 games that are down to the last minute or 30 seconds or five seconds that if you find a way to make a shot or get one stop or get a call - things maybe go your way and the season is different and we're playing in the big tournament (NCAA). It didn't go that way. So we got to dust ourselves and go for what's next."
Brownell received a new six-year contract last July worth $15 million that runs to 2024. This year's NIT appearance was a fifth postseason draw in his nine seasons at Clemson (three NIT; two NCAA).