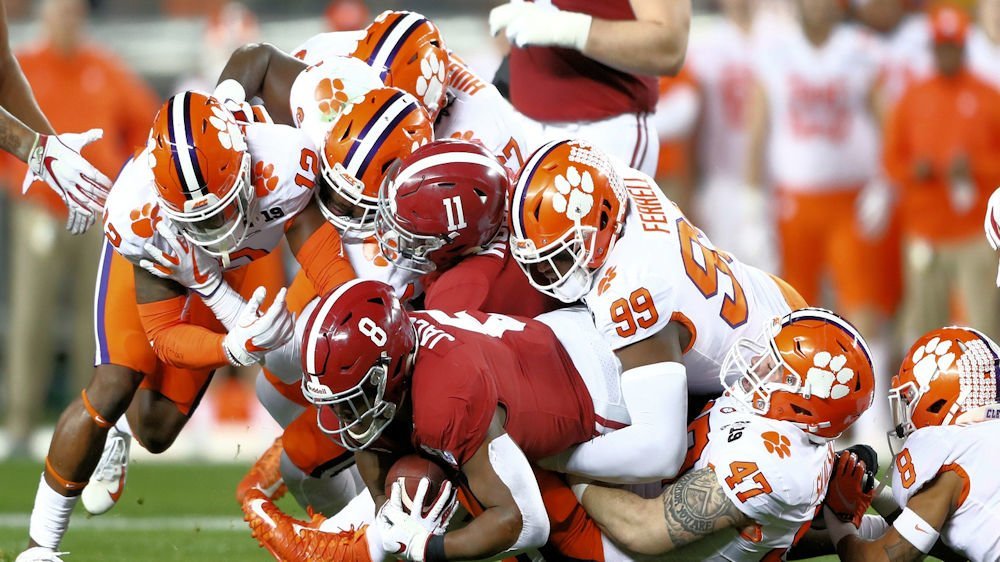 | | |
| --- | --- |
| Alabama RB says "mental fatigue" was reason for loss to Clemson | |
---
| | | |
| --- | --- | --- |
| Thursday, January 31, 2019, 9:14 AM | | |
Clemson embarrassed Alabama 44-16 in the 2019 National Championship a few weeks ago as casual fans and national media pundits alike were shocked by the dominant performance of the Tigers.
Alabama running back Josh Jacobs told Pro Football Talk Live on Wednesday that 'mental fatigue' was a reason for the mediocre performance by the Crimson Tide.
"Honestly, I know it might sound cliché… but, before the game, you could feel it was gonna be a rough one," Jacobs said about the locker room atmosphere. "Not only young players trying to feel the vibe of big games, being able to play so long after a certain amount of time it kind of wears on you, especially when you play great teams week-in and week-out you get everybody's best shot it kind of wears on you. I think the team was just mentally fatigued. … For the most part, I think people were just fatigued."
Not a good look that Saban and Co. couldn't get their elite team ready to play mentally if this is indeed the case. I think it is more likely that Clemson just outplayed and masterfully executed their gameplan for four quarters for the victory.
Jacobs finished the title game with 11 rushes for 47 yards and announced after the mentally draining loss that he was entering the NFL draft.