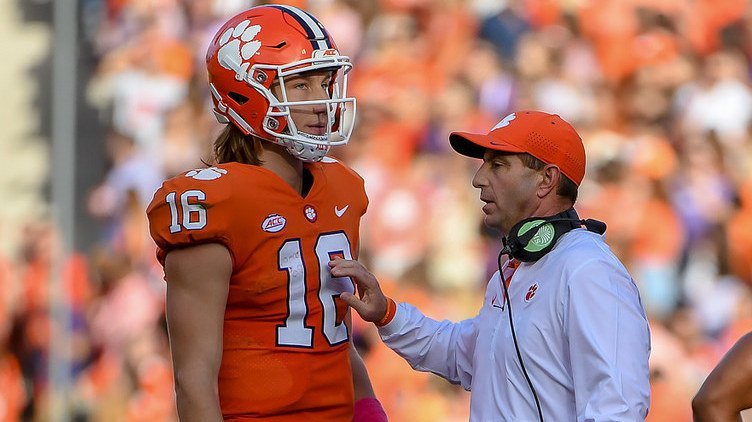 | | |
| --- | --- |
| Advanced outlook: Clemson-Pittsburgh projections | |
---
| | | |
| --- | --- | --- |
| Thursday, November 29, 2018, 12:01 PM | | |
One game stands between No. 2 Clemson and a fourth-straight Playoff bid - versus a coaching staff that's had a knack for some surprise results.
Pittsburgh (7-5, 6-2 ACC) has put an exclamation mark on ACC action over the last two seasons - flipping a 12-point spread to give Miami its first loss last season (24-14) and defying a 22-point spread to do the same at Clemson in 2016 (43-42).
Up until a setback last week at Miami (24-3 loss), Pittsburgh had covered in six-straight games with three wins as underdog and a closer-than-the-experts-thought contest with Notre Dame (19-14 loss; 21-point underdog).
Clemson (12-0, 8-0) enters Saturday's game at Charlotte's Bank of America Stadium as the heaviest favorite yet versus Pat Narduzzi's Panthers (27.5) - and similar to last week, the metrics like the Tigers but by not quite that much.
SB Nation uses the S&P+ formula and that projects the same score it did last week versus South Carolina, a 41-16 Tigers edge. TeamRankings sees a slightly larger (40-13) and numberFire picks a slightly closer margin of victory (38-17).
Pitt is led by two rushers around the 1K mark in Qadree Ollison (1,134) and Darrin Hall (935) with the No. 12 rushing efficiency offense up against Clemson's No. 1-rated rushing defense. The Panthers carry as high as a No. 28-ranked offense overall by ESPN but there is quite the imbalance - rated 87th in the passing game efficiency (S&P+) and 120th in yards per game there (153.4).
Clemson's body of work as a defense this season has it still rated No. 1 overall by ESPN and the S&P+ despite a rough game last week (24 percentile performance per S&P+).
Advanced metrics profile
Clemson
ESPN efficiency rank: Offense – 4. Defense – 1. Special teams – 121.
Football Outsiders efficiency rank (S&P+): Offense – 6. Defense – 1. Special teams – 88.
Success rate*: Offense – 6. Defense – 3.
Pittsburgh
ESPN efficiency rank: Offense – 28. Defense – 57. Special teams – 91.
Football outsiders efficiency rank (S&P+): Offense – 51. Defense – 66. Special teams – 50.
Success rate: Offense – 56. Defense – 68.
--
The matchup on the other side features a Clemson offense on the rise versus a Panthers defense that has been charitable at points.
Pitt surrendered 568 yards at UCF - giving up 313 yards passing - and 619 yards hosting Duke, giving up just short of 400 passing (396) and over 200 rushing (223). Miami rushed for 293 yards and averaged 9.2 yards per carry last week in its win.
Since the QB switch, Clemson has ascended to a spot competing for the top offense this side of Oklahoma, averaging 51.1 PPG and 568.7 YPG in games Trevor Lawrence has started and played in each half.
Pro Football Focus has Lawrence ahead of Deshaun Watson's rate as a freshman (5.6) and a junior (5.1) in big-time throws# (5.8). PFF only credits three plays all season where Lawrence put the ball in danger of a turnover.
PFF compared Lawrence to former Clemson starter Kelly Bryant's 2017 numbers in passes of 10-plus yards, where Lawrence holds a 57.5 adjusted completion rate to Bryant's 51.4 and 15 touchdowns to two interceptions to Bryant's nine scores to six picks. The star freshman has a 126.7 passer rating on those throws despite a nearly four percent increase in drops season-to-season (6.6 from 2.9).
The site sees that progression as the key for the Tigers' chances going forward.
"When it comes to the College Football Playoff, defense is good," PFF's Steve Palazzolo said (video below). "Defense can get you so far, but if you're going against the Alabamas, Ohio States, and Oklahomas of the world - even Notre Dame - you need an explosive offense and Clemson has it now because of Trevor Lawrence."
Metrics outlook: Clemson-Pittsburgh
SBN: Clemson 41-16
TeamRankings: Clemson 40-13
numberFire: Clemson 38-17
(S&P+ is a SB Nation/Football Outsiders metric that combines ratings for the five factors of efficiency, explosiveness, field position, finishing drives and turnovers.
* Success rate is determined by gaining 50 percent of the necessary yardage on first down, 70 percent on second down and 100 percent on third and fourth down.
# Per PFF, Big-time throws is a fluid metric that's judged as passes with excellent ball location and timing, generally thrown further down the field and/or into a tighter window.)
On a per-throw basis, Trevor Lawrence's big-time throw percentage rivals that of Deshaun Watson's from 2015 pic.twitter.com/ziPsgyt2Zy

— PFF College (@PFF_College) November 28, 2018
Clemson currently holds the two highest-graded receivers in the ACC pic.twitter.com/rwI5EiYF9r

— PFF College (@PFF_College) November 28, 2018
The nation's highest-graded defenders are led by Alabama's Quinnen Williams pic.twitter.com/q75fR5GXHq

— PFF College (@PFF_College) November 29, 2018