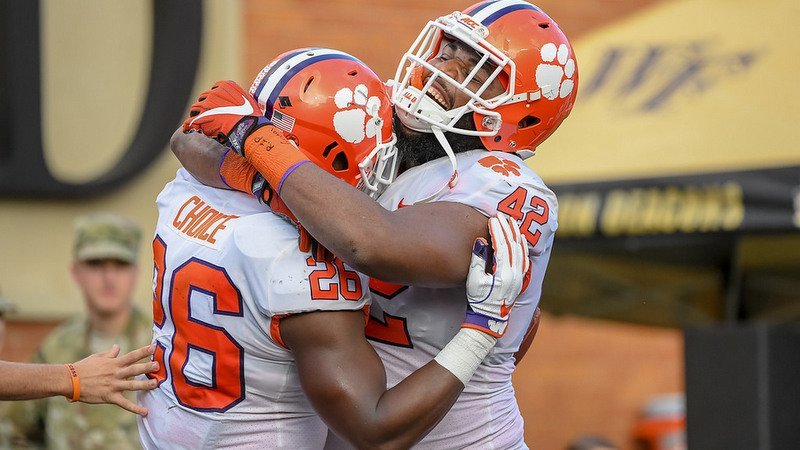 | | |
| --- | --- |
| Welcome home: Wilkins embraces playing close to home a final time as a Tiger | |
---
CLEMSON – Welcome home, Christian Wilkins. Welcome home.
When Clemson travels to Boston College this weekend for the primetime ACC Atlantic-deciding matchup, Wilkins will have his own cheering section as he travels home for the final time as a Clemson Tiger.
The Springfield, Massachusetts, native is begging and bartering for tickets from his teammates to fill all of his requests from friends and family ahead of Saturday's game.
"I'm still working on that. I'm trying to figure out who all is coming and how I'm going to get all of the tickets and everything like that because obviously a lot of people want to come," Wilkins said earlier this week. "It will be the last opportunity for a lot of people to come see me play. It's a homecoming game for me, which I'm really excited about. Just playing at Boston College, which was kind of a dream school when I was a kid, I'm excited about the opportunity this week."
While most Clemson players are from the South and enjoy the warmer climate, Wilkins said he hopes it will be cold and spitting snow as the game kicks off at 8 p.m.
"I want the most New England, Massachusetts, Boston conditions possible," Wilkins said. "I want it to be negative-40 degrees. I want snow. I want all of that. I'm playing with no sleeves and nothing warm. I'm so excited just to go back home. I want it to feel like home when I get there - like how it should be in mid-November."
Wilkins grew up dreaming of playing in Alumni Stadium and following in the footsteps of some of his heroes like B.J. Raji and Mark Herzlich, and while his recruitment led him to Clemson, Boston College will always have a special place in his heart.
"I was a big-time Boston College fan. A lot of those players were my heroes growing up," he said. "I was actually close to a Boston College player who grew up in Springfield - my hometown. That was my dream school when I was a kid. It was such a big deal as a young kid. If you're from Massachusetts and New England, you know what it means to be able to go to Boston College. That's really the dream for everybody and that was me. I wanted the opportunity to play there. In recruiting, I actually got really close to them, and obviously, things changed as I got older but that was my dream school as a kid and I know how special it is."
More important than playing against his childhood favorite team, Wilkins is looking to continue his legacy as Clemson looks to clinch the ACC Atlantic division title for the fourth consecutive year.
"That's actually my word for this year – legacy," he said. "Not only leave a legacy but live a legacy. We're doing some great things and that's something that coach talks about all the time and that's just really what I'm trying to do."
Despite having so much on the line, there won't be any nerves for the senior defensive lineman when he takes the field for the last time in his home state.
"I'm never really nervous. It's more excitement and more angst than anything. Not really nervous," he said. "Just always ready play, always looking forward to it, always looking forward to the opportunity to play especially in front of family, friends and loved ones."

Upgrade Your Account
Unlock premium boards and exclusive features (e.g. ad-free) by upgrading your account today.
Upgrade Now