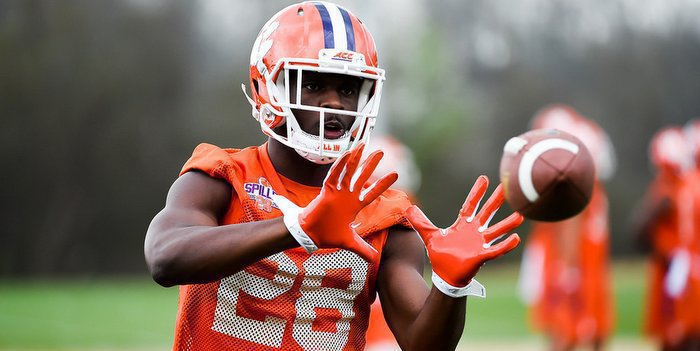 | | |
| --- | --- |
| Tony Elliott: Starting RB will be the one that wants to protect the QB with his life | |
---
| | | |
| --- | --- | --- |
| Tuesday, August 1, 2017, 8:01 AM | | |
SUNSET – The fans see a running back burst through the hole and think he should be the starter. The media reads the stat page and notices one runner is averaging a little more per carry and wonder why that player doesn't play more.
Running backs coach Tony Elliott doesn't look at the stat page. Instead, he wants to know if a player is willing to sacrifice his body for the quarterback. Is that player willing to learn the entire offense and help his teammates play fast? Is he willing to be like Wayne Gallman and show no fear?
The competition to be Clemson's starting running back, and the competition for second and third and fourth on the depth chart, is wide open heading into fall camp, which starts Thursday. Elliott will watch C.J. Fuller, Adam Choice, Tavien Feaster, Darien Rencher and freshman Travis Etienne battle for supremacy, and he has a long list of things he's looking for out of Wayne Gallman's replacement.
"It's just the consistency to do everything we ask them to do. Obviously, they each have their own strengths and they each have weaknesses where they need to improve," Elliott told TigerNet. "They need to put in the work and do everything we ask of them and be consistent. People are going to focus on statistical things but that doesn't matter to me. They have to play within the system and then when we ask them to protect the quarterback with their life.
"You have to give up your life so that quarterback doesn't get hit. Those are the things that I want to see, and then an unshakeable confidence. There is going to be adversity and there are going to be things that don't go their way. They need to bounce back. That was the great thing about Wayne - he didn't let anything faze him and he wasn't scared of anyone. He wasn't disrespectful and he wasn't flamboyant. He had this unshakeable confidence that no matter what was going on you were going to get his best. He didn't let his emotions get in the way of how he played."
Elliott said that all of the players deserve to play.
"All of those guys are in a really good place and they are all going to go compete," he said. "The tough thing is that they are all going to be worthy of that spot. But who is going to consistently display the things we want to see? I foresee all of these guys making an impact this year."
He then said he doesn't know if Etienne can show enough in fall camp to avoid a redshirt.
"Still to be determined. The initial comments on him are that he is fast," Elliott said. "But we knew that in recruiting. Everybody knows how explosive and fast he is, but he still has to be developed. I liken him to Wayne in that there is a ton of great raw material there that has to be developed. If you go back and watch Wayne Gallman, Wayne as a freshman was running all over the place. He was playing outside of the system until he figured it all out. And then when he figured it all out he has the best rushing season in school history because he was playing within the design and framework of the scheme.
"So those are all little things that some people might not understand what it takes to play that position. In our offense, the running back isn't just a guy that runs the football. He is a guy that is involved in everything we do and his knowledge has to be a certain level to enable us to play as fast and as aggressive as we do. It's tough for these young guys to understand that sometimes you have to sacrifice your body so someone else can get a touch."