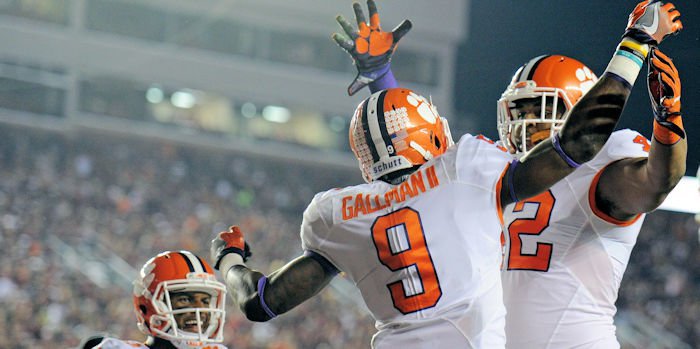 | | |
| --- | --- |
| Tigers spear Seminoles in the thriller in Doak | |
---
| | | |
| --- | --- | --- |
| Sunday, October 30, 2016, 12:34 AM | | |
TALLAHASSEE, FL – The clock struck midnight in Tallahassee, and Deshaun Watson and Clemson went from pumpkins to Halloween heroes.
Watson led to two fourth-quarter scoring drives after Clemson trailed 28-20 and Clemson's defense held on a final drive, sacking FSU quarterback Deondre Francois on both third down and fourth down as third-ranked Clemson defeated 12th-ranked Florida St. 37-34 at Doak Campbell Stadium Saturday night.
It was the first win for Clemson in Tallahassee since 2006.
Watson threw two critical interceptions in the game, but responded to finish 27-of-43 for 378 yards and two touchdowns. Dalvin Cook was impressive for the Noles, carrying 19 times for 169 yards and a career-high four touchdowns. Jordan Leggett had five catches for 122 yards.
Clemson improves to 8-0 on the season, while Florida St. falls to 5-3.
Watson hit Leggett on a 34-yard touchdown with just over two minutes remaining to take the lead, but the 'Noles marched into Clemson territory. Facing a 3rd-and-10 with under a minute remaining, a holding call made it 3rd-and-20, and Francois was sacked by Christian Wilkins and Dexter Lawrence for a loss of 12 yards. On 4th-and-32 with under 30 seconds left, Francois was sacked by Ben Boulware to seal the victory.
Clemson sacked Francois six times and had 10 tackles for loss.
"I'm glad to finally walk into this room and be happy. It's been a long time coming, I can tell
you that," head coach Dabo Swinney said after the game. "First of all, I don't know how you can expect anything less from Clemson vs. Florida State. What a game; just an incredibly hard fought game. Both teams had an unbelievable will to win the football game and we just made one more play than they did. We knew we'd get the
best version of Florida State that there possibly could be. So give them a lot of credit. A lot of
talented players over there – that quarterback is a tough young play and he's got a bright future.
And dad gum No. 4 – I hope he's leaving. He's a great player. They did a heck of a job.
"Our guys just hung in there and kept battling. We took the lead early. They battled back. We
had a couple of lulls, a couple of missed opportunities. I didn't think we played very well in the
second quarter. But we came back out and did want we needed to win the third quarter to get
the stop and go down and get points. Then again we kind of hit another lull, they made some
plays, got the turnover and it was a critical turnover. They got two scores off of our two
turnovers – I think they got 14 points off of turnovers and we got three. We put our defense in
a couple of bad spots and that's tough to do against a really good team like that."
Swinney said his team played its best when it had to.
"The resiliency was awesome. They had to be at their best and they were in the fourth quarter," Swinney said. "Five hundred and something yards on offense and Deshaun (Watson) he had four hundred and
something yards – 378 passing – he's just unbelievable. He just keeps playing and that fourth
quarter was just awesome offensively and what we were able to do and continue to answer.
When we had to have the drive with 3:20 – we got it. When we had to make the plays – when
we had to have the fourth down conversions – we got it. When we had to make the two-point
play – we got it. When we had to make the field goal – we made it. When we had to get the
stops – we got it.
"It was a heck of a ball game and I'm proud of all those guys."
The Tigers took the opening kick, and it took the offense just nine plays to cover 68 yards for the opening score. Watson hit Jordan Leggett for a 41-yard gain to the Seminole one, and one play later Gallman rumbled over the goal line for a 7-0 Clemson with just over 11 minutes left in the first quarter.
Florida St. answered with a drive that got inside the Clemson 20, but a penalty and a sack on third down pushed the 'Noles out of field goal, forcing a punt that bounced into the end zone for a touchback.
Clemson's offense picked up where it left off, passing the ball seven times in 10 plays, covering 80 yards in 3:46. The drive was capped off by Watson's four-yard scoring toss to Hunter Renfrow, and Clemson led 14-0 with 1:41 remaining in the first quarter.
Clemson held Florida St.'s offense in check on two consecutive drives, and after both punts the Tigers had the ball on the Seminole side of the field. Both times, they failed to score, and the second drive ended when Watson threw an interception on 3rd-and-1. The Seminoles responded with a drive that was aided by three Clemson penalties, and Dalvin Cook punched it in from four yards out as Clemson led 14-7 with 8:20 remaining in the second quarter.
Clemson's next drive ended with a punt, but Jadar Johnson picked off Deondre Francois to end the drive. The interception was Johnson's fourth of the season, and the Tigers got a 23-yard field goal from Greg Huegel. The score gave Clemson a 17-7 lead with 1: 44 left in the half.
it didn't take the Seminoles long to answer, moving 78 yards in just six plays and scoring on a five-yard pass from Francois to Nyquan Murray. The score came with 23 seconds left in the half, and Clemson took a 17-14 lead into the locker room.
The Seminoles gained one first down on the initial drive of the third quarter, but the Clemson defense forced a punt that landed inside the Clemson five. Facing a huge third down, Watson hit Deon Cain on a 29-yarder for a first down, and the Tigers finished the drive with a 34-yard field goal by Huegel for a 20-14 lead six minutes into the third quarter.
Clemson forced another Florida St. punt, but Watson had another inexplicable throw intercepted by FSU's Tavarus McFadden at the Clemson 43-yard line. Watson was trying to hit Mike Williams, and McFadden sat underneath Williams and Watson's throw went right to the defender. It took Florida S.t just one play to make the Tigers pay as Cook rumbled 43 yards down the right sideline for a touchdown that gave FSU the 21-20 lead with 6:18 left in the third quarter.
Clemson and the 'Noles traded punts, and Cook made the Tigers pay once again. Following another short punt by Andy Teasdall, Florida St. had a first down at their own 30, and Cook raced untouched down the left sideline for 70 yards and the score, and momentum was all on Florida St.'s side as they led 28-20 with under a minute to play in the third quarter.
Watson and the Clemson offense responded with a big drive of their own. Watson hit on three of four passes on the drive, completing three big third down conversions, and Gallman stuck the ball over the goal line to complete a two-yard touchdown run and the Tigers were back in the game. The Tigers went for the tying 2-point conversion, but Watson's throw to Williams fell incomplete and FSU led 28-26 with 11:30 to play.
That set off a comedy of penalties and errors. Cook took the opening handoff the ensuing drive and raced untouched into Clemson territory. However, a chop block was called on the play, and head coach Jimbo Fisher was so livid he was flagged for unsportsmanlike conduct. The flag forced the 'Noles deep into their own territory, and they were forced to punt.
Clemson put together an eight-play, 23-yard drive for the score. On 3rd-and-6, Watson failed to connect with Leggett over the middle, and the Tigers settled for a 46-yard field goal from Huegel and a 29-28 lead with 5:25 to play.
The Seminoles were back in business after the kickoff, with Francois making a clutch thrown on third down to keep the drive alive. Two plays later, Francois got drilled by Kendall Joseph as he threw into double coverage, but Cordrea Tankersley was called for the iffy pass interference penalty to keep the drive alive. Two Cook runs later, Florida St. was back in the endzone and back in front 34-29. The Noles went for two but the pass was incomplete, and Florida St. clung to a 34-29 lead with 3:23 to play.
Enter Watson and Leggett. Leggett caught three passes for 70 yards on the ensuing drive, the last one a 34-yarder that he took into the end zone. The score gave Clemson a 35-34 lead with 2:06 to play, and the Tigers had to go for the 2-point conversion. Watson rolled out of the pocket, and he hit Williams in the back of the end zone for a 37-34 lead.

Upgrade Your Account
Unlock premium boards and exclusive features (e.g. ad-free) by upgrading your account today.
Upgrade Now

Tags: Clemson Football
,
Cordrea Tankersley
,
Mike Williams
,
Ben Boulware
,
Jordan Leggett
,
Jadar Johnson
,
Andy Teasdall
,
Deshaun Watson
,
Kendall Joseph
,
Hunter Renfrow
,
Deon Cain
,
Christian Wilkins
,
Greg Huegel
,
Dexter Lawrence