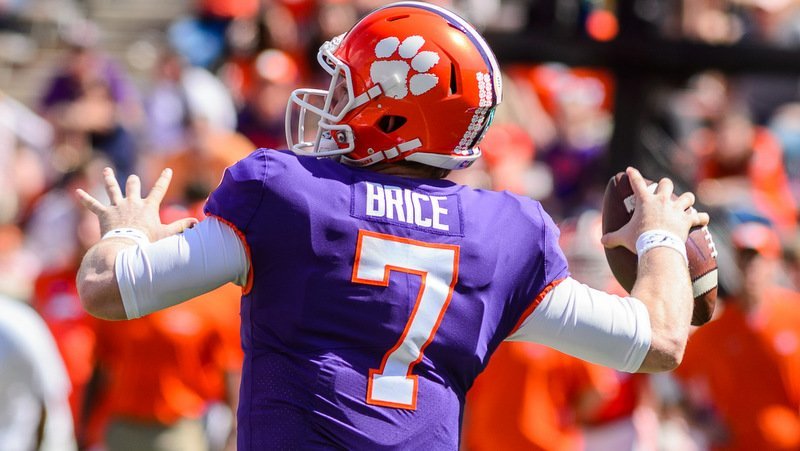 | | |
| --- | --- |
| Tigers are fortunate to have Chase Brice: The kid can play | |
---
CLEMSON – Clemson's offense is in good hands with quarterback Trevor Lawrence, but the Tigers' quarterback room is made even stronger because backup Chase Brice can flat out play. All one has to do is watch tape of last season's comeback win over Syracuse or any of the other games in which Brice played.
The kid can play and might start at every ACC school not named Clemson. Don't expect Brice to sulk and pout, however. He knows part of his job is to push Lawrence and make him better.
"I mean, every day just we tell each other every day before we go to practice, meetings, things might get tedious, and it's easy for other players to kind of get tired and nonchalant, but we know we have to keep each other going and then obviously get the team going," Brice said. "Maybe we don't want to go in this time (early) or workout or anything, but everybody's looking at us to be a leader. It's just kind of what the quarterback does, and you have to do that.
"Then my personality and his personality, we're both nonchalant, real lackadaisical. We crack jokes now and then like Nacho Libre. Whatever the team needs, I just want to win. I know he wants to win. Everybody in here wants to win. Sometimes you just have to wait, and that comes with it."
Brice led his team to a 30-10 victory and said he had fun just being on the field.
"I had a lot of fun. I was excited about the game," Brice said. "Spring can last a long time, and so you're kind of anxious to get out there. It was just fun. I kind of like us being separated and split up. It was pretty even I would say, and seeing who could play, who could let loose and have fun. I think you saw that today from both sides, great plays on both teams, and how much fun we have when we play. That definitely goes into account. I try to have a great time out there, whether it's joking with the referees or joking with Coach E (Tony Elliott) a lot. Or Travis (Etienne), he's easy to mess with.
"My mindset was to have fun and let loose. I felt like I had a good spring and I've gained confidence, and I feel like my teammates have gained confidence in me as well. I really wanted to showcase what I can and how much I progressed from last season until now."
Brice said he understands that he still has room to improve.
"Really just reading post snap defense really quick. I feel like I've done a good job of noticing different spots where the defense is and knowing kind of what coverage they're going to be in," he said. "That's just going against our defense, which we see them every day so I mean they kind of see our offense and kind of know when things are coming. Really just looking at that safety or linebacker knowing the front. I think I've done a really good job doing that."
In the day and age of instant gratification players in Brice's situation will often transfer to another program in search of playing time. Not Brice. He wants to follow head coach Dabo Swinney's mantra of blooming where he's planted.
"I'm going to be great where my feet are and right here in Clemson is where I'm going to grow and grow as a man, grow as a person, and obviously as a football player," Brice said. "I feel like I've definitely gotten better since last season. All I know is we're going to win and go places. We do a lot of different things as a program than other colleges and other teams that they don't get to experience that we get to experience and it's special."

Upgrade Your Account
Unlock premium boards and exclusive features (e.g. ad-free) by upgrading your account today.
Upgrade Now