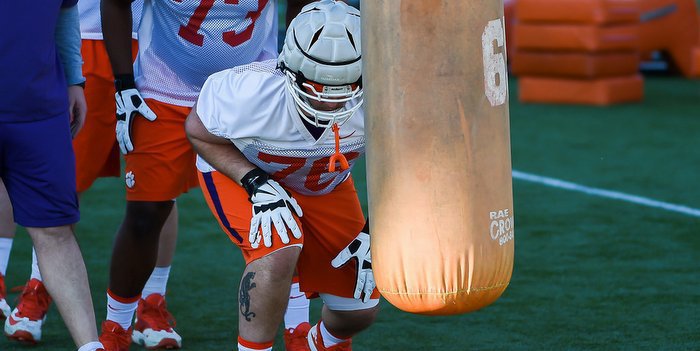 | | |
| --- | --- |
| Swinney's Plan: Practice makes perfect for younger players | |
---
| | | |
| --- | --- | --- |
| Monday, March 21, 2016, 2:19 PM | | |
CLEMSON – It's no secret that Clemson has great players and winning games is more about the Jimmys and the Joes than the X's and the O's, but the Tigers' recent success may be linked to the practice plan set forth by Dabo Swinney.
On a Saturday during the season you see a Clemson's two-deep on display – the best of the best on the roster – but Clemson's head coach has developed a plan that gets even the newest members of the football team significant reps throughout spring, fall camp and bowl practice.
Offensive coordinator Jeff Scott said the way they practice and the amount of players involved is the real reason why players are ready to contribute so early in their careers.
"In three groups, we get anywhere from 10-12 plays in five minutes, and it helps. That's one thing Coach Swinney has always pushed - we don't do a lot of conditioning after practice because of the way that we practice at a very fast tempo." Scott told TigerNet recently. "It helps everybody, not just the offensive line, but skill guys, quarterbacks and running back. There aren't many guys walking off our field that didn't get a good day's work. That really helps us throughout the season."
Those reps have helped the younger guys, especially offensive linemen Sean Pollard and Tremayne Anchrum, who have more to learn than a lot of the skill guys.
"Typically, the closer you get to the football the harder it is to play as a young player. As a wide-receiver it may be a little easier for those guys because of the 7 on 7 and stuff they do since the 7th grade, but the offensive line is in there blocking some grown men," Scott said. "We are very fortunate because we've got some really good guys on the defensive front. I feel bad for that second and third group having to block Dexter Lawrence and a few of those guys in there. That's not really fair. I was talking to my dad at lunch the other day, and he said back when he was coaching the o-line sometimes those freshman that just got here sometimes wouldn't get reps for about six or eight months.
"We have guys in here now at their fourth and fifth practice are out there making the right calls and doing a really good job at getting a lot of reps. I think it's one thing that Coach Swinney has done that has really helped us is repping three groups, where a lot of places only rep two groups. That is the only way you're going to get better is get reps. With both Sean (Pollard) and Tremayne (Anchrum) coming in, they've had to learn and pick up everything for the first time, but of those guys are going to be really be good players for us in the future if they continue the way that they started."
The additional reps also help to cross-train many of the players, especially the wide receivers who are expected to know all three positions.
"We cross-train a lot of guys at the skilled positions. A guy like Artavis Scott, he's been moved around. Hunter Renfrow moved into boundary to 9-man the other day - when we pulled Mike (Williams) out, Trevion (Thompson) was out with a minor injury - and Renfrow gets in there in the boundary and goes to work and makes plays," Scott said. "That's what happens in a season. You're going to have injuries and guys are going to have to move around and play different spots and when you're repping a lot of guys you have more opportunities to move guys around and cross-train."
Scott said a healthy and experienced stable of running backs would add another element to Clemson's offense.
"I have seen the running backs work, and I know it's been said before, but we have a chance to have four really good players there this spring. All of those are getting better, and I'm seeing a lot of guys making plays," he said. "Tony (Elliott) is pretty hard on those guys and he would probably say no right now - they're all on the same level - nobody's really made that next step. We are really excited about that group."
Other Notes
Adam Choice's recovery
"The ACL all depends on the guy coming back from injury. Guys come back differently, but a big part of it is how they rehab and how mentally tough they are going into rehab. How do they attack the rehab? Adam (Choice) really approached it a lot like Deshaun did. He went full speed and ended up having to slow him down instead of speed him up, so I think he's had the right mentality. He was able to get back last year and did a good job for our scout team and he's a guy that has done well this spring. He looks faster and healthier. The big thing is just getting the reps and understanding all of the things we ask him to do, coming off the scout team. He is a natural runner and wish for a good year."
Second string tight end
"There is a lot of competition there. DJ Greenlee is a guy that's probably not talked about a lot, but has shown a lot of improvement. He's catching the ball well and his routes have improved, but really all of those guys are in the same group and we're looking for someone to separate. It's too early, so we haven't seen anyone really separate themselves completely from that pack, but that's one thing we're looking for coming out of spring. We have to really find out who our number two guy is. One day it might be Milan (Richard), the next day it might be Garrett Williams and the next may be Cannon Smith. It is going to be the consistency over 15 practices that we're going to look for.