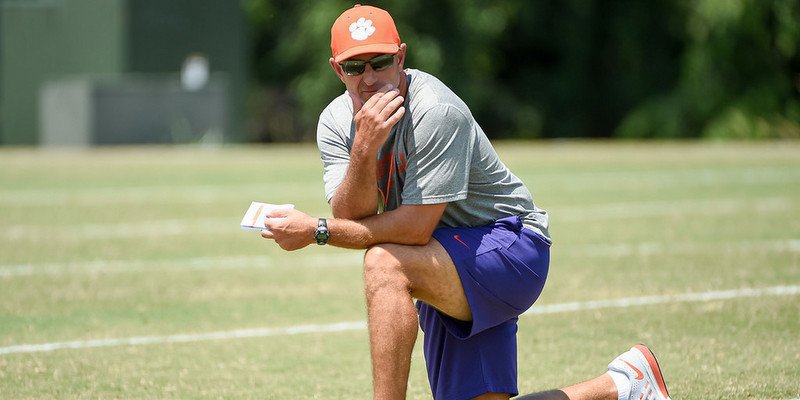 | | |
| --- | --- |
| Swinney says proposed transfer rules would create "free agency and total chaos" | |
---
CLEMSON – Head coach Dabo Swinney has drawn fire from around the country for his stance on paying student-athletes, saying he doesn't want to see college football become professional. With the recent FBI investigation into college basketball, it makes sense. But he's also against a recent push to allow players to transfer without penalty.
Athletes would be allowed to transfer schools without restriction if their coach were fired or left for another job as part of a sweeping proposal that is making its way through Division I, according to a recent report. However, athletes would not be permitted to follow the departing coach to their new program.
The proposal, which originated from the Big 12, would also allow athletes to transfer without sitting out a season (as currently mandated by NCAA rules) in the event a postseason ban is handed down by the NCAA as punishment to their program.
Swinney doesn't like the idea.
"You look at what's on the table now is free agency and total chaos," Swinney said.
Coaches have long been able to "block" where a transfer goes. Athletes also have to seek release from their scholarships to immediately get aid at another school. Frequently, they have to get "permission" from the school/coach to move on to their desired school.Those practices would end if the aforementioned proposal is adopted.
"What we're trying to create is no consequences," Swinney said. "We want a society with no consequences. OK, everybody says this coach makes a lot of money or that coach makes a lot of money. Somebody's getting paid a lot of money, too. There are consequences. There are buyouts. There should be consequences. You deal with young people, sometimes young people need to learn how to hang in there a little bit."
Swinney said that it would lead to college scouts looking at other team's rosters with an eye on who would be willing to transfer for a little more playing time.
"You'll have a lot of bad things happening," Swinney said. "Right now, the NFL has college scouts, but they also have an entire NFL scouting department where they're just studying players from other teams, and that's what'll happen in college. That's exactly what'll happen. They'll be paying attention to, well, Johnny didn't play this week, so let me make that call to him."
Swinney agreed that the rules need to be updated to fit today's game, but cautioned that wholesale changes could damage the sport.
"I understand there need to be some changes, needs to be some modernization," Swinney said. "But we've got to find the right balance. We can't go from here to here. There has to be a right balance that's good for everyone."

Upgrade Your Account
Unlock premium boards and exclusive features (e.g. ad-free) by upgrading your account today.
Upgrade Now