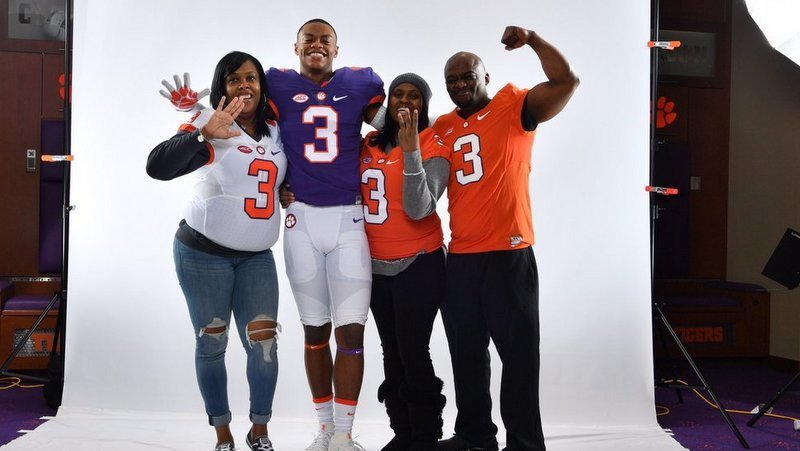 | | |
| --- | --- |
| Super Mario: Swinney says 2018 commit was a "pig in mud" during visit | |
---
| | | |
| --- | --- | --- |
| Tuesday, February 20, 2018, 8:15 AM | | |
The Clemson coaching staff went out to Kansas in 2016 and reeled in two of the state's best prospects in defensive end Xavier Kelly and defensive back Isaiah Simmons. Simmons was a late add to the class, but his addition showed the power of the Clemson brand.
For the 2018 recruiting cycle, the coaches once again went out into that part of the country late and took one the area's best prospects. They brought home Super Mario.
The Clemson coaching staff made a late move for 4-star cornerback Mario Goodrich, extending a scholarship offer just three weeks before National Signing Day. The cornerback from Lee's Summit, Mo., which sits on the outskirts of Kansas City, made one trip to the Clemson campus and with his family and entertained head coach Dabo Swinney for an in-home visit the following Monday.
Swinney was confident the Tigers would land Goodrich, despite the talented defender considering his other two finalists in LSU and Georgia.
"Mario, I had a good feeling that he was coming," Swinney said during his post-signing day press conference. "He pretty much told me he was coming. But you just never know. "But his parents were very upfront with me. I think that he just wanted to finish the process however he wanted to finish it, but I was pretty confident in him."
Goodrich committed to Nebraska in May 2017 but re-opened his recruitment when the Cornhuskers fired head coach Mike Riley. Clemson offered in mid-January and defensive coordinator Brent Venables and cornerbacks coach Mike Reed had an in-home visit the following week.
While there, they secured a visit to Clemson's campus in late January. Swinney says the plan is to get a prospect on campus and let the program sell itself. That plan worked to perfection.
"To be able to go out to Missouri and get Mario Goodrich just speaks to the reach of our brand," Swinney said. "Brent and Mike did a great job in identifying him. I really enjoyed my trip out there to his high school, Lee's Summit West. I just think he's a guy that fits well in our program, and he saw that. He was just a pig in mud when he got here. Had never been here. His family had been to several places, but they pretty much knew pretty early that man, this is it. This is where we're supposed to be.
"This kid is long. He's got everything you could possibly want to come in here and play in our secondary. Just great family. High-character, great student, excellent fit for our program. First signee from Missouri ever in our program. So, our program is kind of built from inside out. But to be able to reach out when we need to fill a need is pretty special. There's not a lot of programs that can do that, and I just appreciate our guys doing an awesome job of making it easy for me when I get there."
It didn't take Swinney long to dub Goodrich as Super Mario.
"He's long, he's physical, he's an excellent tackler, he's fast, he's a big-time athlete," Swinney said. "He is a super, super athlete. He's got size potential. He's just got the explosiveness that you look for. From a football standpoint, he's got everything that you could possibly want. He doesn't really have any limitations, so I'll be anxious to see how he develops."