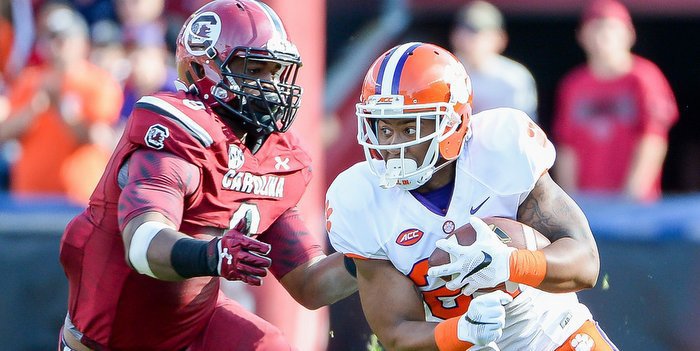 | | |
| --- | --- |
| Rivalry Game: Tigers getting healthy just in time for Gamecocks | |
---
Head coach Dabo Swinney got his first taste of Clemson's rivalry with South Carolina when he was out on the road recruiting after being hired by Tommy Bowden, and he knows the battle for the Palmetto State is even more intense now.
No. 2 Clemson travels to South Carolina to take on the Gamecocks Saturday in Columbia (7:30 p.m., ESPN), looking for its fourth consecutive win in the series. Despite a five-game winning streak for the Gamecocks during the Steve Spurrier era, the Tigers have won 13 out of the last 20. Overall, Clemson leads the series 68–42–4, and they will be as healthy as they've been since early September.
"I hope so. I think we've been able to develop some quality depth. You've got some guys who have gotten some great experience across the board defensively," Swinney said. "We have held a couple of guys over the last couple of weeks and we're excited about hopefully getting everybody back out there tomorrow. We'll see exactly where we are in the morning, but I anticipate having a really good group. We've been down in the secondary, down in the d-line, down at linebacker. Hopefully, we're going to have most of, if not everybody back and ready to go.
"Mitch (Hyatt) is doing alright. He's battling a little bit of an injury, but he should be good to go tomorrow. We just wanted to hold him another week."
Clemson defeated The Citadel 61-3 Saturday during Military Appreciation Day.
"Just really proud of our team. It was a really fun day yesterday. I thought we played extremely well in all phases and for four quarters," Swinney said. "I think we set a school record for the number of guys that we able to play. We played 94 guys. Just a fun day to see so many people get an opportunity to play. Our first groups on both sides set the tempo and executed very cleanly. Even though you know you've got a better team, you've still got to play well. You want to see your guys execute and I thought we had excellent rhythm. It was good to see us throw and catch the ball, finish some plays that we haven't been finishing the last few weeks. Just really proud of them for getting ready, playing a complete game and happy for our seniors to see them finish 27-1 at home and to have a lot of fun doing it."
Next up is South Carolina.
"I'm excited about this week and moving on to a game that we all look forward to every single year," Swinney said. "I know it's important to a lot of people and I really enjoy being a part of it. South Carolina has a heck of a team and has a great year. It's always a tough place to play. I'm looking forward to having a great week of preparation and trying to find a way to win the game.
"We're just getting going in our evaluation, but what I've seen from them, they're playing really good team football. They're playing well on defense. I think they've created a lot of turnovers. The quarterback has played well for them and they've made some plays on special teams. They're finding ways to win games and that's what good teams do. They're an 8-3 team and they've earned it."
Swinney said the South Carolina head coach Will Muschamp has his team playing mistake-free.
"They're very aggressive. They try to be good at what they do," he said. "I don't think they try to be all things to all people. I think he's done a good job of knowing his team and putting them in a position to be successful. I think that's the biggest thing. They have an aggressive mentality and they're going to challenge you. We know we have a big challenge. This is a team that's created a bunch of turnovers. I think that's a credit to them knowing what they're doing. They're not making a bunch of mistakes. They're playing pretty clean on defense and taking advantage of opportunities when they present themselves.
"It's just another tough road environment. This is game 12 and if you're going to have a good season, you've got to go on the road and win. Our guys have done a heck of a job of that. We lost one this year, but we've won a bunch of them over the last few years, that's for sure. Every game is a challenge whether you're at home or on the road, but when you go on the road it's another level of focus that you've got to bring because there's a lot of energy against you. That's what makes it fun. It's great to go and play in environments like that. We all know the emotion that's tied to this game. This is one of the best weeks of the year. It's fun to be a part of it."
Swinney said he learned about the rivalry after he was hired in 2003.
"Probably the first time I went on the road recruiting in the spring of 2003 is probably the very first time I realized that, 'Oh, this feels like home here. This is great.' You walk into a school - I didn't know anybody up here at the time and I go out and I'm doing my in-state areas and instantly people were either happy to see you or not happy to see you based on the logo on your shirt. I figured that out pretty quickly when I got here," he said.
On playing Hunter Johnson and Zerrick Cooper
"It's always good when you get the opportunity to play guys, especially when you can play quarterbacks. Experience is so valuable. It's a critical part of evaluating those guys because they're not live in practice every day. Both of them threw the ball for 100-plus yards. I thought they both made some big plays. I thought Hunter (Johnson) really had a clean game execution wise. Zerrick (Cooper) dropped a snap, but he picked it up one-handed and ended up ripping it downfield to Tee (Higgins). We've got to clean up some of those little miscues. Pleased with both of them."
On having seniors graduate with a 4-0 record against the Gamecocks
"It would be great. That's one of our goals. To see those guys achieve a goal for their whole career would be something I'm sure they would always cherish. I'm really happy for those guys. They've had awesome careers and they want to finish on a strong note and we're going to do everything we can to put our best foot forward."

Upgrade Your Account
Unlock premium boards and exclusive features (e.g. ad-free) by upgrading your account today.
Upgrade Now