---
| | | |
| --- | --- | --- |
| Thursday, June 30, 2016, 8:06 AM | | |
Clemson's tradition of excellence at defensive tackle is indisputable, and the names still echo in Death Valley. But this year's group, the group that will take the field in 2016, has a chance to be pretty special.
The names of Clemson defensive tackle lore read like a Who's Who, from B.C. Inabinet and Bob Turner to Jim Stuckey and Dan Benish and Jeff Bryant and William Perry. Chester McGlockton, Brentson Buckner and Nick Eason. Grady Jarrett. Those are just a few of the names of the decorated players that manned the middle for the Tigers.
During my time covering the Tigers, there have always been quality players like Jarvis Jenkins, Brandon Thompson and Jarrett. But this year's depth is incredible. Defensive tackles coach Dan Brooks has to feel like he has seven players he can run out there at almost any time and feel comfortable with those guys playing. Obviously, it's a hard-hitting position and injuries and attrition happen, but it's one position where the Tigers carry the kind of depth to overcome a major injury.
Carlos Watkins, Christian Wilkins, Scott Pagano, Albert Huggins, Dexter Lawrence, Jabril Robinson and Gage Cervenka are all eligible to play this season. Freshman Nyles Pinckney is impressive, but he likely faces a redshirt because of the sheer numbers in front of him.
Who will start out of that group? That's a hard call because Brooks likes to make his players earn the start on Saturday by practicing hard during the week. However, Watkins and Wilkins get the early nod because of experience and talent. Watkins had a chance to leave early for the NFL but opted to return so he could improve his draft stock, and he figures to be a man on a mission this season.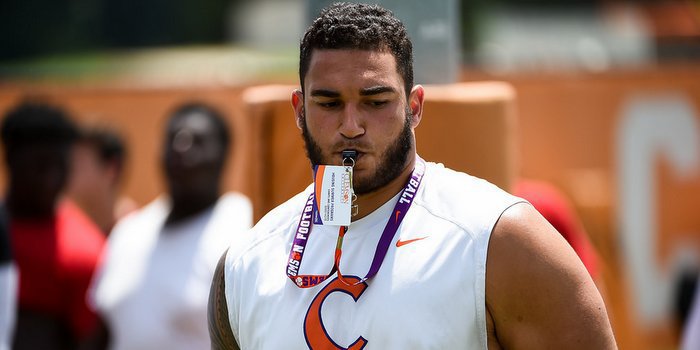 Let's take a look at the seven:
Carlos Watkins: He was outstanding last season, earning first-team All-ACC (media) and second-team All-ACC (coaches) honors. He had 69 tackles, eight tackles for loss and 3.5 sacks in 570 snaps over 15 games (14 starts) and added eight quarterback pressures and an interception, which he returned for his first career touchdown. He has 109 tackles, 12.5 tackles for loss and 3.5 sacks in 908 snaps over 38 games (15 starts) in his career. He has been tabbed a preseason first-team All-American by Lindy's, Phil Steele and Sporting News and is rated nation's No. 2 preseason defensive tackle by Lindy's.
This is his season to shine, and he won't disappoint.
Christian Wilkins: Wilkins is a bit of an enigma here, because he spent time at defensive end during the spring. The coaches love the athleticism he brings to the defensive end spot, and if three or four players don't step forward we could see Wilkins log more than a few snaps at end. He was a first-team freshman All-American by CampusInsiders.com, Football Writers Association, Scout.com and Sporting News, and an All-ACC Academic Team selection. He had a whopping 84 tackles, 4.5 tackles for loss and two sacks in 453 snaps over 15 games (one start), with 12 quarterback pressures and a caused fumble.
He's athletic enough to play end and catch critical passes on fake punts (see the Orange Bowl). At defensive tackle, he's an absolute nightmare of a matchup for anybody.
Scott Pagano: Pagano proved last season that he can be a force in the middle. He has 54 tackles and two tackles for loss in 406 snaps over 19 career games (nine starts). Last season, in his most extensive playing time, he had 51 tackles, two tackles for loss and two quarterback pressures in 352 snaps over 15 games (nine starts).
Pagano has been stellar against the run, and he made the start against Notre Dame and made a handful of great plays. He'll be a major factor again this season.
Albert Huggins: Everybody loves Bert. He has an infectious smile and is a natural leader, but had to make the transition from defensive end to tackle once he arrived on campus and it slowed down his progress. He had 12 tackles in 65 snaps over five games last season, and he broke up a pass and posted six tackles in 23 snaps against Appalachian State. However, from everything we heard, he turned the corner during the spring and he was excellent in the spring game.
I talked to someone during camp that said Bert could start just about anywhere else in the country and they think he will earn valuable snaps this season.
Dexter Lawrence: Lawrence enrolled early and quickly made a name for himself this spring. He will play early and often this season. At 6-5, 340 pounds he has the size to be a dominant interior player, but he has the athleticism to play anywhere along the line. His fellow players are already telling Lawrence stories and many of them stand in awe of what he can do on the football field.
He is one of the highest rated five-star recruits in Clemson history, was a first-team USA Today All-American and was listed as the No. 2 overall player in the nation by Rivals, Scout.com and 247Sports.com, the highest ranking in history for a Clemson signee by the latter. He was the Associated Press Prep Player of the Year in North Carolina in 2015 and played in the U.S. Army All-America game. He had 91 tackles, 21 tackles for a loss, 13 sacks, and 16 quarterback hurries in 12 games as a senior.
There is plenty of experience ahead of him, but the coaches won't be able to keep him off the field.
Gage Cervenka: Cervenka is another talented player that will have to fight for snaps this season. He redshirted last season, but he's another cat that has the athleticism to burn. He was one of the top wrestlers in the state who was a four-time state champion. He lost only one wrestling match (199-1) and his only loss was during freshman year, and he's the only four-time state heavyweight champion in South Carolina history.
Many have wondered if Cervenka could be a candidate to move to the offensive line, but he's made it clear he wants to give defensive tackle a shot. This fall – especially fall camp – will be critical in his development as he fights for coveted snaps.
Jabril Robinson: Jabril is another one who took a step forward in the spring after playing limited snaps last season. He had 14 tackles, including a sack, in 66 snaps over six games, and he notched a sack in his first career game against Wofford.
At 6-2, 280 pounds he has the size and the strength to be dominant in the middle. Like the others, he will be in a battle for snaps this season and fall camp will be critical. I thought he looked good in the spring game but will have to continue that momentum into the season.

Tags: Clemson Football
,
Carlos Watkins
,
Christian Wilkins
,
Albert Huggins
,
Jabril Robinson
,
Brandon Thompson
,
Grady Jarrett
,
Brentson Buckner
,
Nick Eason
,
Dexter Lawrence
,
Scott Pagano
,
Gage Cervenka
,
Nyles Pinckney
,
Jarvis Jenkins
,
Dan Brooks