| | |
| --- | --- |
| Kiper says Gallman and Boulware NFL-ready but Watson "not there yet" | |
---
| | | |
| --- | --- | --- |
| Friday, December 9, 2016, 2:01 PM | | |
ESPN NFL Draft Analyst Mel Kiper, Jr., didn't mince words Thursday when talking about the draft chances of several of Clemson's draft-eligible players, but did say that he likes Ben Boulware's chances as a third-day pick and that he thinks running back Wayne Gallman is ready for the NFL.
According to Kiper, however, junior quarterback Deshaun Watson has some work to do if he wants to get into first round territory.
"In terms of Watson, the start was a little shaky, the decision making, some interceptions. He threw two or more interceptions in four games," Kiper said Thursday. "He did have a red hot finish. Getting Mike Williams back after not having him last year, you thought would take this offense to another level and it didn't. Late in the year, they've really hit their stride. It will be interesting to see how he finishes up in these last two games coming up. He's still got a chance to get into that late first or early second round discussion. Right now, he's not there yet, I don't believe. I don't think there's a first-round quarterback outside of Mitch Trubisky from North Carolina. I hope he (Trubisky) goes back for another year. Deshaun Watson, right now I think still has some work to do to climb back up, but those last two game certainly helped his position."
Kiper said he doesn't have any advice to give on whether another year in school would improve Watson's chances.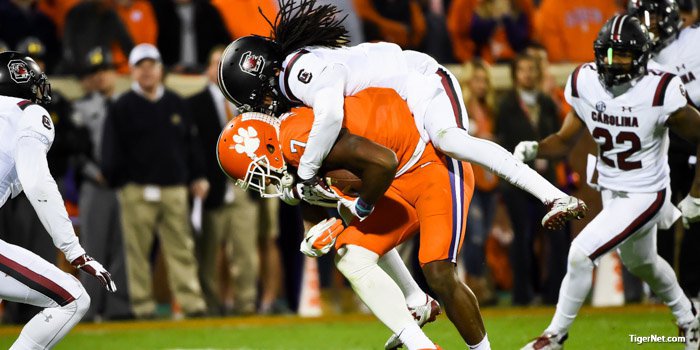 "I think with Deshaun Watson, everything you hear suggests he'll be coming out so you have to view him as an NFL-ready quarterback," Kiper said. "I think there's going to be some work involved there getting him to a point where in another year or so he can be a starting quarterback. Look at Dak Prescott, he was a fourth round pick and look what he's done. It was a perfect scenario with a great offensive line and a running back and an offense that everything was in place for him. He was a fifth year senior and so was Carson Wentz. You're coming out early like Watson is and you look at that and based on the year he had, he's had some decision making and accuracy issues, it will take a little bit of time."
"Scott, has flashed. You like to see a guy go out there and take over. Mike Williams has been able to do that. He's been a secondary presence there. He should test extremely well and he could end up being in that third to fourth round mix."
Ben Boulware
"Boulware is a guy that goes out and does the job in a very consistent, determined way. You love his effort. You love his competitiveness. He's a guy that would fit that over-achiever label, but to me, he's a good day three pick for somebody as a backup linebacker who could start in a pinch and do a pretty good job for you. You have to like the way he's produced and you have to like the way he's out there durability wise, consistency wise and making plays. Boulware is one of the guys you look at on day three."
Wayne Gallman
"Gallman is ready. The running backs are ready. Running backs, they play as well as a rookie or better than they will as a five-year guy. That's the only position you'll say that you'll be as good as a rookie as you'll ever be. The other positions, you'll get better, but at running back you get the best out of these kids the first three years they're in the league and right now Gallman is the seventh highest rated running back. I think he's got a solid future ahead and I have a third round grade him right now."
Mike Williams
"Williams, my No. 1 receiver, has great burst and speed for his size (6-2, 225). He has put behind him the scary neck injury that prematurely ended his 2015 season, and he's back to being Deshaun Watson's go-to target. He has 79 catches for 1,114 yards and 10 touchdowns this season, including three scores in the Tigers' rout of South Carolina last Saturday. He had more than 1,000 receiving yards as a sophomore in 2014 while averaging a whopping 18.1 yards per catch."