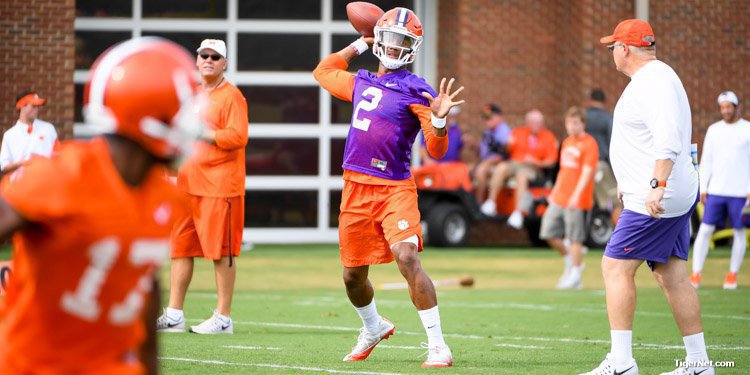 | | |
| --- | --- |
| Jobs are up for grabs as Tigers scrimmage in Death Valley | |
---
| | | |
| --- | --- | --- |
| Saturday, August 12, 2017, 7:01 AM | | |
CLEMSON – The Clemson football team will hold the first scrimmage of fall camp this morning inside of Death Valley, and the coaches have more than one thing they want to see.
The team will scrimmage for a little over two hours inside the stadium, and co-offensive coordinator Jeff Scott said the coaches wil be taking a hard look at the quarterback competition, where Kelly Bryant is trying to hold off Zerrick Cooper, Hunter Johnson and Chase Brice.
"Just seeing how we put it all together," Scott said a few days ago. "We've had our moments and we've done some really good things. Kelly Bryant has had a really good fall camp up to this point, the best week that he's had in his entire career. I want to see him carry that over to a scrimmage situation. I want to see the entire offense carry over the execution that we've had. It's been really good at times and I want to see us carry that over where the coaches are off the field. Can we execute? Can we get the tempo going? Can we go down on a long drive and score?"
Head coach Dabo Swinney said he isn't looking for the most athletic quarterback or the one with the bes arm – he wants to see the one that makes the best decisions.
"Did you make the right decision? That's really what I'm evaluating. And then make the plays that are there. The plays that are there, let's make those," Swinney said. "Are we making the right decisions in the running game with protections? Are our eyes on the right things? Are we making the right decisions in the passing game? Make plays with our feet. Those are all the things that we're looking for, but just a consistent performer. They all can do the job. They all can go and play. But consistently, who's making the fewest mistakes? Because mistakes will get you beat.
"Coaches are off the field. You kind of find out who's processing things the right way and who's not."
Scott said he's been impressed with each one of the quarterbacks.
"I think they've all had their moments. They really have. There's not one guy in that group that I've been disappointed in," Scott said. "Chase Brice, it's been amazing what he's been able to do ... a casual person coming to practice would think that he's been here for longer than just a week in practice."
He then said that while the players have performed well in a practice setting – with the coaches on the field with them – he wants to see how they react when the coaches are on the sidelines.
"(The offense) has been really, really good at times, so I want to see us carry that over when the coaches are off the field," Scott said. "The scrimmage Saturday will be a good opportunity to really evaluate those guys further in a different setting."