| | |
| --- | --- |
| Jeff Scott looking forward to seeing what freshmen receivers do in fall camp | |
---
CLEMSON – Justyn Ross made his mark on the college football world last season as a freshman, finishing with 46 receptions for a team-high 1000 yards. Three more freshmen look to make their mark this season.
Freshmen wideouts Frank Ladson, Joe Ngata, and Brannon Spector all enrolled at Clemson last January and took part in spring drills. During the annual Orange and White Game, Ngata had five receptions for a game-high 127 yards, and Ladson added 102 yards on his five receptions, making a positive first impression on the Clemson faithful.
"Obviously, for both Frank and Joe (Ngata) being able to come in January I think was very beneficial for them to be able to learn," co-offensive coordinator Jeff Scott said. "But that's not always the case. You look back last year, and Justyn Ross came in, in the summer and was able to have a huge impact his freshman year. But it also did take him a couple of weeks there to really get to where he can get out and be an every-day player."
Head coach Dabo Swinney called the spring a starting point for the talent group.
Oh, man. You've all heard me say many times, I'm not trying to keep a secret on those guys. They're ready," Swinney said. "They're really, really talented players. Very coachable. Just love to prepare. High character guys. Frank and Joseph are pretty elite, as far as just where they're starting.
"They've got a ways to go, but their starting point, it's pretty impressive to have something inspiring."
Scott said the youngsters have benefitted from spending time with veterans like Tee Higgins, Amari Rodgers, Diondre Overton, Ross, and Cornell Powell.
"Probably the biggest thing that stood out, to be honest, the biggest thing that stood out was the way our older guys kind of took them under their wing," Scott said. "As coaches, we're limited with the amount of time we can spend in the meeting room without guys in the spring. Especially the amount of time we can be with them on the field. It was really unique to see some of the older guys take the younger guys under their wing, especially this summer to have extra meetings."
Swinney said that Ladson and Ngata have been impressive without the ball.
"Early on, you know, he and Joseph got very good with their hands cause they've never had to play with their hands," Swinney said. "We don't get many guys that guys walk up and just play tight press coverage. Most of the guys that we get they're playing cover to somebody that's over the top. They're not having to really live with release technique and having to play with their hands, eyes, and feet, all working together.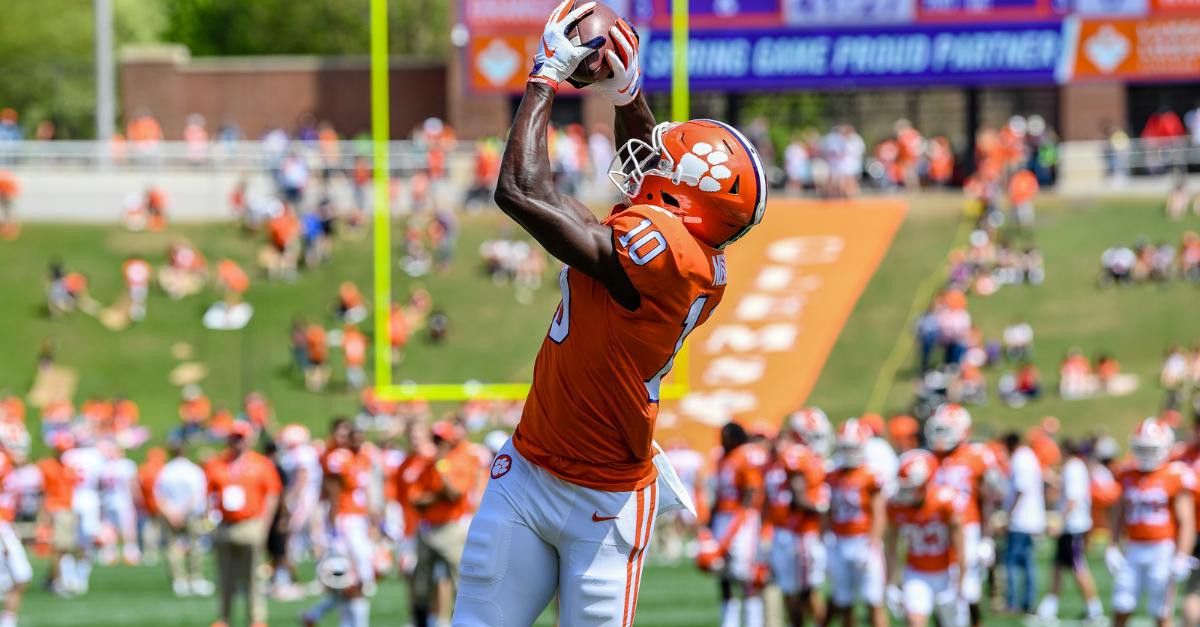 "So that's usually the hardest thing for all those guys when they first get here because if you can't play with your hands, you're in trouble cause they're going against guys that are just like them. And I don't care how good your feet are, how strong you are, how fast you are, if you can't win with your hands and coordinate that with your eyes and feet, you're in trouble. So that usually takes a little time and they've made great progress."
Scott likes what he sees, but he also knows that fall camp will determine which ones are ready to play.
"Obviously, they've got to go through fall camp," Scott said. "Some of them feel like they've been here for a year, and we haven't even started August camp yet. That'll be a big part of it, kind of going through that. Sit here after a few weeks (and see) where they are, if they're ready to contribute right away or if they need more time.

Upgrade Your Account
Unlock premium boards and exclusive features (e.g. ad-free) by upgrading your account today.
Upgrade Now