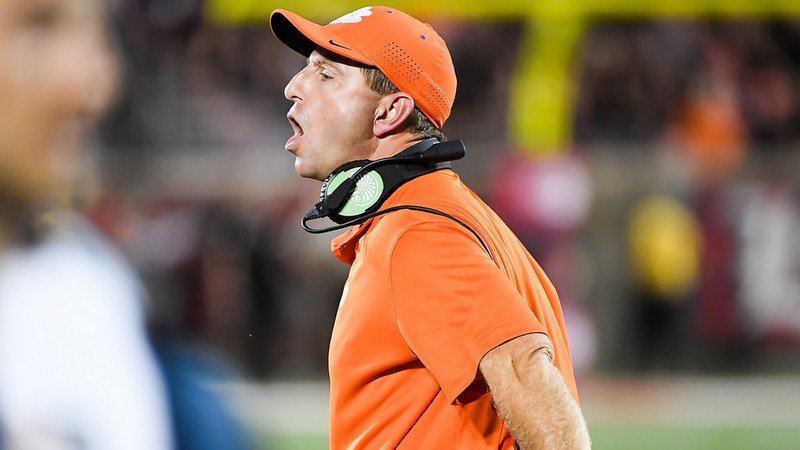 | | |
| --- | --- |
| Headsets on the sidelines, kickoffs and transfers: Swinney laughs at "silly" rules | |
---
| | | |
| --- | --- | --- |
| Sunday, June 24, 2018, 8:01 AM | | |
CLEMSON – The NCAA has spent the last several years enacting rules changes in an effort to make the game safer, but a few recent rules changes have Clemson head coach Dabo Swinney shaking his head.
One of those rules involves kickoffs. In the hope of creating fewer returns and more touchbacks, kickoffs were moved from the 30-yard line to the 35 in 2012 and the starting position after a touchback was moved up from the 20 to the 25.
Since then a popular strategy has developed where teams instruct kickers to kickoff high and often toward the sideline, short of the end zone, in an effort to pin the returner inside the 25. Now those kicks can be fair caught and instead of the ball being placed at the spot of the catch, it will be placed at the 25.
Swinney said he isn't sure the rule is going to work the way it was intended.
"I don't think it's gonna accomplish the objective, because I think from a kickoff standpoint you gotta cover it," Swinney said. "You have no idea if they are gonna return it or fair catch it. You still have to cover the kick as if it's coming out every single time. Those blocks and things are still taking place. I think from a kickoff standpoint it doesn't change anything you, just have to assume the ball is coming out whether the kick is in the end zone or on the 10. You better cover it like it's like it's a live ball coming."
Swinney said each game will provide different ways to see how the rule change affects gameplay.
"It's probably going to change some things from a kickoff return standpoint," he said. "It's probably going to be a game to game, kick to kick situation. I mean those are on a case by case basis. I don't know that you would say this is what we are doing every time, it depends on who you are playing and the situation of the game.
"You may tell them, 'Hey, we are bringing it back every time no matter what' or maybe it's a different situation in the game and you go, 'You know what, we are gonna fair catch this ball, take it on the 25 and let's go from there,' " Swinney said. "It gives you more options and a little different strategy. I think it's a good change, it'll be interesting to see how it will play out."
He also doesn't think the recent transfer rule change - athletes no longer need permission from the school they are attending or the coach they are playing for in order to transfer – will affect Clemson.
"I don't think it will have much of an impact," Swinney said. "I mean, in the past, there were few restrictions, there might have been 10 schools, school on your schedule that year. That was kind of the standard process but that's really the only change. Normally they don't come and ask you anyway, they kind of know where they are going at that point. I don't have a problem with it at all, it is what it is. I just focus on the ones here."
Another rule change focused on headsets on the sideline – aimed at Nick Saban – that says a team can only have 20 people using headsets on the sidelines on game day.
"Oh, I think it's silly, that's one of the sillier rules that has come out in the past several years, to be honest with you," Swinney said. "I don't really understand that one."