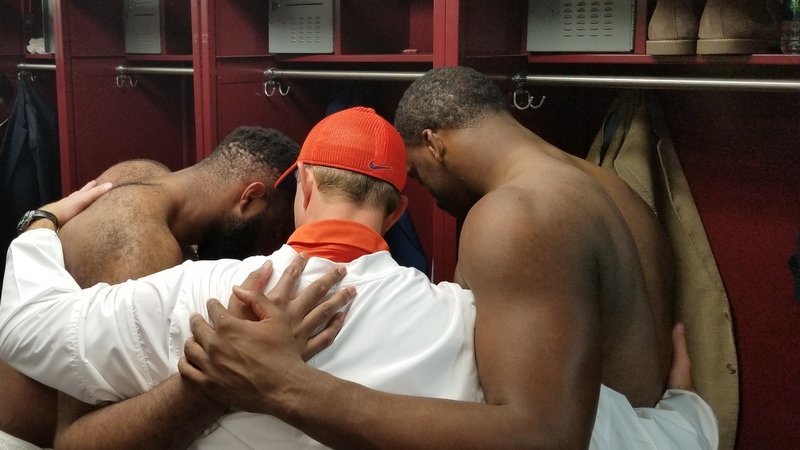 | | |
| --- | --- |
| Final Thoughts: The good and the bad of the Sugar Bowl | |
---
| | | |
| --- | --- | --- |
| Thursday, January 4, 2018, 1:54 PM | | |
Clemson's locker room in the aftermath of Monday's Sugar Bowl loss to Alabama was different than the locker room after the title game loss to Alabama two years ago. Two years ago, seniors sat in their lockers, refusing to take off the pads and the jersey a final time, some staring into space while others fought back tears.
This past Monday, there were tears to be sure. But there was also the realization that a better team won the game. Losing on a last-second field goal hurts. Losing games like Monday's has a certain sting, but there is also the realization that nobody was going to beat Bama that night. It would have taken an almost-perfect game from quarterback Kelly Bryant, the Clemson offensive line and the rest of the offense.
It wasn't close to perfect. One offensive lineman told me, "They (Bama) played their best game of the year, maybe in a few years, on defense and we played our worst game. It happens. It just sucks it happened here tonight."
ESPN reporter Marty Smith and I exchanged a series of texts yesterday that had one simple point – Alabama was a team on a mission. They played angry. They were mad. Head coach Nick Saban had planted several seeds of anger into his team – from one defender saying Hunter Renfrow was a liar to the fact that Dabo Swinney voted for Ohio St. in the poll after the championship games.
That doesn't mean Clemson's players aren't culpable – the wide receivers didn't help with the drops, quarterback Kelly Bryant missed reads and the offensive line was a train wreck, to put it kindly. A lot of that has to do with Alabama, and a lot of it is on Clemson.
Now, this coaching staff will finish out this recruiting cycle (trust me, more good players are on the way), and then there will be hard decisions to make in the spring. Quarterbacks coach Brandon Streeter told us last week that Bryant might see limited reps in the spring (they know what he can do) while the coaches get a look at the younger players. That means Chase Brice, Hunter Johnson, Zerrick Cooper and a stud named Trevor Lawrence. Of course, the likelihood (at least in my eyes) that all of those guys are here at the start of spring practice is slim, so the ranks will be thinned a little bit.
The coaches will not only have to deal with a transfer or two, several players have big decisions to make in the next few weeks , including guys like Deon Cain, Christian Wilkins, Mitch Hyatt, Clelin Ferrell and Austin Bryant. We will get into all of that at a later date, so for now I'll finish with a few of the sights we saw in New Orleans.
*In the locker room, head coach Dabo Swinney moved from player to player, whispering something to each of them in what should have been a very private moment. Of course, all of us in the media were in there and it wasn't so private, but you could tell how much it meant to each of them. It's easy to see why players want to play for him. He spent more than a few minutes with Wilkins, who looked broken-hearted and shocked.
In the "grown man" category, Ferrell went up to Clemson football SID Tim Bourret and offered to do interviews if no one else wanted to do them. That's not only a grown man, that shows leadership and class. If he goes pro we are gonna miss that guy.
*Covering the Sugar Bowl was an experience – like most College Football Playoff sites they do a good job of shuttling the media from site to site, offering quotes and meals and all of the extras that are a part of the media process. I wish it would have been warmer so we could get out and enjoy things a little more, but the weather (and the score) was really the only downside.
The media party was at a place on Bourbon Street, and yes it had a balcony. The place provided plenty of beads, and we stood out threw beads for the better part of two hours. Yes, some women were more than happy to flash for beads, and we had all kinds come through. The one that will forever stand out, however, is a Clemson fan. She was maybe 60 or 65, decked out in Clemson gear from head to toe, and was what I began to call a repeat offender. She would come by, lift her shirt, gather in the strands of beads and walk out of sight. Ten minutes later she would be back. She was also carrying more than one potent drink, which explains things.
That Bourbon St. is quite a place. And that was quite a butt whipping. However, it doesn't take away from the fact that Clemson as one of the four teams left standing, made it to the College Football Playoff, won 12 games and is in a good spot to make this a regular occurrence. And, there will be a lot going on over the next few months. Recruiting is going to ramp back up, a bunch of great young players are going to enroll and you can bet there will be a quarterback battle.
Bring it on. Like other games that have hurt, this one will also pass. Put it in the past and look to the future.

Upgrade Your Account
Unlock premium boards and exclusive features (e.g. ad-free) by upgrading your account today.
Upgrade Now

Tags: Clemson Football
,
Kelly Bryant
,
Hunter Renfrow
,
Chase Brice
,
Hunter Johnson
,
Zerrick Cooper
,
Deon Cain
,
Christian Wilkins
,
Mitch Hyatt
,
Clelin Ferrell
,
Austin Bryant
,
Brandon Streeter