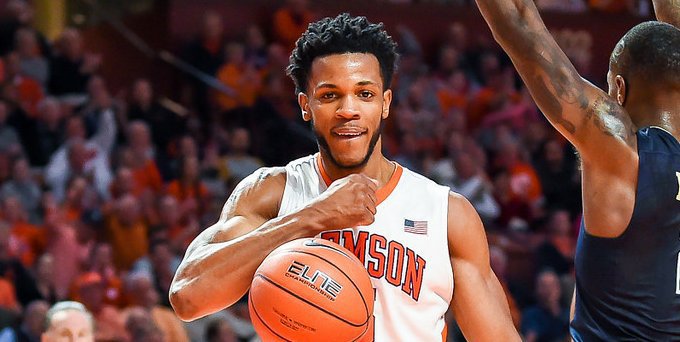 | | |
| --- | --- |
| Former Clemson player tied to FBI probe into college basketball | |
---
Former Clemson basketball player Jaron Blossomgame is named in a Yahoo! report documenting current and former college players who allegedly took money from agency ASM Sports. The report lists documents obtained by the FBI that have player Jaron Blossomgame receiving advance payments before turning professional.
According to the report: Balance sheets and expense reports collected from ASM Sports, a sports agency operated by former National Basketball Association agent Andy Miller, Blossomgame was paid $1,100 while still in school.
According to the documents, Miller's former associate Christian Dawkins requested reimbursement for meals with Blossomgame and his family on March 8, 2016. He also alleges to have paid for a flight for "Jaron Blossomgame's mentor" less than a week later.
Blossomgame played for Clemson from 2012 to 2017. He declared for the 2016 NBA Draft but did not sign with an agent. He went through the NBA Draft Combine and was a standout player, but opted to return for his senior season, where he earned All-ACC honors.
He was selected in the second round (59th pick) by the San Antonio Spurs in the 2017 draft. He has played for the Austin Spurs of the NBA's G-League this season, appearing in 38 games and is averaging 15.4 points per game.
The NCAA does not prohibit all contact with agents, but players are disallowed from accepting any benefit, whether monetary or a gift, while enrolled. Former Clemson players Trevor Booker and KJ McDaniels were also clients of ASM but have since left the firm.
Clemson head coach Brad Brownell was asked about the probe - and Louisville vacating their 2013 National Championship - during a meeting with the media last week.
"Clearly, it shows you need to do things the right way," Brownell said. "I heard a generality of it, so I don't know what they went into or any of those types of things, but it's hard to go back and vacate wins and what does all that mean and taking down a banner and those types of things. But I do think there needs to be punishments for things."
Brownell said schools have to do things the right way.
"There have to be repercussions for things that aren't being done the right way because there are a lot of people that are," Brownell said. "The playing field needs to be as level as it can be, so from that standpoint, I'm glad."
Clemson Athletic Director Dan Radakovich and Brownell released statements on the allegations:
Statement from Clemson Director of Athletics Dan Radakovich
"Clemson was made aware of an issue regarding a former student-athlete through this morning's media reports. We received no inquiries or prior notice from anyone, and we're in the process of reviewing the matter."
Statement from Clemson Head Men's Basketball Coach Brad Brownell
"I've been in college basketball for over 25 years and I've always tried to conduct myself within the rules and have held my staff and players to the same standard.
"Because I do not have any personal knowledge about the current investigation, I won't comment or speculate about that matter. We'll cooperate with any agency looking into the issue if they contact us."
Blossomgame Final Bio
Declared for the 2016 NBA Draft but did not sign with an agent ... went through the NBA Draft Combine and was a standout player, but opted to return for his senior season, where he cemented his legacy as a two-time All-ACC performer ... signed in the fall of 2011 with Brad Brownell's program ... highest-rated signee of Clemson's 2012 class, he sat out the season and redshirted due to a broken leg suffered in April as a senior in high school ... practiced in limited contact situations throughout most of the 2012-13 season ... earned team's Tiger Pride Award at season's end ... underwent second surgery on his leg in June 2013 to accelerate the healing process ... returned to the court in September 2013 ... earned great experience as a freshman in 2013-14, playing as an undersized power forward ... valuable rebounder and athlete whose rookie season was cut short after suffering an injury in the NIT opener ... earned the Determined Spirit Award at the CLEMMYs, the athletic department's annual all-sports banquet ... had significant impact as a sophomore in 2014-15, leading the Tigers in scoring and rebounding ... named team's Most Improved Player ... elevated his game to another level as a junior in 2015-16, when he again led the Tigers in scoring and rebounding, putting together one of the best individual seasons in recent history by a Tiger ... received the Paul Bowie Most Valuable Player honor in 2015-16 ... amassed 1,733 points over his career, fifth-most in Clemson history ... also snagged 831 rebounds, eighth-best in program history ... finished career in the top 10 in Clemson history in starts (125), minutes (3,924), 20-point games (32), double-figure games (87), field goals (627) and free throws (383) ... played for the Georgia Stars, the same AAU program that sent 2012 graduate Tanner Smith to Clemson ... recruited by former Clemson assistant Earl Grant, now head coach at College of Charleston ... earned undergraduate degree in sociology in August 2016 ... only college player to attend both the Nike Basketball Academy and adidas Nations, both in Los Angeles, in July 2016 ... signed with ASM Sports, the same agency that represents former Tiger standouts Trevor Booker and K.J. McDaniels.

Upgrade Your Account
Unlock premium boards and exclusive features (e.g. ad-free) by upgrading your account today.
Upgrade Now