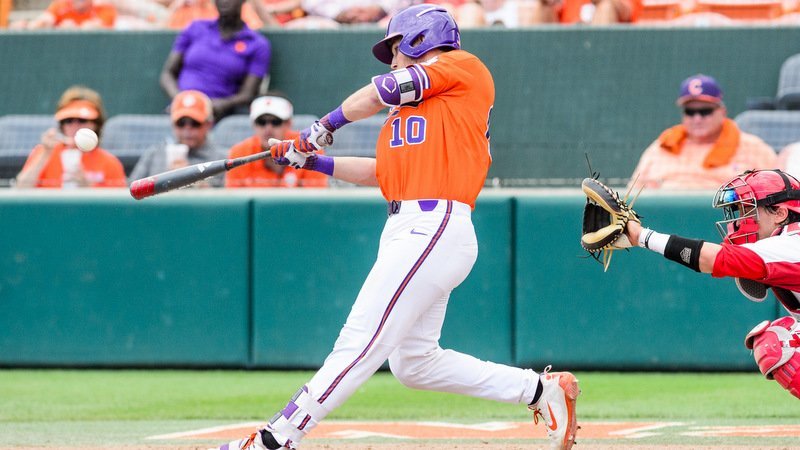 | | |
| --- | --- |
| Wilkie comes through again, Tigers calm the Red Storm to advance | |
---
| | | |
| --- | --- | --- |
| Sunday, June 3, 2018, 3:43 PM | | |
CLEMSON – Trailing by two runs and mired in a hitting funk, Clemson needed someone to step up and get a big, two-out hit. Enter Kyle Wilkie.
Wilkie's two-out, two-run double off the wall in left erased that two-run deficit and propelled top-seed Clemson to a 9-8 victory over St. John's in game five of the NCAA Clemson Regional Sunday. Clemson advances to play Vanderbilt in a game that will start at 6 p.m. If Vanderbilt wins, the Commodores advance to a Super Regional. If Clemson wins, the teams will meet again Monday at 4 p.m.
Wilkie's double extended his hitting streak to 28 games. Clemson improves to 47-15 in the victory. Ryan Miller earned the win with 5 2/3 innings of two-run relief.
Clemson head coach Monte Lee said St. John's gave Clemson all it wanted in Sunday's elimination game.
"What a great game. Obviously to give up a big inning in the first inning and to have to turn it over to Ryan Miller out of the pen out of third says an awful lot about Ryan Miller for us to win this ballgame. We battled today. Things were not going our way," Lee said after the game. "Belge, I thought he was outstanding. St. John's has a heck of a pitching staff and they've got a heck of a ball club. Their team could compete in any league in the country. They certainly gave us all that we could handle. Our guys fought and we certainly fought with two outs. We need every run we could get. It may be the first time as a head coach that we've given up two big innings and won. It's next to impossible statistically to give up two big innings in a ballgame and win the game."
Clemson starter Jacob Hennessy ran into immediate trouble in the bottom of the first. Making his first appearance since May 11, Hennessy was rusty and it showed. St. John's Jamie Galazin lined a one-out double to left and came home on a Josh Shaw homer to left for a 2-0 lead. Hennessy got a second out, but Luke Stampfl hit a solo shot off the roof facing of the Chapman Grandstands for a 3-0 lead.
Hennessy's day was done after a one-out hit in the third and he was replaced by Ryan Miller. Miller allowed a quick double that put runners at second and third with one out – a Seth Beer relay saved the run – but Miller got out of further trouble.
The Tigers were held hitless through one batter in the top of the fourth, but Beer erased the shutout and the no-hitter with a solo shot to right-center, his 22nd of the season. The homer was the 56th of Beer's career, more than any other active player in college baseball.
Miller continued to keep St. John's at bay while waiting for his hitters to get the Tigers back in the game, and they answered the call in the sixth. Logan Davidson drew a one-out walk, Beer struck out for the second out, and Chris Williams walked to put runners at first and second. Needing a big hit to break the drought, that brought Wilkie to the plate.
Wilkie started in an 0-2 hole, worked the count to 3-2 and then drove a ball off the top of the wall in left for a 2-run double, tying the score at 3-3. Drew Wharton laced a single through the left side to score Wilkie for a 4-3 lead. Jordan Greene singled to center to move Wharton to third. A wild pitch scored Wharton to make it 5-3, but Greene was thrown out trying to make it to third, ending the four-run outburst.
The Tigers added to the lead in the seventh. Grayson Byrd led off the inning with a walk, Sam Hall singled to center and Kier Meredith drew a four-pitch walk to load the bases. Davidson flew out to shallow right for the first out and Byrd was thrown out at the plate trying to score. Beer walked to load the bases and Williams dumped a single into left, scoring Hall and Meredith for a 7-3 lead.
The Tigers added an insurance run in the 8th. Wharton led off with a walk and advanced to second on a sacrifice bunt by Greene. A wild pitch bounced to the wall, but the St. John's catcher couldn't find the ball and Wharton raced home from second for an 8-3 lead.
Miller began to tire in the 8th and allowed a run, but struck out a pinch-hitter to end the inning with runners at the corners. Clemson got that run back in the ninth. Beer was hit by a pitch, moved to third on Wilkie's single and scored on Wharton's single through the left side to make it 9-5. The Red Storm added a solo homer and a three-run home run in the ninth to give Clemson a scare.
Lee said that Clemson - as a team - wouldn't be where they are without Miller.
"I want to make sure that I give credit where credit is due because the young man to my left, I don't know if I'll ever get a chance to coach a pitcher who has done more for a team than Ryan Miller has," Lee said. "Ryan Miller is the best pitcher I've ever coached. For him to be able to do what has done for this team this year. If you look at how many games we've won with this team on his shoulders, it says an awful lot about him. I couldn't be prouder of the job that he did for us today. We would not have won without him and what he's done for this team all year long. It's impressive."

Tags: Clemson Baseball
,
Kyle Wilkie
,
Jacob Hennessy
,
Ryan Miller
,
Seth Beer
,
Logan Davidson
,
Chris Williams
,
Drew Wharton
,
Jordan Greene
,
Grayson Byrd
,
Sam Hall
,
Kier Meredith