| | |
| --- | --- |
| Spring practice day one observations | |
---
| | |
| --- | --- |
| Wednesday, March 5, 2014 6:36 PM | |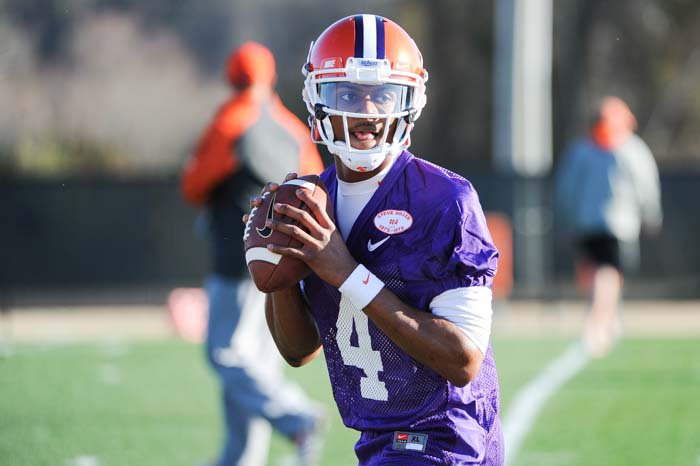 CLEMSON – Spring practice got underway Wednesday afternoon, the Tigers taking the fields behind Jervey, and the Clemson media contingent was allowed to watch the first hour or so of the proceedings.
Joining the media were a lot of former players who are on hand to participate in Clemson's Pro Day on Thursday. On hand were Tajh Boyd

Tajh Boyd
Quarterback (2009 - 2013)
#10 6-1, 225
Hampton, VA
View Full Profile , Chandler Catanzaro

Chandler Catanzaro
Punter / Kicker (2009 - 2013)
#39 6-2, 195
Greenville, SC
View Full Profile , Darius Robinson

Darius Robinson
Cornerback (2010 - 2013)
#8 5-10, 175
College Park, GA
View Full Profile , Phillip Fajgenbaum

Phillip Fajgenbaum
Long Snapper (2009 - 2013)
#52 6-0, 220
Raleigh, NC
View Full Profile , Martavis Bryant

Martavis Bryant
Wide Receiver (2011 - 2013)
#1 6-5, 200
Calhoun Falls, SC
View Full Profile , C.J. Spiller

C.J. Spiller
Pro Running Back
#28 5-11, 195
Lake Butler, FL
View Full Profile , Roderick McDowell

Roderick McDowell
Running Back (2009 - 2013)
#25 5-9, 195
Sumter, SC
View Full Profile and Rashard Hall

Rashard Hall
Safety (2008 - 2012)
#31 6-2, 210
St. Augustine, FL
View Full Profile . New York Jets head coach Rex Ryan is also in town – he was sporting a Clemson hat and Clemson sweatshirt – watching his son Seth Ryan work out with Clemson's wide receivers.
Another former player spotted was Rendrick Taylor

Rendrick Taylor
Wide Receiver
# 6-2, 210
Bennettsville, SC
View Full Profile , who is working on the strength and conditioning staff with Joey Batson. I asked Taylor how much he weighs right now, and he checks in at 255 and looks like he could play today. He also told me he would love to play in Chad Morris

Chad Morris
Offensive Coordinator / QBs
View Full Profile ' offense.
But I am sure everybody wants to hear about the freshmen, so let's get started.
Deshaun Watson was sporting his familiar No. 4 jersey, and I watched a good bit of the quarterback session while talking with Rex Ryan. His take on Watson? He said that Watson didn't look like a freshman, and then as soon as he said that Watson overthrew a receiver by 20 yards. Ryan laughed, and said that is typical of freshmen and rookies – as soon as you start trusting them they do something to remind you of how young they are.
However, Watson's talents are undeniable, and I was impressed with his accuracy and arm strength during the session.
*I spoke with Tajh Boyd about his draft chances, and he said he is hearing a lot from the Arizona Cardinals, which might be a great fit. The Cardinals already have Jaron Brown

Jaron Brown
Wide Receiver (2008 - 2012)
#18 6-2, 205
Cheraw, SC
View Full Profile and Andre Ellington

Andre Ellington
Running Back (2008 - 2012)
#23 5-10, 195
Moncks Corner, SC
View Full Profile .
*Offensive lineman Kalon Davis

Kalon Davis
RS Sr. Offensive Guard
#67 6-5, 330
Chester, SC
View Full Profile walked by me, and I had to do a double take, And then I did a triple take. And then he laughed and walked on. His eyes were freaky looking – he is wearing colored contacts (I never found out the reason) that give him a rather scary look. The iris is completely white, and there is small dot where the pupil should be. One of the coaches told me he can't look at Davis while he is wearing the contacts because of how scary he looks. I can't imagine what some defensive lineman will think.
*Here are the numbers of the new players and T.J. Green

T.J. Green
So. Athlete
#82 6-2, 189
Sylacauga, AL
View Full Profile , who switched from wide receiver to safety.
Kyrin Priester

Kyrin Priester
Fr. Wide Receiver
#80 6-2, 190
Lilburn, GA
View Full Profile -17
Deshaun Watson-4
Demarre Kitt-8
Artavis Scott-3
T.J. Green -15
*The groups broke out for the tempo period, and here is the first team offensive line from left to right – Isaiah Battle

Isaiah Battle
Jr. Offensive Tackle
#79 6-6, 280
Brooklyn, NY
View Full Profile , Eric Mac Lain

Eric Mac Lain
RS Jr. Offensive Line
#78 6-3, 260
Hope Mills, NC
View Full Profile , Ryan Norton

Ryan Norton
RS Jr. Offensive Line
#58 6-3, 270
Simpsonville, SC
View Full Profile , Kalon Davis and Shaq. Anthony.
*Freshman linebacker Chris Register was in a green jersey, and so was Kevin Dodd

Kevin Dodd
RS So. Defensive Tackle
#98 6-4, 280
Taylors, SC
View Full Profile (limited contact). In jerseys but not working out were Travis Blanks

Travis Blanks
Jr. Defensive Back
#11 6-0, 190
Tallahassee, FL
View Full Profile , Martin Jenkins

Martin Jenkins
RS Sr. Cornerback
#14 5-10, 180
Roswell, GA
View Full Profile , Marcus Bullard

Marcus Bullard
RS Jr. Linebacker
#57 6-3, 205
Columbia, SC
View Full Profile , Charone Peake

Charone Peake
RS Jr. Wide Receiver
#19 6-3, 200
Moore, SC
View Full Profile and Kellen Jones

Kellen Jones
RS Jr. Linebacker
#52 6-1, 215
Houston, TX
View Full Profile .
*Freshman defensive back MacKensie Alexander

MacKensie Alexander
RS Fr. Defensive Back
#2 5-11, 185
Immokalee, FL
View Full Profile didn't hold back during the session. The big news – he also looked happy and ready to go. He played defensive back, he fielded punts, he was joking and laughing with everybody and generally looked like the player we expected to see last fall. And oh, by the way, he looks really fast. He just outran people out there.
*I loved what I saw out of the quarterbacks – the ball comes out of Watson's hand so easy, even if his windup looked a little long. I am sure Chad Morris will tighten it up a little bit, but even Ryan admitted that you don't mess too much with a talent like Watson.
Chad Kelly
Chad Kelly
RS So. Quarterback
#11 6-2, 210
Buffalo, NY
View Full Profile was also impressive during the drills I watched – there is no denying he has a little extra zip on the ball right now, and he was very accurate during the drills. He also looks good running the ball, something we couldn't say last fall after his surgery. I fully expect the quarterback battle to last well into the fall.
Nikki Steele observations
*Senior quarterback Cole Stoudt

Cole Stoudt
Sr. Quarterback
#18 6-4, 205
Dublin, OH
View Full Profile made it known from the very beginning of practice that he was ready to be a leader. He led the offensive players onto the field and rallied them before the stretching period. He also raced out to the center of the indoor practice facility field to lead the entire team in stretching drills. I was able to watch an entire period of quarterback drills that was focused entirely on throwing – no foot movement at all except walking.
Sophomore Chad Kelly appeared to have the strongest arm as far as putting zip on the ball and was the most accurate with his throws. Keep in mind though that the throws were to stationary trainers and were never over 20 yards. Stoudt was very fluid in his motions and seemed very loose during drills. Freshman Deshuan Watson seemed to be a little timid as would be expected with this being his first day of practice on the college level.
* Jordan Leggett

Jordan Leggett
So. Tight End
#16 6-6, 235
Navarre, FL
View Full Profile appears to have added a little bulk. He has added some size to what was once a tall, lanky frame.
*Kurt Fleming – the former Atlanta Braves prospect – could very well be the big back that Clemson has been missing, but has a long ways to go in perfecting his footwork and technique.
*I watched a good bit of defensive line drills where the linemen were supposed to navigate through a series of tackling dummies without using their hands. The first thing that I noticed is that there is no lack of confidence coming from Vic Beasley

Vic Beasley
RS Sr. Defensive End
#3 6-3, 225
Adairsville, GA
View Full Profile as he put his on spin on the drill – using his signature dip and rip several times. Shaq Lawson

Shaq Lawson
So. Defensive End
#90 6-4, 260
Central, SC
View Full Profile picked up right where he left off in his freshman season. Redshirt freshman Ebenezer Ogundeko

Ebenezer Ogundeko
RS Fr. Outside Linebacker
#1 6-3, 230
Brooklyn, NY
View Full Profile definitely looks the part. He benefitted from a redshirt season, adding weight and working on his technique.
*One of my favorite parts of practice was watching the defensive players go through a drill where the trainers would put two to four footballs on top of cones five yards apart down each sideline. Coach Marion Hobby

Marion Hobby
Assistant Coach / Defensive Ends
View Full Profile would get a group of five up to the line and make them do three up-downs and tell them the direction to go and the people who didn't get a ball had to go do 10 up-downs before they could get back in line. And, it didn't matter if another player got there first, they could knock each other down to get the ball.
And, that's just what Ben Boulware

Ben Boulware
So. Outside Linebacker
#10 6-1, 230
Anderson, SC
View Full Profile did. Stephone Anthony

Stephone Anthony
Sr. Linebacker
#42 6-2, 235
Polkton, NC
View Full Profile got to the football first, but Boulware barreled in and knocked Anthony to the ground jarring the ball loose. Boulware picked it up, leaving Anthony to perform the up-downs. Anthony tried to plead his case to defensive backs coach Mike Reed

Mike Reed
Defensive Backs Coach
View Full Profile , but he was having none of it and simply praised Boulware for not giving up.
* Marcus Edmond

Marcus Edmond
RS Fr. Defensive Back
#29 6-1, 180
Hopkins, SC
View Full Profile was another that wasn't scared of a little contact, making sure that he didn't have to pay the price for being last.

Tags:
Andre Ellington
,
Ben Boulware
,
C.J. Spiller
,
Chad Kelly
,
Chad Morris
,
Chandler Catanzaro
,
Charone Peake
,
Cole Stoudt
,
Darius Robinson
,
Ebenezer Ogundeko
,
Isaiah Battle
,
Jaron Brown
,
Jordan Leggett
,
Kalon Davis
,
Kellen Jones
,
Kevin Dodd
,
Kyrin Priester
,
Mackensie Alexander
,
Marcus Bullard
,
Marcus Edmond
,
Marion Hobby
,
Martavis Bryant
,
Martin Jenkins
,
Mike Reed
,
Phillip Fajgenbaum
,
Rashard Hall
,
Rendrick Taylor
,
Roderick McDowell
,
Ryan Norton
,
Shaq Lawson
,
Stephone Anthony
,
T.J. Green
,
Tajh Boyd
,
Travis Blanks
,
Vic Beasley