---
| | | |
| --- | --- | --- |
| Wednesday, August 15, 2012, 4:11 PM | | |
CLEMSON – Will he, or won't he redshirt?
That's the big question concerning linebacker Tony Steward
Tony Steward
So. Linebacker
#7 6-1, 245
Hastings, FL
View Full Profile , the former 5-star prospect whose Clemson career has been derailed to this point by knee injuries, and the answer really depends on who you ask – however, Clemson head coach Dabo Swinney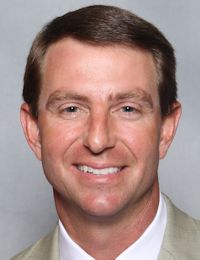 Dabo Swinney
Head Coach
View Full Profile and defensive coordinator Brent Venables
Brent Venables
Defensive Coordinator / Linebackers
View Full Profile have been pleased with how Steward has progressed.
Steward suffered an ACL tear during December of his senior year at Pedro Menendez High School in Florida, and then tore the opposite ACL during punt return drills in practice at Clemson last October.
Steward had played in five of the first seven games for the Tigers and had five tackles and a pass deflection in 36 defensive plays before the injury.
Steward has said this spring that he feels "almost 100 percent" and Swinney said Wednesday that he doesn't understand where people are getting the idea that Steward might redshirt this season.
"That's just people creating their own stories. I don't know where that's coming from," Swinney said after Wednesday's scrimmage in Death Valley. "Maybe it's because somewhere along the line I made a comment that if he wasn't 100-percent healthy we'd always have the right to redshirt him. But he's great."
Swinney also said Wednesday that Steward is once again seeing time on special teams, and is also in the competition at the weakside (WILL) linebacker spot with Tig Willard and Corico Wright
Corico Wright
Sr. Linebacker
#42 5-11, 230
Milledgeville, GA
View Full Profile , even though Willard and Wright appear to have the upper hand at this point.
"He's just getting better every day," Swinney said. "At some point he's going to be what everybody hoped he would be, because he's that good. He's talented. Unless he gets hurt again. That's the only thing I see stopping that young man from being a great player."
I asked Venables on Wednesday if he has made up his mind on whether Steward will play or redshirt, and he said it was still too early to tell, in his opinion.
"I don't know yet. I don't know," Venables said. "I think I've been real pleased with the guys in front of him up to this point and pleased with where he is considering he didn't go through any spring ball. So we will see, but there are still a couple of weeks to figure things out. "
Venables also said he wouldn't rule out a redshirt.
"It is there. We want him to have an opportunity to win a job and we know that he has a lot up against him," he said. "But he has really exceeded the expectations with where is at right now, being less than a year out of that injury. And not just one, but two. He has done well. "
Venables said that Steward still isn't the player that many considered the best linebacker in the nation coming out of high school.
"I think you would be naïve to think he is right back to where he was," he said. "He is not gimping around and he isn't having any issues with regards to swelling. But he hasn't done any deep, heavy squats or power cleans in well over a year, either. And probably longer than that, since he was in high school. I think that his best football is ahead of him, and I think he has a chance to be a tremendous player. The further removed from the injury that he gets, the stronger, more explosive and faster he is going to get."