| | |
| --- | --- |
| Troy vs Clemson prediction | |
---
| | | |
| --- | --- | --- |
| Friday, September 2, 2011, 11:41 AM | | |
Are you ready for some Tiger football?
The long off-season is finally over and we are almost ready to see the Tigers play.
It's Orange & White. It's the paw. It's Howard's Rock. It's the Most Exciting 25 Seconds in College Football. It's Tiger Walk. It's tailgating 12 hours before kickoff. It's Victory Walk. It's Tiger Rag. It's the Smash-mouth Spread. It's the Steele Curtain Defense. It's the Band that Shakes the Southland. 
Head coach Larry Blakeney brings his Troy Trojans into Clemson for a 3:30 p.m. date in Death Valley, and the Trojans are no strangers to playing against the big boys for a big pay check – and the chance to knock them off. Twice they've knocked off a BCS team – 2004 against Missouri and 2007 against Oklahoma St. But both of those games were at home, and the last time they visited South Carolina – just last year – the Gamecocks threw up 69 points.
How will they fare this season? Let's take a look.
TROY (0-0) at CLEMSON (0-0)
WHEN TROY HAS THE BALL
The Trojans have a quality quarterback in Corey Robinson – he threw for 3,728 yards a year ago – and a solid running back in Shawn Southward. In fact, the Trojans have several players who would start in the ACC and their offense has been rumored to be as fast as or faster than Morris' up-tempo spread. Blakeney told me earlier this week that the big key for his troops will be running the football effectively. If they can't run, then the Tigers' big and athletic defensive line can pin their ears back and come after Robinson. Look for Troy to try and hit a couple of big plays in the passing game early, then hit the draw play and play-action passes later to try and off-set the Clemson rush. Troy has just one healthy starter returning to the offensive line from 2010, and the Trojans will be looking to some newcomers to keep Robinson off his back. Senior James Brown is an Outland Trophy candidate and is back at left tackle, but juniors Jacob Creech and Kyle Wilborn are both coming back from off -season surgeries and senior Zach Swindall, a former walk-on, will be a first year starter at center. Auburn transfer Justin Albert is a part of a receiving corps that also features several new players, so Robinson might need time to click with his new mates.
ADVANTAGE – CLEMSON.
WHEN CLEMSON HAS THE BALL
Clemson fans finally get to see the debut of Morris' offense, and quarterback Tajh Boyd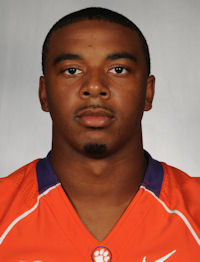 Tajh Boyd
RS So. Quarterback
#10 6-1, 230
Hampton, VA
View Full Profile gets his first start in a Clemson uniform. It also features the return of running back Andre Ellington
Andre Ellington
RS Jr. Running Back
#23 5-10, 190
Moncks Corner, SC
View Full Profile and the debut of Clemson's fabulous freshman class of receivers. Boyd understands this year's offense has what last year's offense lacked – a bunch of Frisbee catching dogs that can flat go get the ball. The Trojans have a very good player in defensive end Jonathan Massaquoi, and he will do his best to disrupt the Clemson offense.  The 6-2, 250-pound junior is coming off a monster sophomore season in which he posted 76 total tackles, 20.5 TFLs and 13.5 sacks. Look for Troy to line up Massaquoi on both sides of the line – going against first-year starter Phillip Price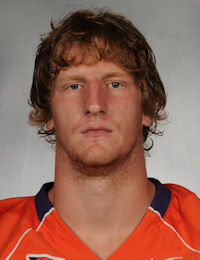 Phillip Price
RS Sr. Offensive Line
#79 6-5, 300
Dillon, SC
View Full Profile on one side and Landon Walker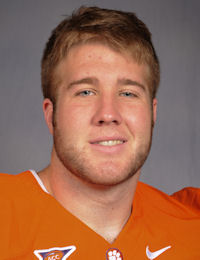 Landon Walker
RS Jr. Offensive Line
#72 6-6, 310
North Wilkesboro, NC
View Full Profile on the other. And knowing Morris, he will run the ball right at whichever side he sees Massaquoi lined up. Nothing slows down a pass rush like seeing a running back slide by you. In the past, the under-sized Trojan defense has tried to stop the running games of bigger opponents by bringing an extra hat into the box – a strategy employed against Clemson a ton last season. When that happens, Boyd has to be able to hit the hot receiver on quick routes, and it won't take but one or two successes in the passing game to loosen things up. Troy runs a 4-2-5 scheme that Clemson should be able to run on, and the secondary was torched through the air at times last season. If Boyd protects the football, the Tigers should be able to move the ball effectively.
ADVANTAGE – CLEMSON
SPECIAL TEAMS – Troy kicker Michael Taylor converted 17-of-22 field goals last year with a long of 50 yards. Punter Will Goggans, he of The Beard, averaged just over 42 yards per punt and was able to place 20 of his 64 punts inside the 20-yard line, giving Troy a solid kicking game. They don't shine in the return game. Clemson will start kicker Chandler Catanzaro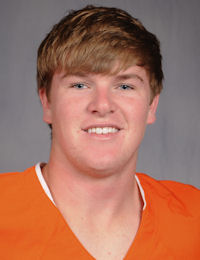 Chandler Catanzaro
RS So. Punter / Kicker
#39 6-2, 205
Greenville, SC
View Full Profile – 14-of-22 last season – but he hopes a new snapper brings rhythm and continuity to his unit. Punter Dawson Zimmerman
Dawson Zimmerman
Jr. Punter / Kicker
#96 6-2, 205
Lawrenceville, GA
View Full Profile gets better and better every time he goes out. Clemson gets the advantage here because of the weapons they bring to the return game in Sammy Watkins
Sammy Watkins
Fr. Wide Receiver
#7 6-2, 200
Fort Myers, FL
View Full Profile , Nuk Hopkins and Mike Bellamy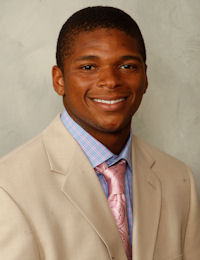 Mike Bellamy
Fr. Running Back
#5 5-10, 187
Nocatee, FL
ADVANTAGE – SLIGHT TO CLEMSON
BOTTOM LINE – Both teams have a lot of youth and experience, and the first half could be a long process of trying to get players in the groove or trying to figure out what is working. And this Troy team will still be able to score points, despite the loss of so many skill players from a year ago. Don't be surprised by a blowout, but don't be surprised if this one is still a game in the third quarter and beyond. The biggest difference will be in the fact that Clemson has more playmakers, and will eventually begin to wear the Trojans down in the heat of the second half. And just when everybody starts cramping up with the heat and standing around with hands on hips, one of Clemson's Baby Boomers takes it to the house to seal the deal. Watkins and the Boomers have a solid debut, Boyd gets 65-plus snaps under his belt, and the Tigers win.
CLEMSON 41, TROY 20
GUEST PREDICTIONS
Mickey Plyler - 6AM-9M on WCCP 104.9FM - 37-7 Clemson
Dan Scott - 9AM-12PM on WCCP 104.9FM - 34-14 Clemson
El Swann from TigerNet Talk - Follow him on Twitter @clemsonpodcasts - 27-10 Clemson
Computer simulation – 34-7 Clemson (Boyd: 10-24 for 184yds 3 Tds, Ellington: 27-125 1 Tds, Hopkins: 3-100 2 Tds, Thompson: 4 tfls, 1 sack)