| | |
| --- | --- |
| Swinney breaks down 2012 recruiting class | |
---
| | | |
| --- | --- | --- |
| Wednesday, February 1, 2012, 4:34 PM | | |
CLEMSON – Clemson head coach Dabo Swinney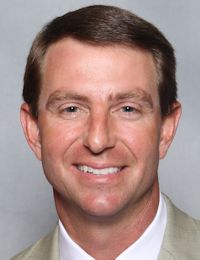 Dabo Swinney
Head Coach
View Full Profile wrapped up National Signing Day with a press conference in the team room at the WestZone, and said the day was like "Christmas" for the Clemson coaches.
The Tigers landed another Top 10 class – currently ranked No. 7 by ESPN – for the second year in a row and the first time since 1988-89.
"It is literally like Christmas for an adult," Swinney told the media. "It just kind of jacks me up when a young man chooses Clemson. It means they believe in what we're trying to do and they get it. It's another Top 10 class for the second time in a row. It's just another of those hurdles that we're knocking down. Haven't had back-to-back Top 10 classes since the late 80s under Coach Ford. Today was another step to becoming the type of program we want to have."
The Tigers signed 20 prospects.
"We had 21 spots available, and we will push one to next year, he said. "We'll have a small number next year based on the makeup of our football team. Seventeen of the 20 guys were committed before the season even started. It's not just a good group of football players, they are exceptional young men. We signed eight offensive players and 12 defensive players. All but three of the offensive players are here right now and will go through spring. That's just invaluable."
Clemson graduated four major contributors from this past season's offensive line, and three starters off the defensive line.
"A major area of emphasis was offensive line and defensive line," he said. "All four offensive guys are here in school, which is tremendous. And we signed six defensive linemen - three ends and three tackles. One of them, Kevin Dodd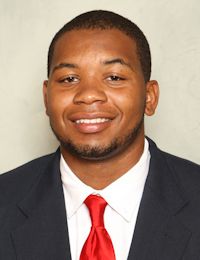 Kevin Dodd
Fr. Defensive Line
# 6-5, 280
Greer, SC
View Full Profile
Kevin Dodd
# 0, 0
,
View Full Profile , is here right now. And our goal at defensive back this year was to reruit a certain body type. All these four guys have length, physical, can really run. And I think we signed the best punter in the country."
The Tigers had just one recruit announce in favor of Clemson on Wednesday, and Swinney said the lack of drama is something he could get used to.
"There was not a lot of drama today. And I'll take this every single year," he said. "I had the eight mid-year enrollees over for dinner last night. It's amazing. Great that didn't have to wait on them to sign.
Getting Andre Ellington
Andre Ellington
RS Jr. Running Back
#23 5-10, 190
Moncks Corner, SC
View Full Profile back, even though not a new guy, is going to be huge for our program. We really have a special thing here at Clemson because of how everybody in the program takes pride in whatever segment they're responsible for."
Swinney was also quick to credit his coaching staff for bringing in the class, including recruiting coordinator Jeff Scott.
"What a tremendous job Jeff Scott has done," he said. "He continues to become one of the premier young coaches in the country. We 'team recruit' probably as good as anybody in the country. Everybody wants to help. I think that makes us a pretty tough group when it comes to recruiting. Got to compliment Brad Scott with the job he did. There's no way we don't have eight mid-year guys here if it weren't for Brad Scott. Lot of things to get pulled together to get guys in school at mid-term. Tremendous job."
Other notes from the press conference
On who could contribute in 2012
"We're going to have some youth up front on both sides. There's always a spot for a great athlete, a guy with speed. [Zac] Brooks will certainly get an opportunity to go compete this spring. [Bradley] Pinion has a real chance. Spencer Benton
Spencer Benton
RS Jr. Punter / Kicker
#13 6-2, 195
Myrtle Beach, SC
View Full Profile only guy around who has punted in a ballgame. Could see a defensive back or two getting in the mix to play in 2012. But majority of our guys are back in a lot of key spots."
On moving defensive tackle Tyler Shatley
Tyler Shatley
RS So. Defensive Tackle
#43 6-3, 295
Icard, NC
View Full Profile to the offensive line
"We're always evaluating the roster. Tyler is one of our best football players. This guy is the epitome of a football player. He is tough, smart, and the strongest guy on the team. We can leave him where he's at, and he may go back there. But we know what he can do there. He's been productive for us for two years. But we've got a few more bodies in there, and we've got a couple of guys coming that allows us to take Tyler and see if he can be the kind of athlete we think he can be at guard. It allows him to have a chance to be on the field every play. We can always move him back for fall camp. We will put him in with first team at guard and give him every opportunity to be that guy."
On competition with all the younger players
"We're really kind of built to make a run. We changed our culture through graduation and recruiting. We'll have a lot of transition up front, lot of young players. But they're talented. We've just got to grow them up. We've got every lineman on our roster here. To have that kind of depth, it's fun. You'll have to write everything in pencil, because there's going to be a lot of competition."
On not having any players from Georgia
"We were recruiting some guys in Georgia, but with the way the recruiting process works and so many early commitments, we just really filled up in some spots. It's as simple as that. But Georgia is very critical to us. We've got to do well in Georgia and North Carolina."
On having success in North Carolina
"Having more success in North Carolina was part of our hiring process. If you look at the success this program has had in the past, it's important. We have to win at home. We have to do great in this state, and we did this year. But Georgia and North Carolina, you might as well call them in-state as well."
On Chad Kelly and possible playing time
"He needs to come ready to play. That's what we tell all our freshmen. Ideally you'd love to redshirt him and grow him up and develop him. But who knows what's going to happen."
On D.J. Reader and the possibility of him playing baseball
"One of the reasons Reader came here is the track record that [Jack] Leggett and I have working together. Jack and I work great together. He was a tremendous help in this process of getting D.J. here. D.J. is not just interested in playing baseball. He is passionate about both. What I like about D.J. is here's a big guy that's not looking for the couch when the season is over. He rolls right into basketball. And then he rolls right into baseball, and he's balancing all three of those things. And he's a very good student, and high-character. I want to see a 300-pounder coming off the mound throwing 93 miles an hour. I want to see him just walk out there in that uniform."
On Mike Bellamy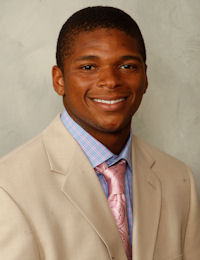 Mike Bellamy
Fr. Running Back
#5 5-10, 175
Nocatee, FL
View Full Profile and whether he will take part in drills
"Right now, yeah. It's a daily deal. We have a plan in place, and he's got a decision to make every day. As long as he makes the right decisions, absolutely he'll be with us. If he doesn't he won't. That's really kind of where it is."
On Tony Steward
Tony Steward
Fr. Linebacker
#7 6-1, 245
Hastings, FL
"Rehab wise, he's doing really, really well. We don't know yet on the medical redshirt. Danny Poole and compliance are working on that."