| | |
| --- | --- |
| Morris pleased with progress, but ready to zero in on Georgia | |
---
| | | |
| --- | --- | --- |
| Saturday, August 17, 2013, 6:48 PM | | |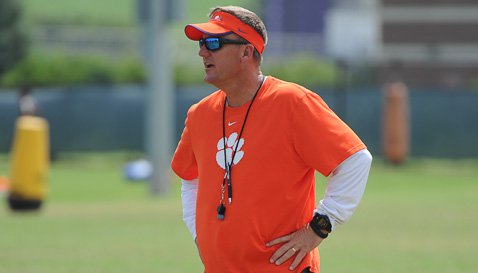 CLEMSON- As the final days of fall camp wind down, the Clemson offense will move from evaluation and learning into game-prep mode.
After Saturday's scrimmage inside Death Valley, offensive coordinator Chad Morris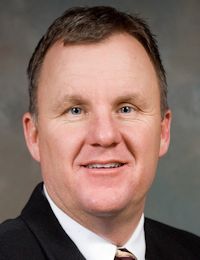 Chad Morris
Offensive Coordinator / QBs
View Full Profile has seen all he needs to see to fill out his starting lineup, and now he's ready to zero in on Georgia.
"Are we ready today? We have a few more practices to get ready," Morris said after Saturday's scrimmage. "We'll be ready. There's a lot of stuff now that we get to hone in and really zero in on those guys. If they told us that we had to play today, we wouldn't be ready, but we don't have to play today. We will be ready August 31st. As a coaching staff, you have to make sure your guys aren't ready too early. They'll be ready. I think now that camp is coming to an end, we've had some great evaluation time and teaching time. We've had a very physical camp and have been hitting each other quite a bit. Now, it's time to back off a little bit and zero in on just what we do as group."
Four of the five jobs along the offensive line have been up for grabs during fall camp, but after Saturday's scrimmage Morris said he knows who is ready to contribute and who needs more development.
"I think what we found today was guys who aren't ready and that's okay," Morris said. "That's what we thought - that they might not be ready. Some need another year on the scout team and developing. Some are going to be thrust into a role that they are going to have to be ready. I feel like we've got a few that we are really working with. We're going to hone in on our top five and start going to work on those guys Monday and really start zeroing in on Georgia."
Morris saw many young guys step up through out fall camp, including freshman receiver Mike Williams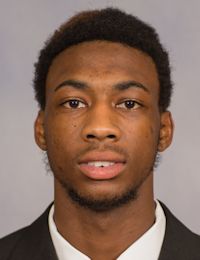 Mike Williams
Fr. Wide Receiver
#7 6-5, 205
Vance, SC
View Full Profile – who caught three passes for 111 yards and touchdown Saturday – and running back C.J. Davidson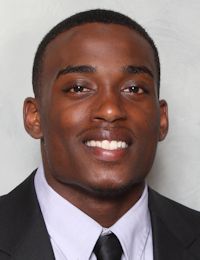 C.J. Davidson
RS So. Running Back
#32 5-11, 185
Clemson, SC
View Full Profile .
"We did see some young guys step up and make some plays," Morris said. "Mike Williams was one of them. I think we are going to see Mike Williams be a really good player. Mike Williams has a long ways to go, but he made some plays today. I'm excited about him, and a few of our other young guys are stepping up and making some plays. C.J. Davidson is another guy that has had a really good camp. We've had a really good camp offensively- just looking at our side of the ball and not taking today and gauging a camp on one day. I've been pleased with the way camp has gone."
Morris has been preaching toughness and physicality to all of his players, and he said that after three years at Clemson he finally has the true "smash-mouth spread offense" that he wants.
"I've been excited to see that type of mentality," Morris said. "I think we've had a very physical camp. Now, what does that bring to the table? I don't know. Ask me at midnight on August 31st, and I'll tell you more then. We've definitely preached about being more physical. What does that mean? Does that mean lining up and being able to knock people off the ball and gain a yard? In my opinion, yes. I think they are ready as far as taking on that responsibility of, 'hey, we want to be more physical.' That's what we've preached all camp long and it's shown. We've still got a few more positions in there that need some more work."
On the running backs
" Wayne Gallman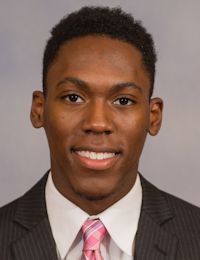 Wayne Gallman
Fr. Running Back
#9 6-1, 195
Loganville, GA
View Full Profile is having an exceptional camp. I've been really pleased with him. Tyshon [Dye] started out with a blaze of fire and then kind of tapered off and kind of burned out a little bit. He's had a nagging injury and just hasn't been up to speed over the last few practices."
"I'm very excited about C.J. Davidson. I'm excited about Hot Rod [Roderick McDowell]. Zac Brooks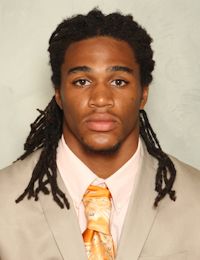 Zac Brooks
So. Running Back
#24 6-1, 185
Jonesboro, AR
View Full Profile has probably had as good of a camp as any of them, by far. We've got to continue to press those guys. We would love to redshirt them [the freshmen]. That's what we'd love to do."
On getting creative with the tight ends
"I think you've got to be creative. You have Darrell Smith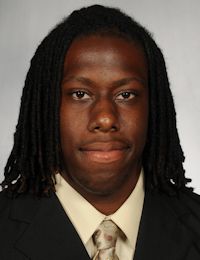 Darrell Smith
Gr. Fullback
#40 6-1, 250
Gadsden, AL
View Full Profile , who's as good as anyone that we've had. You've got Stanton Seckinger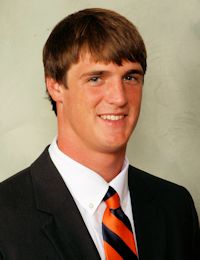 Stanton Seckinger
RS So. Tight End
#81 6-4, 210
Isle of Palms, SC
View Full Profile , who has had a really good camp. Those two guys have really come on. From there, you get creative. I'm really excited about the creativity that you get to put forth."
On tempo
"We've been so much faster than we've ever been. Ever. Our two scrimmages – prior to today because of a lot of substitutions that we had – have been incredibly fast. We are also stressing the tempo of the game. We may go really, really fast and then we may go really, really slow and then we may go fast and slow or slow and then fast. We are going to change it up and I think we've been able to do that.
"When we play slow, that's usually when we mess up and that's customary with a hurry up no huddle team. They tend to mess up when they are slowing down because of the mental errors. We're not going to slow down very much."
On playing in the rain
"It's been weird. We've been in our indoor facility quite a bit, but even when it's cool outside, it's hot in there because there's not breeze in there. These guys have really been sweating it up. It's hard to say. We do wet ball drills. We do all of that kind of stuff. We'll be ready. You can't predict that. We can only control what we can control and we can't control the weather. We just have to make sure that we have plenty of footballs and dry towels."