| | |
| --- | --- |
| Intense Reed ready to erase the question mark | |
---
| | | |
| --- | --- | --- |
| Wednesday, July 31, 2013, 11:39 AM | | |
Clemson fans may feel like the Tiger secondary has lacked intensity and execution over the past few seasons, but if new secondary coach Mike Reed
Mike Reed
Defensive Backs Coach
View Full Profile is any indication, that is about to change.
Reed left N.C. State in January to take the job at Clemson, and in the few interview sessions the media has had with Reed, his intensity is apparent. How intense is he on game day? Reed says that with defensive coordinator Brent Venables
Brent Venables
Defensive Coordinator / Linebackers
View Full Profile choosing to be on the sidelines, he feels like he needs to be in the box.
"I would like to be up top. One, I get to see everything," Reed said recently. "Two, it wouldn't do to have two of us down on the sidelines. If you ever look out on the field, Coach Venables is halfway out onto the field. That is me, because I've been known to do that. Hey, I don't want to get yelled at. Take me out of that environment. I like to be up top, where I can see."
Reed's intensity was also apparent during spring practice, but fall practice brings another challenge for the first-year coach when he welcomes seven freshmen to campus, joining freshman Jadar Johnson
Jadar Johnson
Fr. Defensive Back
#18 6-1, 180
Orangeburg, SC
View Full Profile , who enrolled in January and took part in spring drills before being sidelined by injury. The newcomers are MacKensie Alexander
MacKensie Alexander
Fr. Defensive Back
#2 5-11, 185
Immokalee, FL
View Full Profile , Adrian Baker
Adrian Baker
Fr. Cornerback
#21 6-1, 170
Hollywood, FL
View Full Profile , Ryan Carter
Ryan Carter
Fr. Defensive Back
#31 5-10, 175
Grayson, GA
View Full Profile , Marcus Edmond
Marcus Edmond
Fr. Defensive Back
#29 6-1, 180
Hopkins, SC
View Full Profile , Jayron Kearse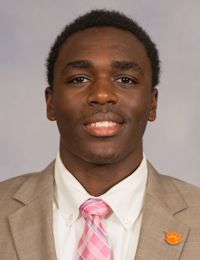 Jayron Kearse
Fr. Safety
#20 6-4, 205
Fort Myers, FL
View Full Profile , Cordrea Tankersley

Cordrea Tankersley
Fr. Defensive Back
#25 6-1, 190
Beech Island, SC
View Full Profile and Korrin Wiggins
Korrin Wiggins
Fr. Defensive Back
#12 6-1, 185
Durham, NC
View Full Profile .
They join a core returning group of senior cornerback Darius Robinson
Darius Robinson
Cornerback
#8 5-10, 175
College Park, GA
View Full Profile , sophomore safety Travis Blanks
Travis Blanks
So. Defensive Back
#11 6-0, 190
Tallahassee, FL
View Full Profile , junior corners Bashaud Breeland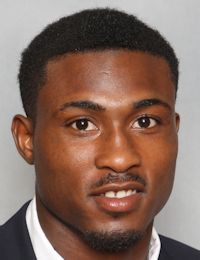 Bashaud Breeland
RS Jr. Cornerback
#17 6-0, 195
Allendale, SC
View Full Profile and Garry Peters
Garry Peters
RS Jr. Cornerback
#26 6-0, 195
Conyers, GA
View Full Profile and junior safety Robert Smith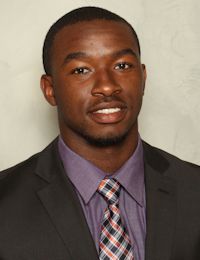 Robert Smith
Jr. Safety
#27 5-10, 210
St. George, SC
View Full Profile . Junior corner Martin Jenkins
Martin Jenkins
RS Jr. Cornerback
#14 5-10, 180
Roswell, GA
View Full Profile will return this fall after redshirting last season with a hernia injury.
Reed said that with so many players coming off injury and with so many new faces, there will be no depth chart at the beginning of practice this Friday, and that every player has a chance to earn a starting spot, including the freshmen.
"The first day I got here, I said, 'Hey, you guys are on a clean slate. I don't know you. You don't know me. The things you did in the past I'm not going to judge,'" Reed said. "I actually refused to watch a lot of the film, because I didn't want to prejudge these guys. I wanted to be able to judge these guys from what I would teach them, and it'd be a little bit unfair to judge them on what somebody else taught them."
Clemson's pass defense ranked 71st nationally a year ago, and Reed said he told his room what their status was on the team.
"Coach Swinney made it known that we were the question mark," Reed said. "So, that's what I told my kids, 'We're the question mark.'"
How did the players respond?
"'Coach, we'll take care of it,'" Reed said. "That's what you want. You want those guys to take ownership of it and run with it."
Reed said that the veterans will be pushed by the younger players, but he knows he also has to toughen the youngsters up before they are game-ready.
"It's like, 'Uh Oh. The big dogs have got to get off the porch now. These young puppies are running around here crazy,'" Reed said. "They made plays in high school. Now it's time to make plays in college. Until they make them plays for my eyes, then they haven't done anything yet.
"I've got to be hard on them. It's like I tell them when I recruit, if I'm not hard on you, the streets will eat you up. The streets are a lot harder than me, so you better get it from me now, so when you walk out in those streets you'll be ready for it."
Reed said that he has seen some special things out his unit already, and he knows he has players who are hungry to atone for last season's mistakes.
"We've got some guys who are doing things on their own," Reed said. "I've got one kid who is doing drills at 10:30 at night. He sends them to me. That's a different cat. That's someone who wants to be successful. In order for him to do what he wants to do, he knows he has to put in that time."
He then said that safeties Travis Blanks and Robert Smith are also spending their free time working to get better.
"They have something they call 'Sacrifice Saturdays' where they go out and do drills," Reed said. "This is on their own. This isn't part of summer workouts. That's what you want. You want your older guys to take ownership. I don't have to be the bad guy and kick everybody in the ass all the time. I can actually do some coaching instead of some discipline work."

Tags: Clemson Football
,
Adrian Baker
,
Bashaud Breeland
,
Brent Venables
,
Cordrea Tankersley
,
Darius Robinson
,
Garry Peters
,
Jadar Johnson
,
Jayron Kearse
,
Korrin Wiggins
,
Mackensie Alexander
,
Marcus Edmond
,
Martin Jenkins
,
Mike Reed
,
Robert Smith
,
Ryan Carter
,
Travis Blanks