---
We We Follow Recruiting
One of my best friends in the world is a big Clemson fan who loves to follow recruiting but this time every year he gets frustrated. The de-commitments and constant switching of commitments drive him crazy. He gets frustrated with the crazy rumors that fly around in the final few days before signing day and every year he jokes, "I am not following this stuff next year."
I can see how some fans don't follow recruiting. There are enough horror stories of overrated prospects to fill up volumes of books. It can also be frustrating to follow a player all of the way until the end and then have your heart ripped out on signing day.
I have another good friend who thinks anyone who follows recruiting is wasting their time but I always throw out a few rebuttals as an explanation to why I love following it.
First, there is a correlation between recruiting and winning. It may not be a direct correlation but there is evidence that links recruiting success to success on the field. For example, Alabama has signed more four and five stars in the last five years than Clemson and South Carolina combined.
This fact should not discount the importance of player development, game planning, play calling, scheduling or any other major aspect involved in the sport but even the biggest skeptics have to admit acquisition of initial talent is a major factor.
The second reason I love recruiting is the competition. Clemson completes in 12 to 14 football games a year. That's it. The other 351 to 353 days each year Clemson does not play football. Recruiting offers a chance for the Tigers to compete on any given day of the year.
Speaking of competition, Clemson does not compete against over 100 FBS schools each year on the football field. This is not the case in recruiting. Clemson has never played UCLA on the football field but those schools are currently the final two in the running for four star quarterback Asiantii Woulard
Asiantii Woulard
Quarterback
6-3, 205
Winter Park, FL
View Full Profile of Winter Park, FL. The recruiting of Woulard provides Clemson a chance to directly compete with the Bruins.
The same can be said for many of the prospects still on the recruiting board. The Tigers don't play Tennessee anymore but are going head-to-head against the Vols for defensive lineman Carl Lawson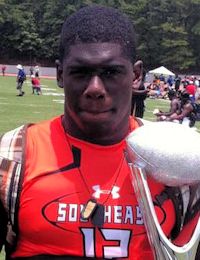 Carl Lawson
Defensive End
6-3, 251
Alpharetta, GA
View Full Profile .
Clemson will play Georgia the next two seasons but those games are rare now. However, the Tigers and Dawgs are battling for defensive tackle Montravius Adams
Montravius Adams
Defensive Tackle
6-3, 281
Vienna, GA
View Full Profile .
Cornerback Adrian Baker
Adrian Baker
Cornerback
6-1, 170
Hollywood, FL
View Full Profile has provided a rare competition between Clemson and Oklahoma. James Clark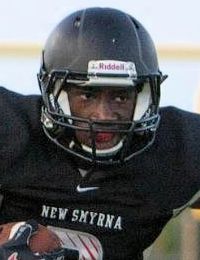 James Clark
Wide Receiver
5-11, 170
New Smyrna Beach, FL
View Full Profile and Korrin Wiggins

Korrin Wiggins
Safety
6-1, 190
Durham, NC
View Full Profile have Clemson and Ohio State among their favorites with ten days left before signing day.
This is a year long competition between my favorite team and many teams across the country.
Finally, I like the idea of a prospect choosing my team. I look at it as a bigger picture. When C.J. Spiller chose Clemson, I felt a connection with him. I felt he chose to be a part of something that I chose to be a part of.
In the state of Alabama they probably take college football way too serious but I read an interesting article on recruiting in the Atlanta Journal Constitution many years ago. The article was about recruiting fanatics and it had several quotes from some very successful business men in the South. One Alabama grad said that when a player committed or signed with Alabama, that player was choosing the Alabama way of life over the Auburn way of life. He said that player was choosing his way of life over his neighbor's way of life.
I will admit that sounds a little extreme and dramatic but Lou Holtz used to say that when a young man choses a school it is a forty year decision not a four year decision. When a player choses a school he will be linked to that school for the rest of his life.
The legendary college basketball coach Al McGuire used to tell his prospects that where you go to college is the second biggest decision of your life. He would say that the only bigger decision is who you will marry.
Again maybe some of that is a little over the top but a lot does make sense and is a another reason why recruiting has such an audience.
For those that don't follow recruiting, remember that the next time you see Jadaveon Clowney make a big play, ask yourself what that would have looked like in orange. The next time you see a Tajh Boyd touchdown pass, ask yourself what would that have looked like if he would have chosen Ohio State.
If you are not into recruiting, please put up with us junkies another ten days. Then give us a day or two to start laying out the Class of 2014.
The Brad Hughes All-State Insurance Agency
Prayer List
We have started a prayer list on the blog. Here are the guidelines:
If you are offended by prayer or prayer lists then I apologize in advance. The blog is free and the prayer list will be on the bottom of the page so you don't have to read it.
If you would like to add someone to the list please email me at mickeyplyler@hotmail.com
*Please let me know when it is appropriate to take the person off of the prayer list.
Those who need our prayers include:Finn Brookover, Jo Ann Bachman, Kenneth Bryant, Pruitt Martin, Got igers and his family, David Rowland, Leonard, Gillespie and his family, Jim S, Daniel Rosborough, The Huffman family, Nancy Winkler, John Reeve, Ethel Southard, Vinnie Brock, Kaitlyn L, Susan Miller, Joyce Harley, Steve Proveaux, Jeffrey Greene, the Hutto family, Sherl Drawdy, Caleb Kennedy, Teresa O'Connor, Matt Jacobs,Perrin Seigler, Candee Massee, Lindsey Jordan, Sam Catoe, Tyler Felch, the Nicolopulos family, "the Jacksonville, FL guys", Kim Sims, the Coyle family, Ryleigh Tedder, Steve Lee, Kelly Trakas, Jimmy Moore, the Thomas. V Family, Emary Claire Young, Kitty Bowers,Julie Locke, the Scheider family, Lauren Kittles' family, Frank Gentry, Joyce Bussey, Stacey McKeown, Dale Childs, Larry Lentz, Jr, Carl Sharperson, Scott Hannon, William Perry, Tyler Swaney, Lillian, Mark Feit, David Frame, Chad Berry, the family of Matthew M. Watson, the Dowis family, Shervin Messer, Alan Putnam, the Olivers, Lee Tate, Ronnie Abrams, Eddie Greene, the Jackson family, Bill Vader, Jim Taylor, Tina DeWitt, Rock Horne, Christopher Tuten, Bobby Wayne Thomas, Emma and Danielle Carothers, Robert Ditty, Mr. and Mrs. Murray Smith, Dot Cartee, Ayden Mills, Millie Heatley, Lynn Martin and family, Michael Pinson, Jake David family, Angie Crowley, Ira, Mike Tolson, Poly Wells, Dr. Muriel Bishop, Jack Cunningham, Emily Jefford Meister, Zachary Stoller, Aaron Clackum, Pat James, Cortney Moore, William Moore, Angelia and Savannah Anderson, William Ross, Meredith Legg, Scott Johns, Frank Carroll, Brandon Thompson, Alvin Sammons, Georgine McAlhaney, Glen Davis, Mike Price, Clay Childers, Aaron Knight, Danielle Johnston and family, Nicholas Abrams, Lana Kuykendall, Gary, Gary G., William Huggins, Jim Bennett, Chantz Fowler, Ethel McElveen, Michele Gurganus, William Gentry, Lewis Usher and Tanya Sanders, Shon Cooper, Nick Collins, Travis Patterson, Amanda Peake, Danny Hammond, Chip Turner, Nick Collins, Allen Steen, The Sturkey Family, the Lance family, Marcus Lattimore, Nick Chrisley's family, Allison Williams, Lt. Kyle Walker, Summer and Joel Johnson, Nicole O'Donnell, Jennifer McManus, James O. Johnson, Joy Pruett and family, Patrick Heher, Bill Schmidt, Jack Bailey, Bill Early, Gardner Family, Charles Turner, Kathy Bartholomew, Ray Sanders, David and Robin Blocker, J.R. Ray, Kenneth Kowe, Lauren Sielicki, our great country and the men and women in uniform that protect and serve it every day plus their families.

Upgrade Your Account
Unlock premium boards and exclusive features (e.g. ad-free) by upgrading your account today.
Upgrade Now