---
Signing Day Suspense
The first Wednesday in February each year is known as signing day in college football but this year it could be called "suspense day" for Clemson fans.
Clemson could be waiting on as many as nine players to make their plans known publicly two weeks from Wednesday.
I can't remember this program waiting on that many players on the final day. In fact, Florida State is the only program I can ever remember having this many prospects they are waiting on the final day.
This past weekend Clemson had four prospects in for official visits and Kyrin Priester
Kyrin Priester
Wide Receiver
6-2, 190
Snellville, GA
View Full Profile has already made his commitment public when he switched from NC State to Clemson. Priester is a pretty polished receiver from Brookwood High School in Snellville, GA who committed to Georgia early in the process but decided to open up his recruiting this fall. He committed to NC State but said he began to look around after Tom O'Brien was fired. Priester had offers from Ohio State and Clemson after he opened things back up but now says he is finished with the process and will sign with the Tigers. He may be the final commitment until signing day.
Asiantii Woulard
Asiantii Woulard
Quarterback
6-3, 205
Winter Park, FL
View Full Profile is a four star quarterback prospect from Winter Park, FL who took an official visit to Clemson this past weekend. He has already been to Kentucky and NC State and might take his official visit to UCLA this coming weekend. Woulard says he will announce his college choice on signing day.
James Clark
James Clark
Wide Receiver
5-11, 170
New Smyrna Beach,
View Full Profile is a three star wide receiver from New Smyrna Beach, FL who has seen his stock soar after a big senior season. Clark is a speedster who visited Clemson this past weekend and has already taken official visits to Nebraska, Northwestern and Purdue. He turned down a visit to Ohio State this past weekend and has scheduled Florida for an official visit this coming weekend but at this point he says he is not sure he will take it. Clark says he will announce his choice on signing day.
Tyrone Crowder
Tyrone Crowder
Offensive Guard
6-2, 315
Rockingham, NC
View Full Profile is a four star offensive lineman from Richmond County High School in Rockingham, NC who took an official visit to Clemson over the weekend. Crowder is ranked as the nation's seventh best offensive guard and the fifth overall prospect in North Carolina according to rivals.com. The massive offensive lineman is down to Clemson and Georgia and will announce his intentions on signing day.
Adrian Baker
Adrian Baker
Cornerback
6-1, 170
Hollywood, FL
View Full Profile is a three star cornerback from Hollywood, Fl who originally committed to Florida State but backed out after the Seminoles lost their defensive coordinator to be the head coach at Kentucky. Baker has since visited Clemson and Oklahoma and now says he is down to those two schools. Baker says he will wait until signing day to announce his intentions
MacKensie Alexander
MacKensie Alexander
Defensive Back
5-11, 175
Immokalee, FL
View Full Profile is a four star cornerback from Immokalee, FL. He has taken official visits to Texas A&M, Clemson and Mississippi State but as TigerIllustrated.com's Ryan Bartow told me on my radio show, Alexander is all over the map in his recruiting. He changes favorites everyday. As expected Alexander will not reveal his choice until signing day.
Korrin Wiggins
Korrin Wiggins
Safety
6-1, 190
Durham, NC
View Full Profile is a three star safety from Durham, NC who has been committed to North Carolina but has taken official visits to Clemson and Ohio State. The Tar Heels are the favorites here but Clemson made a big impression last week on his official visit. Like the others, at this point Wiggins says he will not make a decision public until signing day.
Carl Lawson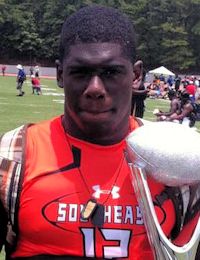 Carl Lawson
Defensive End
6-3, 251
Alpharetta, GA
View Full Profile is a five star defensive end from Alpharetta, GA that has been committed to Auburn but has since visited Clemson and Tennessee. Lawson may take official visits to Ole Miss, North Carolina and/or Auburn before signing day and no one really has a feel for him after his trip to Knoxville this past weekend. My best guess is that Clemson and Tennessee have jumped out front. Lawson is another player that will not make his choice known until signing day.
Montravis Adams is a five star defensive tackle from Dooley County High School in Vienna, GA. This superstar has been on official visits to Clemson, Florida and Alabama. He still has an official visit to Georgia on the books. Most think this is a Clemson/Georgia battle but like the others, we won't know until signing day.
Jeff Badet
Jeff Badet
Wide Receiver
6-0, 165
Orlando, FL
View Full Profile is a wide receiver prospect from Orlando, FL with offers from NC State, Iowa State, Kentucky and Wake Forest. He has taken official visits to Wake Forest and Kentucky and has NC State this coming weekend. If the Tigers don't feel great about James Clark, we could see an offer extended to Badet.
So those nine players are saying they could go all of the way to signing day to make their decisions public. I also believe that Clemson is currently working a couple of other highly regarded prospects to flip them at this late point in the process, so that number could go up even further.
I think it should be noted that the staff will not go into signing day totally in the dark on all of these prospects. They will have a better idea on their decisions than we will, but we also know that crazy things happen on signing day. For Clemson fans this season, this could be one of the most interesting signing days in recent memory. Hopefully signing will turn from suspense day to elation day.
The Brad Hughes All-State Insurance Agency
Prayer List
We have started a prayer list on the blog. Here are the guidelines:
If you are offended by prayer or prayer lists then I apologize in advance. The blog is free and the prayer list will be on the bottom of the page so you don't have to read it.
If you would like to add someone to the list please email me at mickeyplyler@hotmail.com
*Please let me know when it is appropriate to take the person off of the prayer list.
Those who need our prayers include:Finn Brookover, Jo Ann Bachman, Kenneth Bryant, Pruitt Martin, Got igers and his family, David Rowland, Leonard, Gillespie and his family, Jim S, Daniel Rosborough, The Huffman family, Nancy Winkler, John Reeve, Ethel Southard, Vinnie Brock, Kaitlyn L, Susan Miller, Joyce Harley, Steve Proveaux, Jeffrey Greene, the Hutto family, Sherl Drawdy, Caleb Kennedy, Teresa O'Connor, Matt Jacobs,Perrin Seigler, Candee Massee, Lindsey Jordan, Sam Catoe, Tyler Felch, the Nicolopulos family, "the Jacksonville, FL guys", Kim Sims, the Coyle family, Ryleigh Tedder, Steve Lee, Kelly Trakas, Jimmy Moore, the Thomas. V Family, Emary Claire Young, Kitty Bowers,Julie Locke, the Scheider family, Lauren Kittles' family, Frank Gentry, Joyce Bussey, Stacey McKeown, Dale Childs, Larry Lentz, Jr, Carl Sharperson, Scott Hannon, William Perry, Tyler Swaney, Lillian, Mark Feit, David Frame, Chad Berry, the family of Matthew M. Watson, the Dowis family, Shervin Messer, Alan Putnam, the Olivers, Lee Tate, Ronnie Abrams, Eddie Greene, the Jackson family, Bill Vader, Jim Taylor, Tina DeWitt, Rock Horne, Christopher Tuten, Bobby Wayne Thomas, Emma and Danielle Carothers, Robert Ditty, Mr. and Mrs. Murray Smith, Dot Cartee, Ayden Mills, Millie Heatley, Lynn Martin and family, Michael Pinson, Jake David family, Angie Crowley, Ira, Mike Tolson, Poly Wells, Dr. Muriel Bishop, Jack Cunningham, Emily Jefford Meister, Zachary Stoller, Aaron Clackum, Pat James, Cortney Moore, William Moore, Angelia and Savannah Anderson, William Ross, Meredith Legg, Scott Johns, Frank Carroll, Brandon Thompson, Alvin Sammons, Georgine McAlhaney, Glen Davis, Mike Price, Clay Childers, Aaron Knight, Danielle Johnston and family, Nicholas Abrams, Lana Kuykendall, Gary, Gary G., William Huggins, Jim Bennett, Chantz Fowler, Ethel McElveen, Michele Gurganus, William Gentry, Lewis Usher and Tanya Sanders, Shon Cooper, Nick Collins, Travis Patterson, Amanda Peake, Danny Hammond, Chip Turner, Nick Collins, Allen Steen, The Sturkey Family, the Lance family, Marcus Lattimore, Nick Chrisley's family, Allison Williams, Lt. Kyle Walker, Summer and Joel Johnson, Nicole O'Donnell, Jennifer McManus, James O. Johnson, Joy Pruett and family, Patrick Heher, Bill Schmidt, Jack Bailey, Bill Early, Gardner Family, Charles Turner, Kathy Bartholomew, Ray Sanders, David and Robin Blocker, J.R. Ray, Kenneth Kowe, Lauren Sielicki, our great country and the men and women in uniform that protect and serve it every day plus their families.

Upgrade Your Account
Unlock premium boards and exclusive features (e.g. ad-free) by upgrading your account today.
Upgrade Now