---
Friday Email Bag
Each Friday I publish your comments and answer your questions.  To submit a comment or questions please email me at mickeyplyler@hotmail.com.
Mickey,
What kind of year do you see Kellen Jones
Kellen Jones
So. Linebacker
#52 6-1, 215
Houston, TX
View Full Profile having this season? Is he good enough to start week one?Also do we have enough scholarships to go around if things break our way on signing day?
Brian
Brian,
I hear very good things on Jones. Some that have watched the scout team defense told me that he was by far the best of the newcomers. Another observer told me he would have been a starter this past season had he been able to play. Jones got injured about half way through the season but is healthy now as far as I know. I believe in his ability but it will be interesting to see how long it takes him to get back to doing the little things well after being on the scout team for a season. This spring will be big for him. I am interested to see how he responds to getting coached by Venables every day but at this point I would not be surprised to see him start next season.
Scholarships will not be an issue. Things always work out. Also Cortez Davis
Cortez Davis
Cornerback
#29 6-3, 200
Daytona Beach, FL
View Full Profile and Lateek Townsend
Lateek Townsend
Linebacker
#20 6-2, 215
Bennettsville, SC
View Full Profile 's departures have opened up two more scholarships.
Mickey,
Clemson hires Mike Reed
Mike Reed
Defensive Backs Coach
View Full Profile to replace Charlie Harbison
Charlie Harbison
Defensive Backs
View Full Profile . It takes a couple of weeks because of interviews and background checks for him to start.
Brad Lawing quits over the weekend and goes to Florida. By Monday, the OBC has hired Deke Adams out of UNC and He is recruiting by Tuesday.
Hows does this happen?
Glenn
Glenn,
That is a great question that I have not thought about. I am not exactly sure. My guess is that Clemson is more conservative with their background checks. The other thing that seems to be a trend is that Spurrier is not interested in interviewing a bunch of people for a job. He either lets his coordinators do it or he has someone in mind and the hire is done without a lot of interviews. Hope this helps.
Mickey,
With National Signing Day for college football fast approaching, please give me your definitions (and expectation) for 5-star, 4-star, 3-star, 2-star, and 1-star ratings.
Do the same definitions apply to all college sports; for example, basketball, baseball, tennis, track?
I have great respect for your knowledge and opinions.
Thank you for your time.
Go Tigers!
Lee
Lee,
First we need to understand that these are based upon projections. Second we need to remember that most of these kids still have a lot of developing to do athletically, academically, socially and in other aspects. Some just are not mature enough to handle their expectations.
In my opinion a five star is someone who is obviously superior in ability. A five star is someone who can come in fairly soon in his career and make a difference. To me five stars are ones that have NFL written all over them if they continue on the track they have started. They are the special players and difference makers. These are the elite players.
Four stars are the players that are clearly great players with great potential but are slightly behind the elite. They have a ton of tools to work with and have potential to be great players in college and in the NFL. Four stars have almost everything that a five star has but it is not a given in every aspect.
Three star prospects are the ones that most division one schools are fighting over. There are only about 25 five stars in the country and only a couple of hundred four stars. Therefore, most division I-A athletes with majors offers will fall into this category. Three stars can make it as big as five stars in many cases but they don't come into college with superior ability. Theirs will be based upon how they develop because they have further to go.
Two stars are projects in many cases. They don't have a lot of division I-A offers. They can still develop but most schools have not stepped out and offered most two stars. The NFL is full of two stars that developed though. Look at how many players in the NFL came from really small programs. This is more proof of just how difficult it is to project and just how important player development can be.
The process is full of five stars who were busts and two stars that make it. Therefore it is not a perfect system. However, I think the program that signs the most five stars and four stars has a much greater chance at success.
Over the last five years Alabama has signed more four and five star players than Clemson and South Carolina combined. That is a major reason why they are the elite program in the country.
Mickey,
Be honest, at any point in time last night did you think we would win the basketball game. Don't spin it. Be honest. I am a big fan and I knew we would find a way to lose.
Bear
Bear,
I cannot say that I ever thought we were going to pull it out. I hate thinking that way but that is the honesty you asked for. I just hate admitting it.
The Brad Hughes All-State Insurance Agency
Prayer List
We have started a prayer list on the blog. Here are the guidelines:
If you are offended by prayer or prayer lists then I apologize in advance. The blog is free and the prayer list will be on the bottom of the page so you don't have to read it.
If you would like to add someone to the list please email me at mickeyplyler@hotmail.com
*Please let me know when it is appropriate to take the person off of the prayer list.
Those who need our prayers include:Finn Brookover, Jo Ann Bachman, Kenneth Bryant, Pruitt Martin, Got igers and his family, David Rowland, Leonard, Gillespie and his family, Jim S, Daniel Rosborough, The Huffman family, Nancy Winkler, John Reeve, Ethel Southard, Vinnie Brock, Kaitlyn L, Susan Miller, Joyce Harley, Steve Proveaux, Jeffrey Greene, the Hutto family, Sherl Drawdy, Caleb Kennedy, Teresa O'Connor, Matt Jacobs,Perrin Seigler, Candee Massee, Lindsey Jordan, Sam Catoe, Tyler Felch, the Nicolopulos family, "the Jacksonville, FL guys", Kim Sims, the Coyle family, Ryleigh Tedder, Steve Lee, Kelly Trakas, Jimmy Moore, the Thomas. V Family, Emary Claire Young, Kitty Bowers,Julie Locke, the Scheider family, Lauren Kittles' family, Frank Gentry, Joyce Bussey, Stacey McKeown, Dale Childs, Larry Lentz, Jr, Carl Sharperson, Scott Hannon, William Perry, Tyler Swaney, Lillian, Mark Feit, David Frame, Chad Berry, the family of Matthew M. Watson, the Dowis family, Shervin Messer, Alan Putnam, the Olivers, Lee Tate, Ronnie Abrams, Eddie Greene, the Jackson family, Bill Vader, Jim Taylor, Tina DeWitt, Rock Horne, Christopher Tuten, Bobby Wayne Thomas, Emma and Danielle Carothers, Robert Ditty, Mr. and Mrs. Murray Smith, Dot Cartee, Ayden Mills, Millie Heatley, Lynn Martin and family, Michael Pinson, Jake David family, Angie Crowley, Ira, Mike Tolson, Poly Wells, Dr. Muriel Bishop, Jack Cunningham, Emily Jefford Meister, Zachary Stoller, Aaron Clackum, Pat James, Cortney Moore, William Moore, Angelia and Savannah Anderson, William Ross, Meredith Legg, Scott Johns, Frank Carroll, Brandon Thompson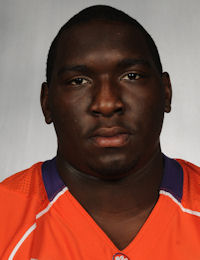 Brandon Thompson
Defensive Tackle
#98 6-2, 310
Thomasville, GA
View Full Profile , Alvin Sammons, Georgine McAlhaney, Glen Davis, Mike Price, Clay Childers, Aaron Knight, Danielle Johnston and family, Nicholas Abrams, Lana Kuykendall, Gary, Gary G, William Huggins, Jim Bennett, Chantz Fowler, Ethel McElveen, Michele Gurganus, William Gentry, Lewis Usher and Tanya Sanders, Shon Cooper, Nick Collins, Travis Patterson, Amanda Peake, Danny Hammond, Chip Turner, Nick Collins, Allen Steen, The Sturkey Family, Lance family, Marcus Lattimore, Nick Chrisley's family, Allison Williams, Lt. Kyle Walker, Summer and Joel Johnson, Nicole O'Donnell, Jennifer McManus, James O. Johnson, Joy Pruett and family, Patrick Heher, Bill Schmidt, Jack Bailey, Bill Early, Gardner Family, Charles Turner, Kathy Bartholomew, Ray Sanders, David and Robin Blocker, J.R. Ray, Kenneth Kowe, Lauren Sielicki, Mary Ann Bailey, our great country and the men and women in uniform that protect and serve it every day plus their families.

Upgrade Your Account
Unlock premium boards and exclusive features (e.g. ad-free) by upgrading your account today.
Upgrade Now