TigerNet

is the oldest and largest Clemson Community online with 152,513 members, 58,133 news articles and 29M forum posts.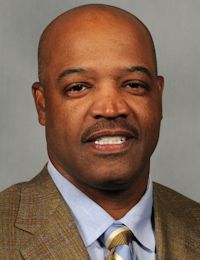 Charlie Harbison
Position:
Defensive Backs
Born:
October 27, 1959
As a Player:
Played 4 years as a DB at Gardner-Webb (1978-81), Buffalo Bills (1982), USFL (1983,84)
College:
B.S. degree in business administration from Gardner-Webb in 1995
Coaching:

2012-Present:

Clemson Defensive Backs

2009-2011:

Clemson Co-def Coordintor & DBs

2008:

Mississippi St Def Coordinator & Safeties

2007:

Mississippi Safeties

2003–2006:

Alabama Wide Receivers

2001-2002:

LSU Secondary

1998-2000:

Alabama Receivers

1995-1997:

Clemson Defensive Backs

1994:

UTEP Defensive Backs

1992-1993:

Gardner-Webb Wide Receivers
B I O
• In his second tour of duty at Clemson. He served as defensive backs coach under Head Coach Tommy West from 1995-97.
• Clemson was in the top 26 in the nation in pass efficiency defense in 2009 and 2010.
• Coached first-team All-American DeAndre McDaniel in 2009 and 2010. McDaniel led the ACC and was tied for third in the nation in interceptions (8) in 2009. He was also named First-Team All-ACC both seasons.
• Named one of nation's top-25 recruiters by Rivals.com in 2010.
• Helped Clemson to a top-25 final ranking and the ACC Atlantic Division title in 2009. Clemson had 21 interceptions, fifth-most in Tiger history and tied for fifth-most in the nation. Clemson was #7 nationally in pass defense.
• Coached great players in the 1990s at Clemson, including eight-time Pro Bowl selection Brian Dawkins. He was an All-American and led the ACC in interceptions in Harbison's first year at Clemson (1995).
• Came to Clemson from Mississippi State, where he was defensive coordinator and safeties coach. He helped Mississippi State to the Liberty Bowl in 2007. The Bulldogs were seventh in the nation in pass defense and 20th in the nation in pass efficiency defense.
• Has had two tours of duty at Alabama (1998-00, 2003-06). He helped Alabama to five bowl games in seven total years, including the 1999 season when the Crimson Tide won the SEC title and played Michigan in the Orange Bowl. Alabama finished ranked #8 in the nation that year. He coached defensive backs in his first tour of duty and wide receivers the second time around at Alabama.
• Coached at Louisiana State under Head Coach Nick Saban in 2001 and 2002. The 2001 team won the SEC title and ranked #7 in the final AP poll with a 10-3 record.
• Started his coaching career at Gardner-Webb in 1984.
• Has experience coaching in the Arena Football League and World League of American Football.

Playing Experience
Played four years as a defensive back at Gardner-Webb (1978-81) and had 11 career interceptions...signed as a free agent with the Buffalo Bills (1982)...played in the USFL in 1983,84.

Education
B.S. degree in business administration from Gardner-Webb in 1995.

Personal Data
Born October 27, 1959...married to the former Tammy McCluney...the couple has four children (Charlie, Stedman, Masai, Msiba).

*Courtesy Clemson Media Guide
| | |
| --- | --- |
| | VIDEO HIGHLIGHTS |
Latest Charlie Harbison News
Click the link below to read more!