| | |
| --- | --- |
| Clemson Basketball adds three new 2018-19 signees | |
---
| | |
| --- | --- |
| Friday, April 13, 2018, 9:38 AM | |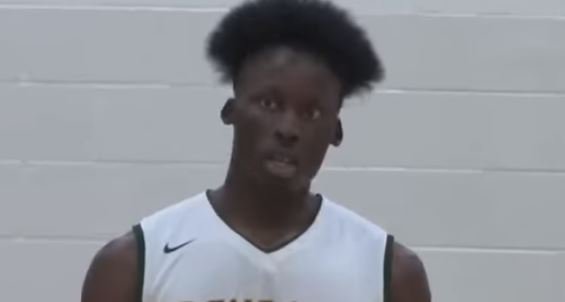 CLEMSON, S.C. — Head coach Brad Brownell and his staff added three players to the Clemson University men's basketball program on Friday. Trey Jemison, Hunter Tyson and John Newman III all signed national letters of intent to play for the Tigers beginning in 2018-19.
"We're extremely excited to announce the signings of Trey Jemison, Hunter Tyson and John Newman III," said Brownell. "All three are excellent players from tremendous families. We've recruited these three in both high school and on the Nike EYBL circuit over the past few seasons. They are outstanding young men who embody the values behind Clemson Grit and Growth. They are eager to work, develop and leave their mark on this program."
Jemison, a 6-11 center from Birmingham, Ala. He is a four-star prospect and ranked No. 1 in the state of Alabama and is No. 12 in the country at his position, according to ESPN. Jemison chose Clemson over Auburn, Alabama, Harvard, Georgia and Georgia Tech.
Last season, Jemison averaged 19.0 points, 15.0 rebounds and 5.0 blocks as a senior at Hoover High School. For his career, Jemison averaged 15.0 points, 12.0 rebounds and 4.0 blocks across his games played at Homewood and Hoover.
"Trey has a high motor and he is an energy giver with tremendous size," said Brownell. "He has a great spirit of work and a willingness to learn. Already an extremely hard worker, he will develop into a consistent scorer and rebounder as he gains experience in the ACC."
Let's do this. Everyone give a warm #ClemsonFamily welcome to @TallT_23!#ClemsonGRIT pic.twitter.com/U0tJKUlwkc

— Clemson Men's Basketball (@ClemsonMBB) April 13, 2018
Tyson, a 6-7 forward from Monroe, N.C. is a four-star prospect. Tyson is ranked the No. 8 forward in the state of North Carolina by Phenom Hoops and ESPN. According to ESPN, Tyson is ranked 34th nationally at his position. Tyson chose Clemson over Michigan, Davidson, Tennessee and Wake Forest.
Last season at Piedmont High School, Tyson averaged 27.1 points, 9.1 rebounds, 2.7 assists, 1.5 steals and 0.8 blocks per game. He scored 704 points as a senior and shot 46.0 percent from the field.
"Hunter is a versatile forward with good size who is an outstanding shooter and scorer," said Brownell. "He comes from a basketball family and he possesses a high basketball IQ. He will develop into a good rebounder as he gets stronger."
It's time for us to officially welcome Hunter Tyson to the #ClemsonFamily!#ClemsonGRIT pic.twitter.com/lSIqNQDA5h

— Clemson Men's Basketball (@ClemsonMBB) April 13, 2018
Newman III, a 6-4 small forward from Greensboro, N.C. is a four-star prospect that is. According to Phenom Hoop Report, Newman was ranked No. 5. In the state of North Carolina. According to ESPN, Newman is ranked 42nd at his position nationally. Newman III chose Clemson over Providence, Wake Forest, Georgia Tech and Boston College.
Newman III led his team in scoring and scored 24 points and was named MVP of the NCISAA 3A State Championship game. He was selected to the NCISSA All-State team for the second consecutive season and was named to the PACIS All-Conference team for the third-straight year. He is a three-time state champion. Newman III finished with 1,400 points, 500 rebounds, 200 assists and 100 steals in his career at Greensboro Day School.
"John is simply a winner. He has won three state titles in high school and played for Freddy Johnson who is the all-time winningest high school coach in the state of North Carolina," said Brownell. "John is an athletic wing player who is an extremely competitive young man. He has the athleticism and will to guard multiple positions in this league. He's a talented scorer who can make baskets at all three levels."
Okay #ClemsonFamily, now help us welcome @_JayRock15 to the Tiger Basketball family!#ClemsonGRIT pic.twitter.com/KtoH6AL2lk

— Clemson Men's Basketball (@ClemsonMBB) April 13, 2018
ACCOLADES:
Trey Jemison
Averaged 19.0 points, 15.0 rebounds and 5.0 blocks per game as a senior
Averaged 15.0 points, 12.0 rebounds and 4.0 blocks per game during his career
Ranked No. 1 player in the state of Alabama and No. 12 in the country at his position, according to ESPN
4-year starter/letterman while maintaining a GPA of 3.75 and above
Member of National Honor Society – 3.75 GPA
Active FCS member in Birmingham area – helped charter initial FCA organization at Homewood High School
Was an Alabama-Mississippi All-Star Game participant as a senior (2017-18)
MVP of the SEBA Atlanta Hoop Classic (2017-18)
MOP of the Charlotte Hoop Classic (2017-18)
MVP of the Progressive Raider Classic (2017-18)
Hoover Student of the Month Award (2017-18)
Named All-Area Team as a junior (2016-17)
KSA Orlando Prep Classic MVP as a junior (2016-17)
Was an Alabama North-South All-Star Selection (2016-17)
Homewood High School BETA Club Member for 3.5 GPA and above (2016-17)
State Champions (2015-16)
All-Region (2015-16)
Hunter Tyson
Ranked No. 8 in the state of North Carolina and No. 34 in the country at his position, according to ESPN
Ranked No. 25 All-Time in NCHSAA Boys Basketball – 2,131 points
All-Time leading scorer in Union County Boys Basketball history
All-Time leading scorer in Piedmont High School history (boys or girls)
No. 4 ranked rebounder in Union County history (792)
Southern Carolina Conference Player of the Year (2017-18)
Enquirer Journal Union County Player of the Year (2017-18)
Union County Hoops.com Player of the Year (2017-18)
All-Charlotte Observer First Team (2017-18)
All-Region First Team (2017-18)
Associated Press All-State (2017-18)
Led Union County in points per game and rebounds per game as a senior (2017-18)
Chosen to play in Carolina's Classic – NC/SC All-Star Game
Chosen to play in the East-West All-Star Game
Enquirer Journal All-Union County Team (2016-17)
Southern Carolina Conference Co-Player of the Year (2016-17)
All-Charlotte Observer First Team (2016-17)
All-Southern Carolina Conference (2016-17)
NCBCA All-State (2016-17)
All-Region Second Team (2016-17)
Led Union County in points per game and rebounds per game (2016-17)
Scored career-high 44 points in 73-70 loss to Freedom in second round of NCHSAA 3A Playoffs
Enquirer Journal All-Union County Team (2015-16)
All-Southern Carolina Conference (2015-16)
All-Union County Hoops.com Team (2015-16)
Enquirer Journal Freshman of the Year (2014-15)
Enquirer Journal All-Union County team (2014-15)
John Newman III
Finished career with 1,400 points, 500 rebounds, 200 assists, 100 steals
Lenwood Edwards Endowment Award for Academic Leadership
Rivals Top 150
Top 5 in Phenom Hoops
3-time state champion (2015, 2016, 2018)
NCISAA 3A Championship Game MVP (2018)
2-time NCISAA 3A All-State (2017 and 2018)
Associated Press NC All-State Team (2018)
McDonald's All-American Nominee (2018)
News and Record Private School All-Area Player of the Year (2018)
3-time News and Record Private School All-Area Team (2016, 2017, 2018)
'Iolani Classic All-Tournament Team (2018)
Cannon Classic All-Tournament Team (2016)
NBPA Top 100 Invitee and Participant (2017)
Phenom Hoops National Showcase Game MVP (2016 and 2017)
3-time PACIS All-Conference Team (2016, 2017, 2018)
5-time HAECO Invitational Champion (2013, 2014, 2015, 2016, 2017)
HAECO Invitational MVP (2018)
3-time HAECO Invitational All-Tournament Team (2015, 2016, 2017)
15-0 record at HAECO Invitational
2-time participant at the GEICO (formerly called Dick's) National HS Tournament
Overall record of 152-24
Averaged 14.7 points, 5.0 rebounds and 3.2 assists during senior season