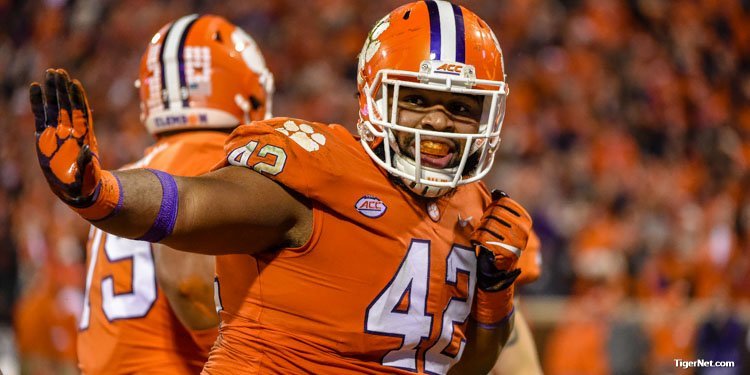 | | |
| --- | --- |
| Four Tigers listed on NFL.com's Top 50 Prospects | |
---
| | | |
| --- | --- | --- |
| Tuesday, January 22, 2019, 10:48 AM | | |
NFL.com's Daniel Jeremiah released his top 50 prospects for the 2019 NFL Draft and had four Clemson defenders listed in the talented group.
Defensive tackle Christian Wilkins was ranked No. 7 overall.
"Wilkins has solid size (6-foot-4, 315 pounds) for the position and he's been a disruptive presence along the Clemson line throughout his career," NFL.com said. "Against the pass, he has quick feet and hands, which allow him to routinely win early in the down. He's at his best when slanting and working through the edges of blockers. He isn't a powerful bull rusher. Against the run, he is much better on the back side. He relies on quickness to slip blocks and does a good job of avoiding cut blocks. On the front side, he'll occasionally get too high -- and consequently, get turned and dumped. Overall, Wilkins has upside as a pass rusher and penetrator, but you'll have to live with some deficiencies at the point of attack."
Wilkins registered 50 tackles including 15 tackles for loss, six sacks, and two fumble recoveries in 2018.
Defensive tackle Dexter Lawrence was ranked No. 21 overall.
"Lawrence is a hulking defensive tackle at 6-4 and 350 pounds," NFL.com said. "As a pass rusher, he primarily relies on his strength and power to push the pocket. He does have impressive foot quickness and occasionally flashes a nifty swim move. However, he didn't get many opportunities because Clemson brought in more explosive rushers in obvious passing situations. He is a dominant run defender. He easily stacks single blocks on the front side and refuses to be cut off on the back side. Teams will need to investigate the suspension for a failed test for performance-enhancing drugs that kept Lawrence out of the College Football Playoff. Overall, Lawrence will be an immediate force against the run and I believe he has the potential to develop into more than a pocket pusher in the passing game."
Lawrence had 37 tackles including 7.5 tackles for loss and 1.5 sacks this past season.
Defensive end Clelin Ferrell was ranked No. 22 overall.
"Ferrell has excellent size, length and power," NFL.com said. "As a pass rusher, he lacks an elite get-off, but he has an effective dip/rip move and can generate some knockback with his hands. He has some stiffness at the top of his rush, but his effort is outstanding and he's a finisher once he gets to the quarterback. Against the run, he can hold the point of attack and does a nice job shedding blocks. Overall, Ferrell lacks elite athleticism, but I love his combination of size, effort and production."
Ferrell had 54 tackles including 19.5 tackles for loss, 11.5 sacks, seven quarterback hurries, and three forced fumbles in 2018.
Cornerback Trayvon Mullen was ranked No. 38 overall.
"Mullen has a tall/athletic build for the position," NFL.com said. "He wasn't challenged much in the five games I studied, but I love his movement skills and play speed. In press coverage, he does a nice job mirroring underneath and has plenty of speed to carry vertical routes. He'll use a bail technique at times and he's able to read through the wideout to the quarterback. In off coverage, he is a count late to key and drive, but he does possess a nice closing burst. He doesn't have much ball production, but that's because the ball is rarely thrown his way. He is a firm tackler in run support. Overall, it's tough to penalize Mullen for the lack of opportunities. He has the skill set to excel as a press cornerback at the next level."
Mullen had 36 tackles including four tackles for loss, two sacks, three pass breakups, and an interception this past season.