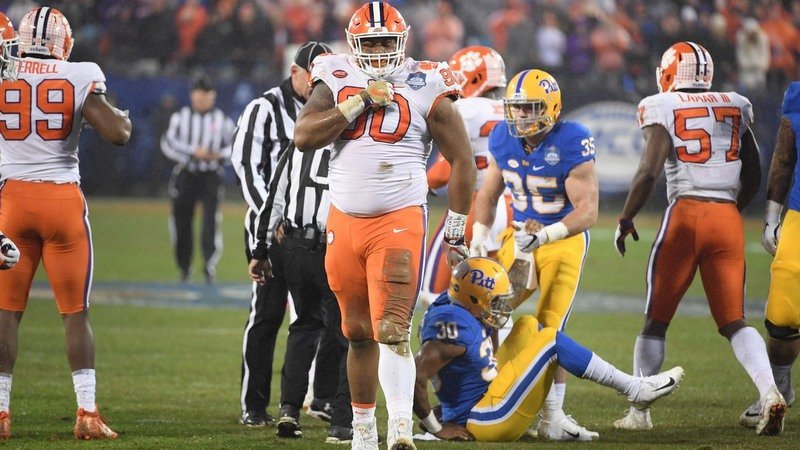 | | |
| --- | --- |
| Dexter Lawrence reacts to failed drug test | |
---
| | | |
| --- | --- | --- |
| Thursday, December 27, 2018, 9:21 AM | | |
Thursday is Media Day for Clemson and Notre Dame as hordes of media reporters ask a litany of questions to the student-athletes.
Clemson defensive tackle Dexter Lawrence was in attendance for his optional interview session and reacted to the news that he is currently suspended for failing a drug test for a banned substance called ostarine.
"Right now I'm at peace," he said. "I have no control on what the B sample result will be...I'm here to support my teammates.
"I'm not the type of guy to do a selfish act like that (taking an illegal substance). I have too much pride. I love this team and my family too much to put that type of substance in my body. I don't know where it came from. I don't know how it got there. I was raised different. If I did do it, I would own up to it but honestly, don't know where it came from and there is nothing I can do anything about it."
Lawrence thought Swinney was joking when he heard the failed drug test news.
"I stick to a strict routine," he said. "I'm confused. I'm mind-boggled. Honestly, I don't know. When coach Swinney called me, I was in shock. I was looking at my phone. Are you crazy? What is wrong with you? He told me I tested positive for something that I have never heard of or know where to get it. Praying about it, talking to the coaches and family, I came to my peace."
Lawrence was asked how regularly they are drug-tested as a group.
"Oh, regularly," he said. "That's why this is such a shock. We get tested regularly and we know not to do anything stupid or selfish like that."
Lawrence has been helping on the sidelines coaching up the guys like Albert Huggins that might play in his spot this postseason.
"I just want to let the guys know I have their back like they have my back."
Clemson coach Dabo Swinney said as of this morning, they had not heard any new update on the B sample from the three suspended players from the NCAA. They hope to heard something later today.
Dexter getting grilled by fanboy media... pic.twitter.com/lhqA9Tacmj

— Hale yes! ?? (@ADavidHaleJoint) December 27, 2018