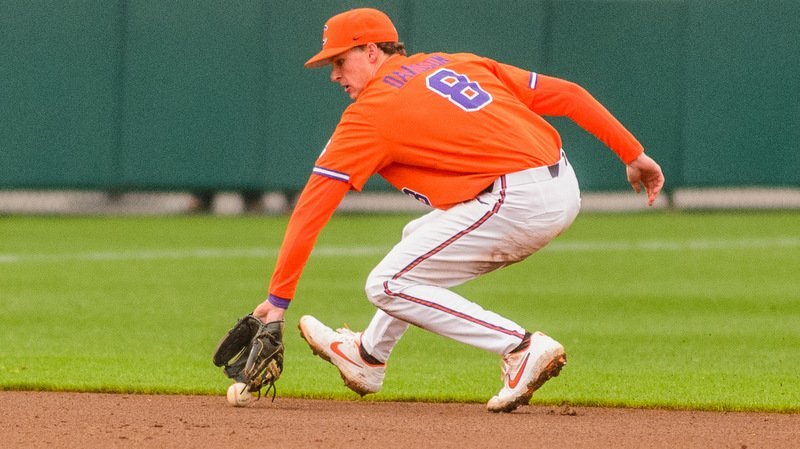 | | |
| --- | --- |
| Tigers fall to No. 4 Georgia in Clemson's longest game ever | |
---
| | | |
| --- | --- | --- |
| Wednesday, April 17, 2019, 2:08 AM | | |
A walk-off single by No. 4 Georgia's Connor Tate capped a 20-inning affair in Athens to a 3-2 Bulldogs win over Clemson.
The six-hour and 33-minute contest was the longest in school history for either team (innings) and just five innings short of the NCAA record (Texas-BC's 25 innings in 2009).
There were over four hours between scores, as RBIs from Bryar Hawkins and Kyle Wilkie gave Clemson a 2-0 lead in the sixth and Georgia's Cam Shepherd took advantage of some Clemson fielding misadventures in the seventh to bring in a runner in and score himself after a double and throwing error in left field.
The teams combined for 50 strikeouts (26 for Clemson; 24 for Georgia).
Grayson Byrd led the Clemson effort hits-wise (3-9) and Wilkie reached base four times (hit, three walks). The Tigers, which came in ranked as high as No. 16 nationally (Collegiate Baseball), narrowly edged Georgia (30-8) in hits (10-9) and left five more on base (18 to 13).
The two bullpens combined for 39 of the 50 strikeouts. Clemson righty Holt Jones didn't allow a hit in 3 2/3 innings with five strikeouts.
Graduate right-hander Luke Sommerfield (0-1) took the loss after 4 2/3 innings of work (five hits allowed), allowing the winning run on the Tate basehit just past the outstretched glove of third baseman James Parker with one out and two on in the 20th. Georgia's Darryn Pasqua picked up the win after limiting Clemson to two hits over five innings of work.
The loss was a fourth-straight for the Tigers (25-12), who will look to rebound hosting Duke this weekend.
What a play! pic.twitter.com/AJufjm8jVn

— ClemsonEditz (@ClemsonEditz_) April 17, 2019
Sliding into our third nine of the night/morning.

Watch the game now live via WatchESPN (https://t.co/Z36W0mCLiW) pic.twitter.com/y0IJU1w5vA

— Clemson Baseball (@ClemsonBaseball) April 17, 2019
Clemson pitchers have now combined for 24 strikeouts tonight, breaking the previous school record! pic.twitter.com/cHhd7J1Y3A

— Clemson Baseball (@ClemsonBaseball) April 17, 2019
#Georgia beats #Clemson 3-2 in 20 innings, longest game in both schools' history pic.twitter.com/6uPjlzEtHg

— Mike Griffith (@MikeGriffith32) April 17, 2019
Georgia wins 3-2 in 20 innings. Clemson pitching staff gave up one earned run to #6 team in nation over 20 innings and lost. 50 combined strikeouts for two staffs, second most in NCAA history.

— Tim Bourret (@TimBourret) April 17, 2019