| | |
| --- | --- |
| Clemson freshman DL to transfer, possibly to Gamecocks | |
---
| | |
| --- | --- |
| Wednesday, May 16, 2018 3:45 PM | |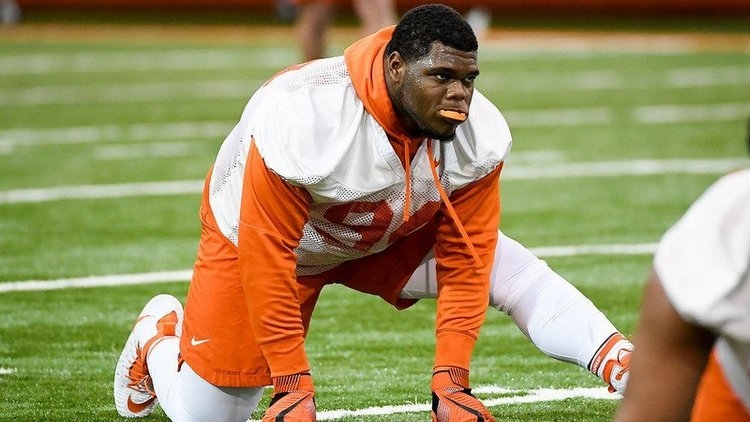 Defensive tackle early-enrollee Josh Belk will transfer out after practicing this spring with Clemson.
Belk chose the Tigers over South Carolina in January 2017 and saw his profile rise during all-star camps over the winter, earning a fifth star in his rating after the Army All-American Bowl week. Indications are that the Gamecocks are a desired transfer destination for Belk.
Belk confirmed the news of the transfer Wednesday afternoon.
"I will be transferring from Clemson University," Belk posted on Twitter. "I appreciate the Clemson staff, fans and Coaching staff. Thanks to Coach Swinney for the opportunity. Nothing bad to say about the University and my time there. Just feel that it's the best decision for my family and I."
Belk also released a statement through a lawyer on the matter:
"Josh Belk has been released from Clemson University and the Clemson University Football program upon request made by Josh Belk to Coach Dabo Swinney and the Clemson Tiger Football program. Circumstances of Mr Belk's life have led him to request a full, unconditional release from Coach Swinney that was graciously granted by coach Coach Swinney and the (University) in a timely manner. Mr. Belk thanks Clemson University, Coach Dabo Swinney and the entire Clemson Tiger fan base for their support in his life-altering decision. Mr. Belk requests that he and his family be given privacy at this time to explore decisions related to the next chapter of his life. Thank you and God bless."
Clemson coach Dabo Swinney commented on the transfer through a school news release.
"Josh is a good young man from a great family," said Swinney. "Sometimes circumstances change, as is the case with Josh. We are disappointed he is leaving, but I enjoyed being around him the past few months. He did everything that was asked of him and had an excellent semester academically. I wish him all the best in the years to come."
His former high school coach Will Mitchell told the News & Reporter that he credited Clemson for granting the unconditional release, adding that Belk's mother is dealing with health issues and Josh wants to be closer to home.
Belk finished an All-State campaign at Lewisville (S.C.) with 116 tackles, 34 for loss, with 11 sacks and seven caused fumbles as a senior.
His exit likely won't impact the upcoming Tigers' season, but with a number of veterans at the position, only three scholarship defensive tackles would be projected to return for the 2019 campaign (Jordan Williams, Darnell Jefferies, Nyles Pinckney). Click here to see Clemson's scholarships on the DL
Belk was recruited by Clemson coaches Jeff Scott and Todd Bates. He said Bates, who coaches Clemson's defensive tackles, played a major factor in him picking Clemson.
"I've never had a connection with someone right off the bat like that," Belk said at the time. "Every time I go up there, there is just this family feel, and it really makes a difference. They showed me how I can succeed in life and not just football."
Belk could be a second recent transfer between the two rivals, joining women's basketball guard Nelly Perry, a graduate transfer to South Carolina for the upcoming season.
Talked with Lewisville Football Coach Will Mitchell. Former Lion Josh Belk was granted an unconditional release from his Clemson football scholarship by Dabo Swinney. Josh hasn't had contact with SC at this point, but his mother has health issues and he wants to be closer to home

— News & Reporter (@CNR_Sports) May 16, 2018
So you can draw the conclusion that he'll end up at SC, who recruited him heavily. Mitchell thanked Swinney and Clemson for dealing with Josh in a classy manner in a tough circumstance. Said most coaches would not have given a player of Josh's stature an unconditional release.

— News & Reporter (@CNR_Sports) May 16, 2018
In Columbia, he'd be about 45 minutes from home. Belk played D-line, O-line and as an occasional power back at Lewisville where he also played basketball. He committed to Clemson last January and enrolled early there. Had shined through the spring for the Tigers.

— News & Reporter (@CNR_Sports) May 16, 2018
I will be transferring from Clemson University. I appreciate the Clemson staff, fans and Coaching staff. Thanks to Coach Swinney for the opportunity. Nothing bad to say about the University and my time there. Just feel that it's the best decision for my family and I. #GodsPlan pic.twitter.com/sk2t1KgvVL

— Josh Belk (@jbelk50) May 16, 2018

Tags:
Chris Register
,
Richard Yeargin
,
Albert Huggins
,
Austin Bryant
,
Clelin Ferrell
,
Christian Wilkins
,
Nyles Pinckney
,
Dexter Lawrence
,
Xavier Kelly
,
Justin Foster
,
Jordan Williams
,
Logan Rudolph
,
Xavier Thomas
,
Josh Belk
,
Justin Mascoll
,
KJ Henry
,
Darnell Jefferies