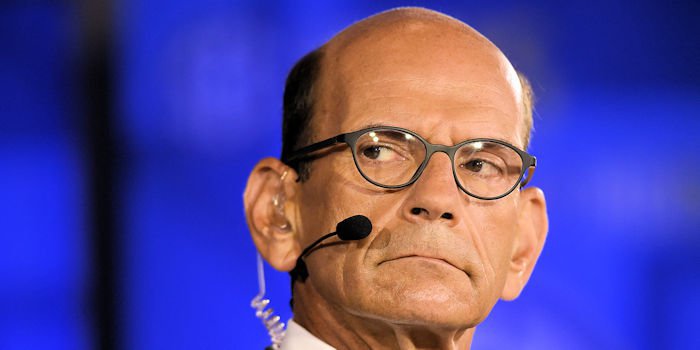 | | |
| --- | --- |
| Paul Finebaum explains how Georgia cost Alabama a chance at beating Clemson | |
---
| | | |
| --- | --- | --- |
| Friday, March 15, 2019, 1:49 PM | | |
The SEC media analysts are still wrapping their minds around how Alabama got stomped by Clemson 44-16 in this past season's College Football Playoff National Championship game.
SEC Network host Paul Finebaum was on Cellini & Dimino of 680 The Fan recently and talked about how Georgia's recruiting cost Alabama the National Championship.
"I do think it's Kirby Smart's fault that Nick Saban didn't win a national championship," Finebaum said. "I say that for this reason — Kirby Smart beat Nick Saban in recruiting last year. That hasn't happened since Saban arrived from Miami nearly 11 years ago. It drove Saban off the deep end," Finebaum continued. "Now Saban's class was top 5 that followed No. 1 and No. 1, but he reacted in such a way, he dumped some longtime coaches, he brought in recruiters — who by the way, couldn't coach."
Finebaum thinks that Alabama's coaching was to blame for the lackluster defensive performance against Clemson.
"Saban had to take away the defensive coordinator play-calling responsibilities from his guy very early in the season.," Finebaum said. "He was a great recruiter, but he wasn't a defensive coordinator so by the time they got to Clemson, they had a really good team but the coaching was subpar, and that goes back to Kirby beating Saban (recruiting)."
This appears to be a desperate attempt by Finebaum to take away the team accomplishments of Clemson and squarely put it back on Georgia in some twisted SEC logic. I certainly believe that recruiting is critical but not to the extent to downplay Clemson's performance and say that Georgia pretty much enabled them to be victorious.
We get it though, it's the offseason, and Finebaum needs to provide fresh hot takes to his hurting fanbase.