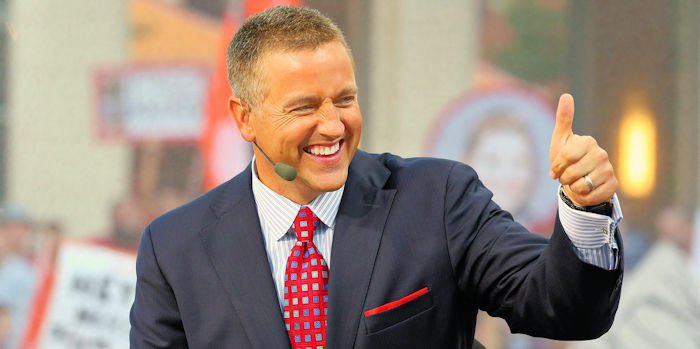 | | |
| --- | --- |
| ESPN's Herbstreit looks for urgency, expects Clemson offense turnaround | |
---
| | | |
| --- | --- | --- |
| Tuesday, October 1, 2019, 12:36 PM | | |
ESPN lead college football analyst Kirk Herbstreit naturally tracks Clemson as one of the premier programs in college football.
No doubt his sons, Jake Herbstreit and Tye Herbstreit, now being on the team adds an extra degree of interest in the path of the No. 2 Tigers, which are coming under some fire nationally after struggling in a 21-20 win over North Carolina.
Herbstreit says Clemson is facing what a number of defending champions have had to try to overcome.
"I don't feel the urgency and the chip-on-the-shoulder that we've seen from Clemson in the past," Herbstreit said on his ESPN podcast this week. "And that's the challenge, right? When you're the defending champ -- when you watch them on social media for example, they're boarding the plane and big into having fun and that's worked for them.
"But there's a fine line between having fun and really locked in and being on a mission and being mad at the world … You're a human being and as much as you try to block (outside hype) out. It impacts you. When it collectively impacts you, all of a sudden you're on the ropes at Chapel Hill -- a team that you're better than -- but a team is trying to make their season by beating you. And that's a classic example why we don't see it often that teams repeat ... That's what I think Clemson is facing right now, just like any team that's ever won a title. Can you stay mad at the world and play with the purpose every week when you've just come off of everyone telling you how great you are? That's what they look like to me.
"That's why I say, at any moment, it can click but until they get their attitude right -- they're going to continue to struggle."
The Clemson offense has put up top-25 numbers in yards and points but not quite the elite production expected from a group with two preseason Heisman contenders and a bevy of more talents.
Herbstreit sees a parallel to Clemson's first national championship season under Dabo Swinney.
"Deshaun Watson was also a guy who came back (for his junior season in 2016) and there were moments very similar to right now where the offense is, man, just not quite clicking," said Herbstreit. "You're wondering if they're trying to do too much or what's happening with the line play. And obviously they were eventually able to get it going. There's plenty of talent at receiver, running back and quarterback. I still think they're trying to figure things out upfront based on what I've watched over the last few weeks. Tony Elliott and Jeff Scott will be the first to tell you -- this whole thing is like a puzzle with the offense.
"A lot of the stuff they want to do running the football eventually plays into how they can hurt you with their vertical passing game. Right now as coaches and players, they're just not quite on the same page. The reason I bring that up -- is at any moment they will be -- not could be."
The former Ohio State quarterback sees the UNC game being an asset moving forward in accomplishing that. He ranks Clemson third currently behind Ohio State and Alabama, as a mix between assessing this season and knowing the Tigers' potential.
"It's great when you're expected to do so much to have a game like this -- and you win and you have the stop on the 2-point conversion -- and you get on the bus and have a little celebration and you get in the film room and say, 'We learned a valuable lesson today,'" said Herbstreit. "'Let's look at this film and let's get better and we didn't have to lose a game to get back down to earth.' I expect Clemson to begin to really get the ball rolling because I have a lot of faith in the offensive coaches and the talent they have. But I think you have to be fair. You have to react after five weeks of football.
"Put '18 away and who is Clemson right now based on how they've executed and played. And based on what their ceiling is. I think it's only fair that they drop."