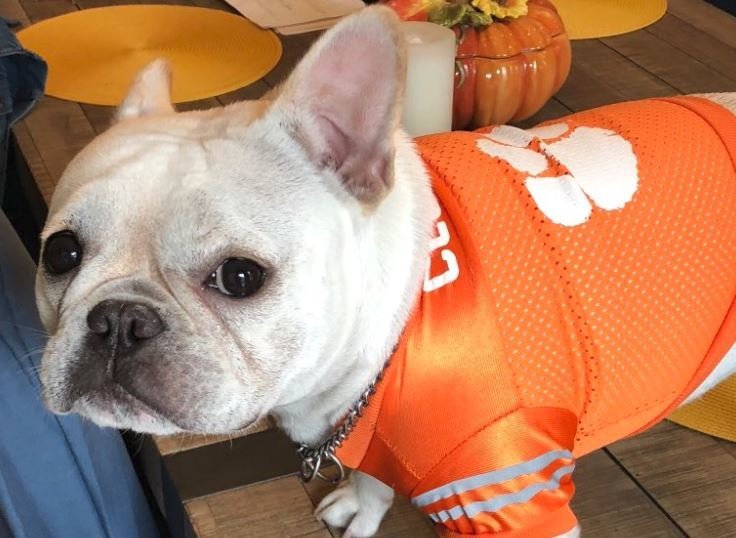 | | |
| --- | --- |
| Diehard fans show off their Clemson-themed pets | |
---
| | | |
| --- | --- | --- |
| Sunday, February 3, 2019, 9:46 AM | | |
It's Super Bowl time and that also means today is Puppy Bowl XV (Animal Planet at 3 p.m. ET) for the animal lovers out there.
TigerNet fans on Twitter shared their beloved Clemson pets to celebrate the festive day.
The most popular Clemson-themed pet names in the group were Dabo, Renfrow, Watkins, Bowman, Riggs, Watson, and Tillman.
Check out all the cute pics below:
Max is all in pic.twitter.com/TWaHr7ZLQC

— MikeG (@mycutiger) February 2, 2019
Banks (McFadden) pic.twitter.com/L3mOCJVjcq

— Kyle Tucker (@CoachTuck35) February 2, 2019
Hunter... dreaming about catching a TD in the valley... pic.twitter.com/vNvqASJvWb

— Daniel Redding (@DanielRedding4) February 2, 2019
Say hello to Riggs pic.twitter.com/IVUELLuNX4

— Joyce Trammell (@jgctram) February 2, 2019
This is Clemson. pic.twitter.com/rvT770GNsD

— Justin Culp (@culpster101) February 2, 2019
This is Watson pic.twitter.com/aVD64YoVHM

— Sean Stanzione (@WeeDingloid) February 2, 2019
Meet Dabo! pic.twitter.com/ZAZpfk3Gby

— J (@JJRogers2) February 2, 2019
That's Tillman on the left, Sammy on the right pic.twitter.com/nlBWMEtiC8

— Preston Cooley (@Prestoncooley) February 2, 2019
Meet Nuk pic.twitter.com/uwecUQjQd7

— Rayna Owens (@tigermama93) February 2, 2019
This is Howard, named after Howard's rock. Very fitting name, especially since he's an orange tabby pic.twitter.com/rfVxjvp75L

— Connor B (@crbeden) February 2, 2019
This is 7 yr old Samson, aka Sammy… named after Sammy Watkins. #AllIn pic.twitter.com/C3VG3r3wLD

— Frank Spurlock (@FrankTheTankATL) February 2, 2019
This is my Renfrow, just turned 4 months pic.twitter.com/egBWkFufJj

— Jamie Ranck (@J_Ranck) February 2, 2019
Meet Trevor pic.twitter.com/1qpLkawBkI

— Brian Strickland (@coachstrickland) February 2, 2019
Bowman on Bowman Field today. pic.twitter.com/887YtOJCsg

— Angela Stansell (@astanse) February 2, 2019
Bowman the Clemson "Doodle" pic.twitter.com/xvMKI5YFFm

— JMichaelD55 (@JMichaelD55) February 2, 2019
Tillman. Our Clemson Fur Baby pic.twitter.com/b2Fht4dWNq

— Brenda Jackson (@brendajack1960) February 2, 2019
Riggs the doodle. pic.twitter.com/tMv5inXumn

— W. Sumner (@WesleyAprilS) February 2, 2019
Moose, Jethro and Zeus. Had to cut our jerseys cuz #wetoodeep pic.twitter.com/QCaSdAqGsE

— Mary Beth Poston (@MBP_IM_PD) February 2, 2019
February 2, 2019
Riggs pic.twitter.com/M0WMGBWsIG

— Bob Brittingham (@bob_brittingham) February 2, 2019
Bowman! pic.twitter.com/EHab3qFvIE

— Katy (@scgrits488) February 2, 2019
This is Ford letting out his inner tiger ?? pic.twitter.com/Drev1XYIHs

— Hope McDowell (@I0fTheTiger) February 3, 2019
Champ, named after the first national championship ?? pic.twitter.com/mJU39XmfWu

— Taylor Simpson (@taysimpson11) February 2, 2019
Riggs is All In! pic.twitter.com/6qAdmgHcIS

— Sean Sudduth (@sean_sudduth) February 2, 2019
Riggs the bulldog always suited up and ready for the call on game days ?? pic.twitter.com/byF9zL19VU

— Verna Esposito (@verna_esposito) February 2, 2019
Emmie and Sadie are #Allin. BTW ALLIN is Sadie's command to load up in a vehicle ! pic.twitter.com/YkmpQmUFWF

— Tracie Shealy (@T_Shealy) February 2, 2019
Meet Watson! pic.twitter.com/EkIDN2gz7g

— Adam Ridlehoover (@CoachARIDLE) February 2, 2019
Dobby is #ALLIN pic.twitter.com/3nT5UqRmY6

— Jeff Moyer (@jmoyercu89) February 2, 2019
February 2, 2019
We've got Boulware (orange), Hunter (tiny catfish hiding), and Tiger is in there somewhere. pic.twitter.com/BsLd2HBA2g

— TaP (@tanyakprice) February 2, 2019
February 2, 2019
February 2, 2019
Ms Renfrow (puppy), next to her big brother Spiller. Out of picture is the old man Homer Jordan Brown, Alpha Dog pic.twitter.com/Pvk87Ei5Xp

— Kirk, Caroline & Q (@ThreeBrownies) February 3, 2019
Iptay was the preppiest dressed furry Tiger fan of all time. We miss him. pic.twitter.com/uvJWnd9cE8

— Jan Lowry (@lowryjw) February 3, 2019
This is Esso RayRay!! He is #allin pic.twitter.com/9wxRwo8Y9y

— Susie Groomes (@susiegroomes) February 3, 2019
Our girls, Miss Lady Tillman (Tilly). pic.twitter.com/S60mK42b9c

— Karen King (@chasg1rl) February 2, 2019
This is Sammy (Watkins) pic.twitter.com/UvieQHEpB2

— Steve Stouthamer (@Stouthamer17) February 2, 2019
Buddy Dabo McTeer pic.twitter.com/5HL9MDZuvI

— Wayne McTeer (@Coach_Mac57) February 2, 2019
Meet Dabo and DeShaun!! pic.twitter.com/AT4Vhsg98U

— Mike Shemanski (@bigmike7887) February 2, 2019
Thomas Green 4H Clover pic.twitter.com/aiIOTHU7cN

— Pamela McKinsey (@PCMcKinsey7981) February 2, 2019
Tucker pic.twitter.com/JowKQ1cO1f

— Jason Rath (@jasonr803) February 2, 2019
February 2, 2019
This is Watson! pic.twitter.com/i7sG5M443L

— Stephanie Dyar (@sgullicCU) February 2, 2019
Meet Riggs pic.twitter.com/cweBT2Et0T

— Will Diet (@WillDiet) February 2, 2019
Chase Barkley Bender pic.twitter.com/6nvcibfD9u

— Beth Sanders-Bender (@hoopswife) February 2, 2019
Sammy pic.twitter.com/aMIPN9V7bL

— Cort Neureuther (@cneureuther78) February 2, 2019
Hobbes the Tiger Fan! pic.twitter.com/Z5y3NnnpCk

— Bryan Black (@bryanhblack) February 2, 2019
Meet Buddy pic.twitter.com/zaCjXGrf2R

— Mark Ellis (@MarkREllis1) February 2, 2019
This is Dabo! pic.twitter.com/8oB96kFGlF

— Ryan Cox (@itsryancox) February 2, 2019
Cooper pic.twitter.com/T0aFBivfwo

— Stuart Dudley (@sdudley09) February 2, 2019
Watson!! pic.twitter.com/SWIVqte5pW

— Tom Blalock (@TomBlalock2) February 2, 2019
This is Riggs!!! pic.twitter.com/7o2YpssN7t

— Rachel Edwards (@racheljedwards5) February 2, 2019
Just got my Beagle boy! Still deciding on a name... Renfrow, Watson, any suggestions? pic.twitter.com/aVZl6zLKFh

— Andrew Boggs (@aoboggs) February 2, 2019
Riley pic.twitter.com/2tHACbGaOA

— David Harrison (@varoxstar1) February 2, 2019
Hello from Frank pic.twitter.com/ZAYMVCSRFP

— Emily (@Emily8416) February 3, 2019
Watson and Riggs pic.twitter.com/DRuf8k6OyX

— Foy Gilbert (@FoyGilbert) February 3, 2019
This is Khalil she is almost 16 she is named after Khalil Greene. pic.twitter.com/YjSkPADgMt

— Allen Derham (@AllenDerham) February 3, 2019
Velma? pic.twitter.com/JOtITvFYNc

— Julie Smoak (@smoak_julie) February 3, 2019
This is Buddy. He loves #clemsontigers pic.twitter.com/i5EIvHsTZv

— Aaron Ryan (@acr1119) February 3, 2019
?????? pic.twitter.com/Jgp3A61MkY

— Mallory Dailey (@mallligator) February 3, 2019
Zander & Clementine !!!! pic.twitter.com/fhoMtmYCea

— Michus Bridges (@MichusB) February 2, 2019
This is Dabo ?? pic.twitter.com/5UEfgadyUD

— Tanner Wise (@tan_wise) February 2, 2019
February 2, 2019
February 2, 2019
Elphaba is dreaming of a victory! Go, Tigers! pic.twitter.com/s87vFjiyMY

— Christopher Cox (@chriscoxlibrar1) February 2, 2019
He's a big fan! Meet Jackson! ???? pic.twitter.com/UGhB0xM8dG

— Jenny deLozier (@jen8688) February 2, 2019
Vava who has three legs and legs is 16 pic.twitter.com/R7JUquJvi6

— DT (@timmins6590) February 2, 2019
February 2, 2019
Tiny is #ALLIN pic.twitter.com/dcX0adibou

— Brandon Chasteen (@BscTigers) February 2, 2019
Chipper says Go Tigers! pic.twitter.com/TT2j7Jjnw8

— Keith Bryant (@keefier1) February 2, 2019
February 2, 2019
His name is Tiger, 1st name Clemson. pic.twitter.com/eYoQyq1s7v

— dltjrsc (@dltjrsc) February 2, 2019
Meet Ben! He loves Clemson football, a warm fire, and all the chew toys & treats he can get. pic.twitter.com/2kvAzx0K5Q

— Joseph Gibson (@JMGibson77) February 2, 2019
Rocky pic.twitter.com/qwRAhfyvIY

— David Hall (@dchall1824) February 2, 2019
Clemson's Molly Kate pic.twitter.com/TKwDzR0xyy

— Zac Metts (@MettsZac) February 2, 2019
Meet Hartwell pic.twitter.com/f3fKvhLbiD

— Haynes (@Haynes412) February 2, 2019
Blue pic.twitter.com/sL9nbe6lQi

— Cory Palsgrove (@corypalsgrove) February 2, 2019
Frank!! pic.twitter.com/1GMZ2NyBSm

— Shane Cox (@Shane3Cox) February 2, 2019
My last name is Watkins, and this was my boy Sammy. Actually had him before Sammy Watkins signed, but it just felt even more right after seeing #2 ball out. pic.twitter.com/DUYdgEf00P

— Jon Watkins (@Watjonny) February 2, 2019
Dex!!!! ?? pic.twitter.com/4oU1NLEGm5

— Julie Caldwell (@Tigerjp) February 2, 2019
February 2, 2019
C.J. pic.twitter.com/Xz9tzbSSEV

— 44-16 (@PartyLikeIts16) February 2, 2019
Watson and Sammy pic.twitter.com/JNOENY1XLb

— chad (@chad1817) February 2, 2019
We have a Renfrow Puppy too! pic.twitter.com/6bSNUoVlki

— Ash Harvell (@AshHarvell) February 2, 2019
Meet Sammy Watkins! pic.twitter.com/SYa54Fqo8G

— Amy (@AhammondLA) February 2, 2019
Meet Esso! pic.twitter.com/EXXXLBQXyp

— Eddie Smith (@EddeSmith430) February 2, 2019
And now, Tajh and Boulware! pic.twitter.com/68jcon1XGi

— Eric Sikes (@ericlemson) February 2, 2019
This is Watson???? he loves his tigers! pic.twitter.com/wJiqyH7TkJ

— Ashley?Larry (@AshleyLarry) February 2, 2019
Tillman pic.twitter.com/bNRci8yVWb

— Team Alpha SuperAwesomeCoolDynamiteWolfSquadron (@dgstiger) February 2, 2019
This is Zailey, been a Clemson fan for almost 6 years! pic.twitter.com/jtGaXeHDgL

— Jesse A. Hinson (@jessetigers) February 2, 2019
Hunter, happy to be a Clemson Tiger!! pic.twitter.com/jRYlqjWHug

— Kristi Hartman (@KristiHartman1) February 2, 2019
This is Boyd pic.twitter.com/q0B2n0gl5q

— Kevin Brown (@KevWCU) February 2, 2019
Renfrow (Ren) and Banks pic.twitter.com/Y4CKEDPCdx

— tigerpaw4life (@tigerpaw4life) February 2, 2019
Riggs - named after Walter Riggs "Father of Clemson Football". @ALLIN pic.twitter.com/e7prclrmtn

— Carla Stokes Lee (@CarlaDStokes) February 2, 2019
Bowman ?? pic.twitter.com/SGqcYccxTO

— Anna (@a_fryyyyy) February 2, 2019
This is Hank @walkerparks64 dog?????? Go Tigers! pic.twitter.com/9Q2UjnSfdT

— beth parks (@bethdparks) February 3, 2019
February 2, 2019
Here's Hunter pic.twitter.com/l2mnZ70Q3W

— Cindy (@toesinthesand22) February 2, 2019
This is Tiger pic.twitter.com/x0e00kmXv9

— George Battersby (@G_Battersby) February 2, 2019
Meet Sugar Kozmic! pic.twitter.com/eFOvboQFbf

— cheryl Kozmic (@CKozmic) February 3, 2019
Cash show me the money Renfrow pic.twitter.com/gX5wKKy3wk

— JJmullane327 (@Cutmaker65) February 3, 2019
Heidi is 15 and still #ALLIN pic.twitter.com/wRgdRyk4n6

— David Webb (@nycdavidwebb) February 3, 2019
Tillman a.k.a. Tilly pic.twitter.com/1W2EZ5qajo

— Andrew de Holl (@de_holl) February 3, 2019
#Tank is always #AllIn #maltipoo ?? pic.twitter.com/778RM5fqll

— Kelly (@kellyclapp20) February 3, 2019
Vincent Van Gogh (Vince). Golden Retriever born without a left ear. The Tigers have been to the playoffs 4 times with two National Championships since he's been around #luckycharm pic.twitter.com/Hi5JVnEanw

— Tim Corley (@tccu99) February 3, 2019
February 3, 2019
Meet Riggs (labradoodle) and Watson (cat)! pic.twitter.com/jHvaBOrV6D

— Lori White (@Lori_S_White) February 3, 2019
This fella is Tigg. Going strong at 17 1/2. pic.twitter.com/ZgEUSEYnjG

— Steve Johnson (@SJ1Clemmie) February 3, 2019
Kramer pic.twitter.com/d9WkuZH1DK

— Bruno Cox (@BrunoJamesCox) February 3, 2019
Dexter is All In! 15-0 in his young life! pic.twitter.com/PPI05TLEgp

— David Steinberg (@dmsclemson) February 2, 2019
Watson, named after #4 himself pic.twitter.com/fPlnuHKHCU

— Michael Savacool (@msavacool92) February 2, 2019
This is Dexter. pic.twitter.com/9CFP9EGXcj

— Jake Workman (@jakiejake11) February 2, 2019
This is Bubba pic.twitter.com/AqvN5XpTH8

— JohnJohn111 (@JohnJohn11501) February 2, 2019
Clemson the Tabby Tiger pic.twitter.com/oxhrFJ1D0a

— Matt Traylor (@ballcardz) February 2, 2019
Tiger pic.twitter.com/w0CK0fS3Bj

— Prognosticator (@GridironGazette) February 2, 2019
This is my sweet Dabo! Rescued from the Pickens County Humane Society pic.twitter.com/8xamxVkKbY

— Becca Turner (@beccagturner) February 2, 2019
If you look to the right of the picture you can see our cat Tiger. pic.twitter.com/n86eN5TftF

— ???? Mike Bernat ?? ?? (@mbernat77) February 2, 2019
This is Ford.....approved by Danny at the Blue Heron in 2013. pic.twitter.com/4sqpRsnsxf

— Bo Charpia (@bocharpia) February 3, 2019
Renfrow (or Rennie) and the Power Rangers (all foster pups). pic.twitter.com/sb8E5CpIwv

— Shawn Haney (@shawndhaney) February 3, 2019
Ren for Renfrow pic.twitter.com/YILjTqB2KV

— Pete Nikolakakos (@PeteNikolakakos) February 2, 2019
This is Dabo pic.twitter.com/PSoX4edXZI

— Joey Smith (@joey_jsmith) February 2, 2019
February 2, 2019
February 2, 2019
Riggs, Jervey and Cooper pic.twitter.com/AA0LzaG44M

— Jane Johnson (@tigermomjj) February 2, 2019
Copper is #all in pic.twitter.com/BpshJpIPFb

— Denise Mauro (@denise_mauro) February 3, 2019
This is Renfrow. pic.twitter.com/5zXz4WWsrB

— Ray Ford (@rayferd13) February 3, 2019
This is our Riggs. He is 9 months old. #ALLIN pic.twitter.com/KirmjQjV9i

— Allison Munn (@alliecmunn) February 3, 2019
This is Renny????she can catch anything thrown at her... even birds! pic.twitter.com/Hyv1shUiXC

— Shannon Britton (@tylerclaymom) February 3, 2019
Tajh is a huge Tiger fan! pic.twitter.com/9IaI5eneaK

— Sherry Orloff (@OrloffSherry) February 3, 2019
This is Bowman... on Bowman Field pic.twitter.com/R9MthbfgEM

— Blake S (@B_Sum88) February 3, 2019
This is Bowman now. pic.twitter.com/mOcXR4x9Fe

— Blake S (@B_Sum88) February 3, 2019
This is Peanut. Found at Spill The Beans in downtown Clemson. He now lives in San Diego but he's pure South y'all. pic.twitter.com/ieg2CpLfqQ

— Lisa - TigerMama - GMama (@Tigermama28) February 3, 2019
Our newest addition - Bowman pic.twitter.com/QNdoQosdLv

— Upstate Turtle (@UpstateTurtle) February 3, 2019
##Spiller_the_Cat and my newest, Miss Ettiene, #EtieKitty pic.twitter.com/Jv4YyeoQEa

— catherine myrick (@myrickcatherine) February 3, 2019
Here's Dabo, he actually growls like a tiger!!! pic.twitter.com/NrECXQV7h1

— BabsABronzeKey (@BabsABronzeKey) February 3, 2019
Abby, the cheer weiner. pic.twitter.com/jiISupDskL

— Skydash (@skydash) February 3, 2019
This is Esso. He's a good boy. ???? pic.twitter.com/t22SwdN7gB

— Jennifer Quattlebaum (@jenquattlebaum) February 3, 2019
Murphy is #ALLIN pic.twitter.com/MEOc9mKq4v

— Abby Martin (@intownmom) February 2, 2019
Sir Finn loves Clemson pic.twitter.com/4fra7HSULs

— Tracy Stanton (@stantontwinsmom) February 2, 2019
Perrie (Refrigerator Perry) says, Go Tigers! pic.twitter.com/MvwMs35F7e

— Jeff Holliday (@holliday_js) February 2, 2019
Say hi to Watson pic.twitter.com/Edg0mxCHER

— Andrew Holsenback (@arholsenback) February 2, 2019
This is our boy Clemson, representing in Texas! pic.twitter.com/CehYdy5GPW

— txhaps (@txhaps) February 2, 2019
February 2, 2019
Daisy Grace! pic.twitter.com/bzadXqSjsp

— Michael Hulisz (@michaelhulisz) February 2, 2019
Thomas Green pic.twitter.com/AljWkiFHmu

— Kyle (@kgcaldwell) February 2, 2019
Bear ~Phantom Standard Poodle pic.twitter.com/l1PRfxElLJ

— Karen Beck (@kb_beck) February 3, 2019
This is Swinney, my orange tabby! pic.twitter.com/GiuQrtUWbC

— J A R E D S T O L T Z ?? (@jaredstoltzsays) February 3, 2019
This is Dabo! #ALLIN pic.twitter.com/o3YQM8lnDk

— Mark Stoffel (@M_Stoffel1984) February 3, 2019
Correction: This is Renfrow the puppy pic.twitter.com/L4a1irHanD

— Kelsey Nicole (@KelseyNK24) February 3, 2019
Dabo pic.twitter.com/1dqydQV3Qn

— Kathy Thomason (@ThomasonKathy) February 3, 2019
Barley. My clemson loving Aussie pup who's "high five" cue is "Go Tigers" pic.twitter.com/ILyOe7kKnW

— alexis? (@Lexielouwho14) February 3, 2019
Holly Girl missing her Tigers! ?????? pic.twitter.com/gDuHeh0gd7

— M (@truRWB) February 2, 2019
Ginger: A German Sheppard with the heart of a Tiger! pic.twitter.com/BTA9num7eT

— Robert J Pape Jr (@RobertJPapeJr) February 2, 2019
Swinney the Husky pic.twitter.com/DASJdyG0Bd

— katylouhoo (@KatyHooley) February 3, 2019
February 2, 2019
Bear ~Phantom Standard Poodle pic.twitter.com/l1PRfxElLJ

— Karen Beck (@kb_beck) February 3, 2019
This is Beasley pic.twitter.com/pS1uLTwyj0

— Sally Cauthen (@sallymackenziee) February 3, 2019
Meet #HunterWinfrow my 6 month old Golden Doodle. pic.twitter.com/I6BZJLwtrg

— Tommy Chastain (@TommyChastain) February 3, 2019
Please meet Riggs! He says "Go Tigers" pic.twitter.com/BLJVgGmVpZ

— Nancye Charpia (@NancyeCharpia) February 3, 2019
Frank "Howard" pic.twitter.com/Y54Br5vsAC

— Charles (@TegaCay_Fun) February 3, 2019
Daisy May staying warm in her Clemson hoodie #allin pic.twitter.com/rB3l5XNIWX

— Jonathan Weaver (@jonathanweaver_) February 3, 2019
Meet Tiger! He rules our house! He has a mighty ROAR! #allin #orangetabby pic.twitter.com/kNjLgjAAcs

— Lisa Jackson (@LisaLJackson66) February 3, 2019
Jackson my Clemson football watching pal pic.twitter.com/ikxWxh60Oq

— Joel Richardson (@joelcr357) February 3, 2019
@ClemsonTigerNet Dabo watching Dabo #ALLIN pic.twitter.com/ZmPfX1H2pt

— Meredith Blake shaw (@ShawMeredith) February 3, 2019
Look back at it #ALLIN pic.twitter.com/MvQqibCxFl

— Barbara Acker Moore (@barbmoore) February 3, 2019
Emmie loves her Clemson Tigers pic.twitter.com/XlXaaQNYFA

— Mandy Morrah (@mandymorrah) February 3, 2019
@ClemsonTigerNet Ms Dixie may be a bulldog but she's being raised a Tiger fan. ?????? pic.twitter.com/dNcAYIjPct

— Crystal L Brown (@cryskat) February 3, 2019
Bane loves Clemson ??????! pic.twitter.com/7wkBNRixui

— Samantha Blanton (@samblanton) February 3, 2019
Hazel has been a tiger fan since day 1 pic.twitter.com/KEWTQIqFXJ

— maggie (@magswhar) February 3, 2019
They aren't named after a Clemson theme, but they have lots of Tiger garb. This is how we spend Saturdays watching the Tigers from our new home in Austin, TX. pic.twitter.com/9JU4JFsdkG

— Ashton Norris (@AshtonNorris) February 3, 2019
February 3, 2019
@ClemsonTigerNet Pocahontas is all in ! pic.twitter.com/NR3XAD4Vmp

— Steven (@RedBallin33) February 3, 2019
William Christopher Swinney Vega. "Dabo" for short. @ClemsonTigerNet #allin pic.twitter.com/brWcbPL4Xw

— Danny Vega (@iptay3) February 3, 2019
This is Tater Tot. pic.twitter.com/GQlgzuIErx

— Monica G. (@grumpy_monica) February 3, 2019
February 3, 2019
@ClemsonTigerNet This is Charlie (Whitehurst)#ALLIN pic.twitter.com/OpN2hPXLIb

— Susan Schaaf (@susan_schaaf) February 3, 2019
Meet Watson celebrating the Natty pic.twitter.com/P05jISDYau

— Tate Haymond (@thaymond29) February 3, 2019
Clemmy ?????? pic.twitter.com/voZ6wGMEIw

— Matthew Hunter (@myDIRTYshoe) February 3, 2019
Bleaux After @DeAndreHopkins and @TajhB10 4th and 16 against LSU pic.twitter.com/Yk6tWEhP1R

— Bill (@leopardforest2) February 3, 2019
Bambi the Bama Beater pic.twitter.com/v4jgwWEMTD

— Benji Norton (@EarlyGameBenji) February 3, 2019
February 3, 2019
Meet Sammy Watkins - the world's most handsome kitty since 2011. @sammywatkins #clemsonpets #cufootball #gotigers pic.twitter.com/RlFcnnsJKy

— Elizabeth Edwards (@elizzyedwards) February 3, 2019
My two tigers!! pic.twitter.com/gSDr0Ws5Df

— Patricia Hipps (@phipps1021) February 3, 2019
Meet Tilly Moonpie! She loves her Clemson Tigers! #ALLIN pic.twitter.com/66srnSsm3x

— Susan (@lamontagnes2) February 3, 2019
Meet Mac's Drive-In... pic.twitter.com/LwaKiJNv86

— Alex Hamilton (@alexbhamilto) February 3, 2019
Hunter Renfrow ???????? pic.twitter.com/HGFqFzFvg0

— James (@bluehunttiger) February 3, 2019
Zeus pic.twitter.com/lFNG5wg9HS

— DEPLORABLEME (@DEPLORA50460459) February 3, 2019
Dabo Snow pic.twitter.com/yGthXPNmze

— Will Snow (@willsnow88) February 3, 2019
This is Natty-got her after the 2016 Natty pic.twitter.com/mUcxZcPtpw

— Stephanie Kernaghan (@StephanieKernag) February 3, 2019
Meet Roscoe "Dabo" Goodman. Was too old for me to change his name when I rescued him, so gave him a middle name ???????? pic.twitter.com/0dDLwmCjM9

— Diane Goodman (@dkgoodman27) February 3, 2019
Meet Bodi!! Class of 2021 early commit! pic.twitter.com/LTz9O6BxQz

— Donna Brown (@donnabrown1114) February 3, 2019
Meet Watson! #DW4 pic.twitter.com/rhLW1RICAK

— Neale Madden (@NealeMadden) February 3, 2019
?@ClemsonTigerNet? #ALLIN #puppybowl pic.twitter.com/saYnRVTAk3

— Alexis Woosley (@alexisannie) February 3, 2019