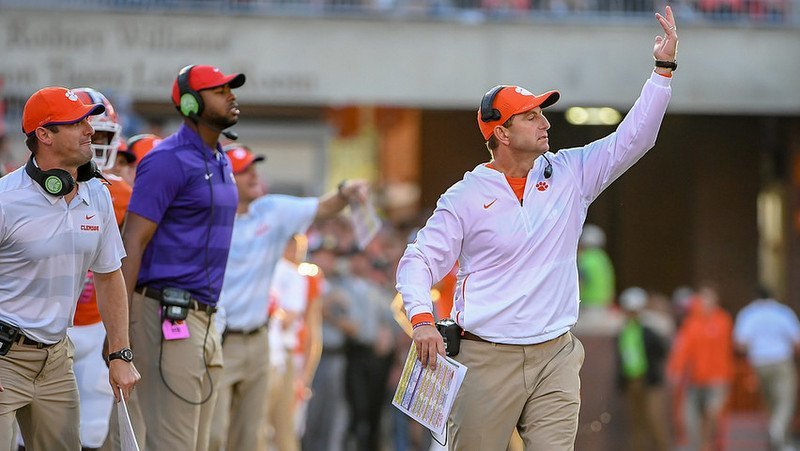 | | |
| --- | --- |
| Dabo Swinney Wednesday teleconference transcript | |
---
| | | |
| --- | --- | --- |
| Wednesday, October 31, 2018, 11:05 AM | | |
Clemson coach Dabo Swinney held his weekly interview on the ACC coaches teleconference Wednesday morning.
Swinney talked about the keys to dominant efforts in the last two games and whether the Tigers are pulling away from the pack in the ACC.
Check out the full transcript below from Swinney, as well as Louisville head coach Bobby Petrino:
Introduction
DABO SWINNEY: We're excited to get back home this week. Our schedule this year has been kind of off and on, off and on, haven't really had back to back home games. We're coming off a big win down there at Florida State, really proud of our team. That's always an incredibly difficult place to play and certainly win. So it was just a great win for us.
I thought that our team got better. I like where we are right now. We've got good momentum. But back in division play again this week here at home, and we've got a lot of respect for Louisville. They've got a bunch of outstanding football players, and I know they've had a couple tough losses, but this is a team that has a lot of potential and a lot of capability. I think it is improving.
Coach Petrino does an amazing job with their scheme. I mean, they really create a lot of problems for you, and you'd better show up and be ready to play because schematically they challenge you and can expose you if you're not dialed in. And they've got really good players, really good receivers, quarterback is getting better and better. He's an excellent runner, as well. Good backs, big tight end. Defensive line, very impressed with those guys. Big, big strong guys, and some guys that can run in the back seven.
Looking forward to it. Again, excited to be back home, and hopefully we can continue to play winning football.
Q. If you could kind of fight the urge to be diplomatic on this question, I'm looking at the score for FSU and the score for NC State. Has your program put more distance between itself and the rest of the conference at this point?
DABO SWINNEY: No. I mean, I don't really buy into that or think of it that way. I really don't. I know we've played well in the last three ballgames. But man, we were very fortunate to win the Syracuse game. That came down to the last deal, fourth quarter there. But these last three ballgames our team has really played well, and I think it's more a reflection of that than it is us measuring ourselves against everybody else in the league and all that stuff. I don't know. I haven't seen everybody in the league. All I can tell you is our team has played very well the last three ballgames, complemented each other. It's a reflection of us being even or winning the turnover margin, really doing a great job in special teams, being the least penalized team. To me the combination of that has allowed us to have the type of games we've had.
Q. How has Trayvon Mullen played this season?
DABO SWINNEY: Awesome. I mean, he's one of the best players we've got on this team, and he's one of the best I've ever coached at his position. I mean, he is special. He's played very well, but the thing about him is he is one of the most committed guys we have on this team. Just a great preparer, all about the right things, unbelievable team guy, sets the example, practices hard every day, and just a fun guy to be around. Really proud of him. I mean, he is -- just as we thought when we recruited him, we thought he would turn out to be one of the best, and he is.
Q. What are you noticing with your offense in the last three games to kind of explain why they seem to be up to another level here as of late?
DABO SWINNEY: Yeah, well, we've just matured and grown into our identity. I think the play of Trevor (Lawrence) has been amazing. He's just been awesome, done a great job with managing the game, and he's made some incredible throws. Our receivers have played very well, and I think just our ability to have balance. We're one of the few teams out there that's up there in passing and rushing, one of the better rush offenses in the country and pass offenses in the country, and that's -- everybody wants to do that, but that's really hard to achieve. So I think our balance, the fact that we have run the football so effectively this year, and then just the big play ability that we have at receiver and the performance of Trevor. And I think our offensive line has really improved as we've gone through the season. They're really playing well for us right now. We had no sacks against Florida State, and they had Burns on their team, who's leading the nation in sacks. So we're just playing winning football right now and taking care of the ball, winning that field position battle, and kind of that game within the game.
Q. Just flipping the question to the other side of the ball, you've allowed 20 points combined the last three games, but all three, I believe, under 300 yards total offense. Who or what defensively has kicked you guys into another gear?
DABO SWINNEY: Yeah, well, I think we've played well defensively all year, outside of the fourth quarter of the Texas A&M game. I thought we really kind of lost our way in that -- we were up two touchdowns in the fourth quarter, and we had some big busts, misalignments, I mean, just kind of lost our way.
Outside of that fourth quarter and maybe the last quarter and a half of that Texas A&M game, I think our defense has played well all year. I think we've been very consistent. We've played three triple option teams, and we out-rushed all those teams, and that's hard to do when you're playing an option team.
Just really proud of the consistency. We're playing great up front. I think our guys are healthy. We've been able to develop some really quality depth, and our staff does an amazing job.
I think three of our first four games were triple option teams, and then as we kind of got into the rhythm of our normal defense, I think that's also been a factor, as you've seen our guys improve and become more consistent, especially on the back end. I think that that's been a factor because we've played, like I said, a little more traditional offenses, things that they practice against every day, and I think that's helped them to get in a little bit of a comfort zone and grow their confidence.
Q. Talk about (Jaylen) Smith, the wide receiver for Louisville; what type of player is he? He's explosive, if you guys don't contain him at the line of scrimmage he could burn you for big plays.
DABO SWINNEY: Yeah, they've got a bunch of good receivers. That's a definite strength of their team. They're very talented but big. Smith is -- he's 6'4", 220 pounds, and we've seen him every year, so we're very well aware of the challenge that they present. This quarterback threw for 300 something yards last week. He's improving. He's a young player, and again, scheme-wise, they know what they're doing. They know how to attack you and create good opportunities for their guys. The ball goes downfield. They trust those big guys to go up and make those competitive one-on-one plays. But he's definitely -- this whole receiving corps is definitely one of the best receiving corps we've seen.
Louisville coach Bobby Petrino
BOBBY PETRINO: We're looking forward to traveling to Clemson and playing in front of that atmosphere. You know, it's one of the toughest atmospheres there is in the country, and the crowd and the noise and everything that you have to deal with, so we've been working hard at that. They're a really good football team. They've got a great defense. Their defensive front, their coverage guys, their linebackers can all run and are very, very active, so we know that's a great challenge.
And then offensively, you know, you have to be able to stop or try to stop the two things that they can do really well, and that's run the ball and throw it. You know, their quarterback has really improved, got a great arm, so we've got to come in and try to stop the run and force them to get in 3rd and long situations.
Q. We heard so much about their defensive front coming into the year, and obviously they've lived up to some of that. What do you see when you look at that group?
BOBBY PETRINO: Well, we know them real well because we've been going against them every year. But they have the combination of size, physicalness, speed. They all move really well and change directions. And then they know the game. You know, they're very well-coached, and they understand the game, so they make it hard on your blocking schemes.
Q. And they got some attention there running some of those defensive tackles at fullback. In that kind of an offense, we know you guys did that with Mekhi, but what does it say about linemen and guys that size when they're able to take on roles like that?
BOBBY PETRINO: Yeah, you know, the first thing it does is it makes it fun in practice and the attitude changes a little bit, so it's good for your team. But guys just keep getting more agile and bigger, and they can help in different parts of the game besides just playing on the defensive front or the offensive front.
Q. I know you had a number of recruits in town on Saturday, and obviously you do for every home game. With things going the way they are this season with the losses, what has been your recruiting pitch to guys, and what would you want them to know?
BOBBY PETRINO: You know, you just keep recruiting. That's what you always do, and our ability to get them here and get them to our new facility and see all the positive things that we've got going on, the commitment that the administration has made, they all understand that we have a very young team, so they're excited.
Q. As far as your own team is concerned, when you're going over game film with them, what do you point to when you say, if we want to be in a closer game this week, if we want to be more competitive this week, if we want to hang with Clemson, give them a game, here's what we have to do better than we did against Wake Forest?
BOBBY PETRINO: Yeah, you know, definitely the ability to stop the run and play our gap responsibilities, get off blocks and tackle better defensively is something that is a must in this game. They've got great running backs, a lot of speed and can make big plays. We have to get in good positions, and we have to get our safeties where they belong and correlate that with the linebackers.
You know, offensively I think the thing that you have to do is move the ball and get 1st downs so that they're not three-and-out and getting their offense back on the field. The longer you can keep them on the field, the better chance you have to move the ball and be successful.
Q. As an offensive guy, what makes Brent Venables so tough to scheme against?
BOBBY PETRINO: Well, you know, he's unique in the fact that they really hold their defense and get the calls in real late. A lot of times they understand whether you're running the ball or passing the ball, and they just do a good job of moving their front and taking away what you do best. He's had a lot of success in being able to stop the run and defend the pass and hit the quarterback. So that combination of what they do is hard on you.
Q. I don't know if they talked about Lawrence in the beginning. What type of quarterback is he, and how do you prepare for a quarterback who's very tall and he can literally gun-sling it?
BOBBY PETRINO: Yeah, he can really spin the ball. He's got a quick release and can really snap his wrist. He's young, and I guess that's the one thing that you try to do is give him different looks and give him different types of pressures. It's a lot of newness in the game of football. But when he can set his feet and knows what's going on out there and snap his wrist, he can throw it as well as anybody.