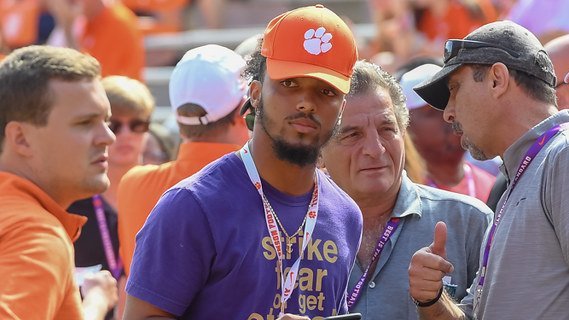 | | |
| --- | --- |
| Clemson releases jersey numbers for summer enrollees | |
---
| | | |
| --- | --- | --- |
| Sunday, June 23, 2019, 8:53 PM | | |
Clemson football announced the uniform numbers for its summer enrollees via social media on Sunday, coinciding with their arrivals on campus this week.
Incoming 5-star cornerback Andrew Booth will wear No. 23, joined on the defensive side by linebackers Kane Patterson (17), Bryton Constantin (21), Keith Maguire (30), LaVonta Bentley (42) and Greg Williams (40) and safety Jalyn Phillips (25) and defensive tackle Tayquon Johnson (52).
On offense, scholarship prospects include running backs Michel Dukes (19) and Chez Mellusi (27), offensive lineman Mason Trotter (50) and tight end Davis Allen (84).
More summer enrollee numbers
WR Hampton Earle (29)
DB Jake Herbstreit (37)
K Jonathan Weitz (41)
LB David Cote (48)
LB Matthew Maloney (49)
OL Mac Cranford (60)
WR Tye Herbstreit (86)
WR Hamp Greene (87)
DL Nick Eddis (91)
The entire #WeTooDeep19 Class is on campus??

New ?? means new ???? to get to know! #ALLIN pic.twitter.com/eKTZpMpSCG

— Clemson Football (@ClemsonFB) June 23, 2019
Davis Allen 8??4??
LaVonta Bentley 4??2??
Andrew Booth 2??3??
Bryton Constantin 2??1??#ALLIN pic.twitter.com/VHbS2XtBOT

— Clemson Football (@ClemsonFB) June 23, 2019
David Cote 4??8??
Mac Cranford 6??0??
Michel Dukes 1??9??
Hampton Earle 2??9??#ALLIN pic.twitter.com/DANHMJDcgH

— Clemson Football (@ClemsonFB) June 23, 2019
Nick Eddis 9??1??
Hamp Greene 8??7??
Jake Herbstreit 3??7??
Tye Herbstreit 8??6??#ALLIN pic.twitter.com/qEzibJ1Fdi

— Clemson Football (@ClemsonFB) June 23, 2019
Tayquon Johnson 5??2??
Keith Maguire 3??0??
Matthew Maloney 4??9??
Chez Mellusi 2??7??#ALLIN pic.twitter.com/dRM5nhRbwT

— Clemson Football (@ClemsonFB) June 23, 2019
Kane Patterson 1??7??
Jalyn Phillips 2??5??
Mason Trotter 5??0??
Jonathan Weitz 4??1??#ALLIN pic.twitter.com/5lpnIOBn5U

— Clemson Football (@ClemsonFB) June 23, 2019
And last but not least!

Greg Williams 4??0??

Stay tuned with ClemsonFB across all platforms this week to get to know our newest ???? #ALLIN pic.twitter.com/OpNATxbPpO

— Clemson Football (@ClemsonFB) June 23, 2019