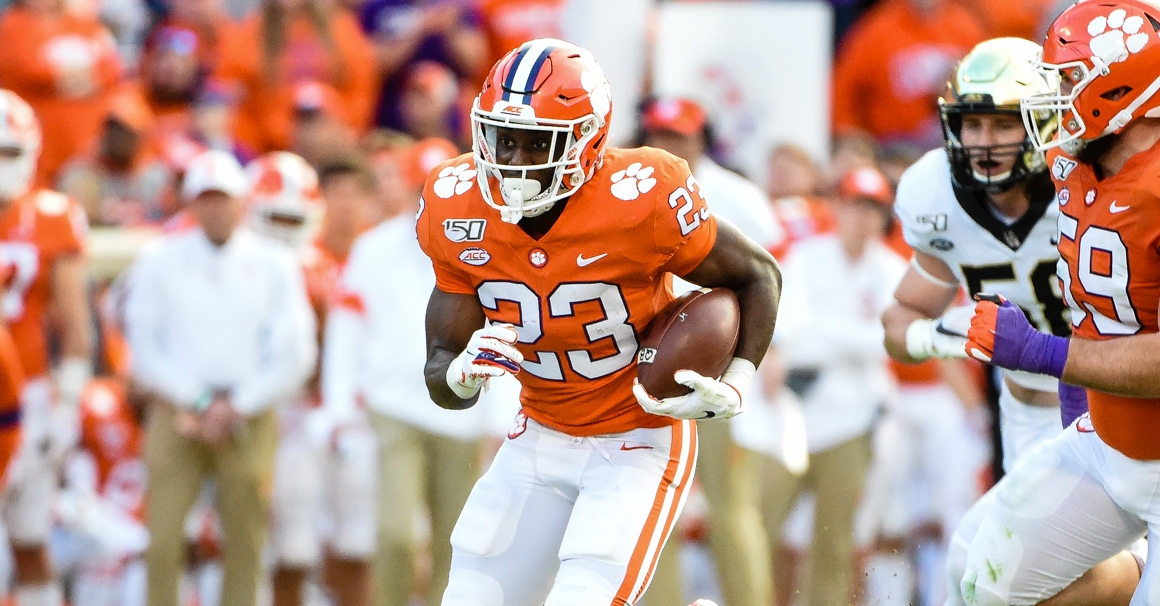 | | |
| --- | --- |
| Clemson ranked No. 3 in updated AP Poll | |
---
| | | |
| --- | --- | --- |
| Sunday, November 17, 2019, 2:06 PM | | |
Clemson maintained its AP ranking in a rarity since October after shifts from No. 1 to No. 4 and then back up to No. 3 last week.
LSU stayed atop the ranking for a third-straight week ahead of Ohio State, Clemson, Georgia and Alabama.
Alabama fell a spot despite its win, resembling the latest College Football Playoff rankings and with the additional news of Tua Tagovailoa's injury.
Virginia Tech joined the top-25 from the ACC, at No. 25, as well as week two win Texas A&M at No. 24.
AP Poll - 11/17
RANK TEAM PV RANK POINTS
1 LSU (10-0) 1 1,542
2 Ohio State (10-0) 2 1,478
3 Clemson (11-0) 3 1,442
4 Georgia (9-1) 5 1,343
5 Alabama (9-1) 4 1,263
6 Oregon (9-1) 6 1,243
7 Utah (9-1) 8 1,155
8 Oklahoma (9-1) 10 1,144
9 Penn State (9-1) 9 1,030
10 Florida (9-2) 11 984
11 Minnesota (9-1) 7 902
12 Michigan (8-2) 14 829
13 Baylor (9-1) 12 787
14 Wisconsin (8-2) 15 746
15 Notre Dame (8-2) 16 676
16 Auburn (7-3) 13 623
17 Cincinnati (9-1) 17 536
18 Memphis (9-1) 18 520
19 Iowa (7-3) 23 493
20 Boise State (9-1) 19 379
21 SMU (9-1) 20 328
22 Oklahoma State (7-3) 25 200
23 Appalachian State (9-1) 154
24 Texas A&M (7-3) 132
25 Virginia Tech (7-3) 61
Others receiving votes:
Indiana 47, Iowa State 31, Virginia 23, Navy 13, Air Force 12, Pittsburgh 9, San Diego State 7, USC 6, Washington 6, Texas 4, Illinois 1