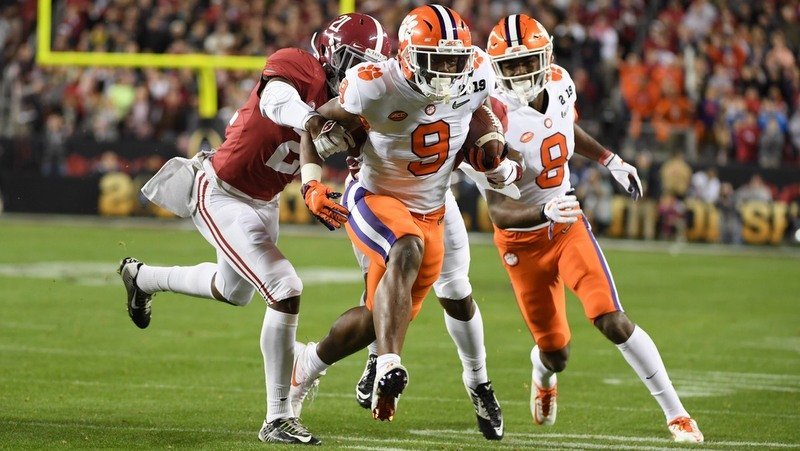 | | |
| --- | --- |
| CFB announcer tells Finebaum Clemson will 'beatdown' Alabama again | |
---
| | | |
| --- | --- | --- |
| Thursday, July 11, 2019, 8:15 PM | | |
Longtime college football announcer Tim Brando went on the SEC Network's Paul Finebaum Show on Thursday to give his projected top-10 and national champ for the 2019 season.
Brando expects a Clemson repeat in more than one way.
"Alabama gets there (to the national title game) and they're going to win every game (in the regular season), including the matchup against Georgia and that means they get Clemson at the top," Brando said. "'Little ole Clemson' again. And I don't see anyway you stop Clemson from beating them down again. I see a beatdown very similar to the one we saw a year ago. Yeah, it was 28 points then.
"I think it's going to be over 2.5 to 3 touchdowns this year."
Brando sees the Big 12 playing its way out of the Playoff with some upsets and therefore opening the door for another two-SEC-team CFP, with Georgia at No. 4 and Alabama at No. 2. He's a big fan of the Bulldogs in 2019 but doesn't think they can overcome the Crimson Tide this season.
"If Georgia didn't have to play Alabama in the SEC Championship game, would they be a lock to be No. 1?" Brando asked Finebaum. "Think about it. Would they be a lock? Sure they would. Do you see a loss anywhere on Georgia's schedule? I've got Georgia at (No.) 4 because they're going to lose to Alabama again. Only this time...when you look at the schedule and the way it sets up, Georgia's not going to get heat from their non-conference schedule...I think Georgia is just about ready to overtake Alabama as the powerhouse of the SEC but I can't put them ahead of Alabama if they're going to lose in the SEC title game."
Michigan rounds out his top-four with Oklahoma just on the outside-looking in, followed by LSU, Texas, Nebraska, Oregon and the winner of the American Athletic Conference (Memphis or UCF).
...and here is Timmy B's Top 5, he sees Michigan finally getting past Ohio State, and Clemson staying ahead of the Crimson Tide pic.twitter.com/eNZiLUNtOW

— Paul Finebaum (@finebaum) July 11, 2019
"Scott Frost is a transformational coach" says @TimBrando, who believes Frost will have the Cornhuskers back in the Top 10 by the end of this season. pic.twitter.com/WSapyf0J2Y

— Paul Finebaum (@finebaum) July 11, 2019