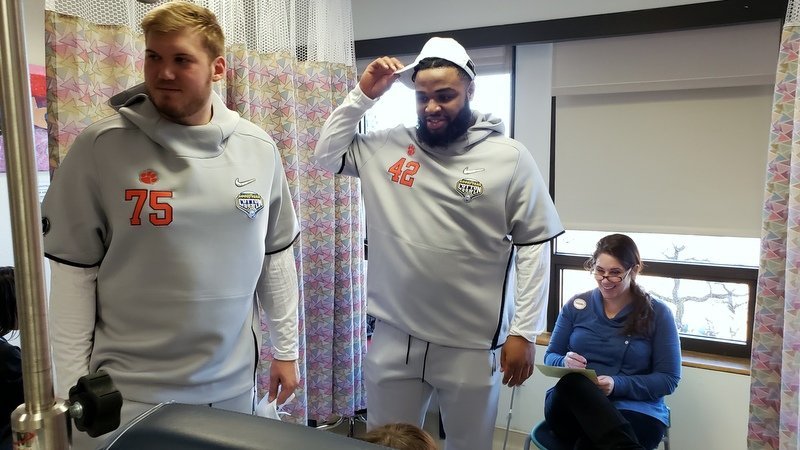 | | |
| --- | --- |
| Bowl hospital visit 'a real privilege' for Tigers | |
---
| | | |
| --- | --- | --- |
| Thursday, December 27, 2018, 2:46 PM | | |
DALLAS – The Clemson Tigers took some time outside of their preparation for this year's College Football Playoff Semifinal at the 83rd Goodyear Cotton Bowl Classic to visit patients of Texas Scottish Rite Hospital for Children.
Head Coach Dabo Swinney and the entire squad visited with the patients inside Texas Scottish Rite Hospital for Children cafeteria where many activities like Fortnite Dancing, cornhole and arts and crafts awaited them. Scottish Rite's President Doug Walker gave a grand welcome to all in attendance, followed by a special $10,000 check presentation by General Manager of Goodyear North America, Todd Macsuga. The squad was also welcomed by a couple of special guests, Layton Horner, patient of Scottish Rite and honorary captain, and patient Sophia Guilkey who presented the team with a drawing she created of a football that honored this coming Saturday's matchup.
Coach Swinney was honored to be in attendance, holding ties and passion to what Texas Scottish Rite Hospital for Children does. Prior to his coaching career, Swinney studied to be a hospital administrator and looked to run a children's hospital like Scottish Rite, because of what his mother went through as a child. She was diagnosed with polio and severe scoliosis and was in a hospital similar to Scottish Rite for 10 years.
"This is a real privilege for us," said Swinney. "For me its personal. My sweet mom of 74 spent the first 10 years of her life in a children's hospital in Birmingham, Ala. My mom is a big reason why I'm here and the main reason she's here is because of the great work of the children's hospital. To have facilities like this that a kid can come to and get better is amazing. I know the work that goes into it and it's an honor to be here."
For the Tigers student-athletes it was an honor and time for them to spread cheer and love to the patients. QB Trevor Lawrence was grateful to be there, as he loves to give back and spend some time with the children and keep them in good spirits.
"This is an awesome time," said Lawrence. "I think it's importance to give back and I'm grateful to Coach Swinney and everyone who sets these up has a good mind to allow us to go to these places. It's cool to give back to this community and cheer the kids up a little bit."
CB Trayvon Mullen was going around the cafeteria and enjoying the moments with the children as he autographed Scottish Rite caps for the children, showing the appreciation and love he has for them.
"At the end of the day, this is what it's all about," said Mullen. "Even though we have a big game Saturday, we still make the time to come show our love and appreciation because on the football field that is what we do as well. We show how much we love and care for each other, even though we may not know each other, the love is still there, and you must have some soft spot in your heart for everyone."
As the morning passed on, each child was given a Cotton Bowl goodie bag filled with trinkets representing the big game by employees of American Airlines. Inside the bag was an 83rd Goodyear Cotton Bowl Classic t-shirt and poster provided by the Cotton Bowl Athletic Association, stuffed teddy bear and football, provided by Goodyear, crayons and a clear plastic Clemson Tigers backpack filled with pom poms, a t-shirt and stickers given by the Clemson squad. Refreshments were provided by Dr Pepper/Snapple.
The Goodyear Cotton Bowl Classic celebrates its 83rd anniversary on Saturday, Dec. 29. Live coverage on ESPN is set for 3 p.m. CST, with kickoff slated for 3:10 p.m.
Trevor Lawrence isn't immune from some pranks this week. #Clemson pic.twitter.com/TzECbmOU6F

— TigerNet.com (@ClemsonTigerNet) December 27, 2018
Welcome to the #ClemsonFamily, Layton! pic.twitter.com/P6DqLiNS3b

— Clemson Football (@ClemsonFB) December 27, 2018
Clelin Ferrell holding a young patient pic.twitter.com/xLqFHWlet4

— TigerNet.com (@ClemsonTigerNet) December 27, 2018
Dabo talking to doctors pic.twitter.com/lbxf7rn9L8

— TigerNet.com (@ClemsonTigerNet) December 27, 2018
Dabo Swinney poses with a doctor wearing a Clemson Mom shirt. pic.twitter.com/fD6lNq1V0B

— TigerNet.com (@ClemsonTigerNet) December 27, 2018
Christian Wilkins presents a signed hat to a patient pic.twitter.com/gPl9jkipda

— TigerNet.com (@ClemsonTigerNet) December 27, 2018
Justin Facinelli in the infusion room pic.twitter.com/hPbsjsGOcO

— TigerNet.com (@ClemsonTigerNet) December 27, 2018
Christian Wilkins and Mitch Hyatt talk to a young lady receiving an infusion. pic.twitter.com/LZvA4XJ9iB

— TigerNet.com (@ClemsonTigerNet) December 27, 2018
The scene at Scottish Rite pic.twitter.com/8NPAStWDnS

— TigerNet.com (@ClemsonTigerNet) December 27, 2018