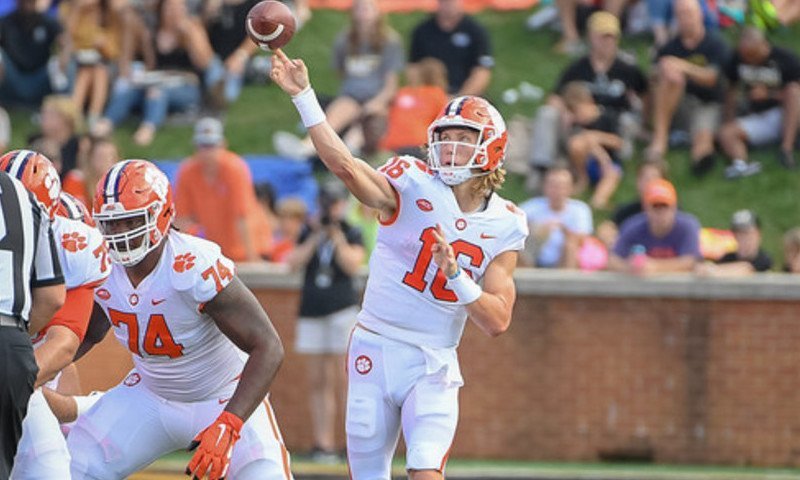 | | |
| --- | --- |
| Advanced outlook: Clemson midseason metrics show nation-leading numbers | |
---
| | | |
| --- | --- | --- |
| Thursday, October 11, 2018, 5:31 PM | | |
Clemson's offensive uptick and defensive dominance has it as a far-and-away leader in one midseason metric.
The numbers make sense with Clemson as the only team in the top-10 on offense and defense nationally, but adjusted for garbage time (extra yards in games out of hand), the Tigers stand even more out.
PhilSteele.com has Clemson with the No. 1 combined yards margin (364.3 YPG) ahead of Alabama (306.9) and Georgia (264). The two SEC schools and 2017 title-game participants join Clemson as the only teams in the top-10 in average margin on offense and defense.
For a third time in the last four games, Clemson ranked in the top-5 nationally success-rate* margin, averaging per play a 36 percent edge on Wake Forest. The big-play-filled day earned the top spot for the week in yards per play margin (+6.8) and the Tigers also earned the top mark for points per scoring opportunity (inside the 40).
Year-to-year, the Tiger offense has currently 35 spots better in offensive efficiency (10) and up over four percent in success rate (50.3). Defensively, Clemson has matched its 2017 finish in defensive success rate by ranking (2) but is better percentage-wise (30.6 versus 32.6).
Efficiency metric ranks: Midseason
ESPN: Overall - 5; Offense - 21; Defense - 1; Special teams - 107.
S&P+: Overall - 2; Offense - 10; Defense - 4; Special teams - 67.
FEI: Overall - 4.
TeamRankings: Overall - 2.
--
By scoring opportunity, Clemson ranks 19th-best in points per trip inside the 40 (5.47) and third-best in defending them (3.14).
In explosiveness, Clemson has made marked improvements season-to-season and even has more to go nationally, ranking 53rd on SB Nation (119th in 2017). It ranks in the top-5 currently in 30-plus-yard (5th; 24), 40+ yard (1st; 17), 50+ yard (1st; 12) and 60+ yard plays (3rd; 6).
As you might expect, the Clemson defensive line has improved year-to-year with the second-best havoc rate nationally (11.6 in TFLs/sacks/PBUs; 7th, 8 rate last year) on a unit that ranks top-10 overall (9th; 21.5).
Metrics tend to disagree on improvement on special teams. SBN ranks Clemson 67th overall, led by a No. 6 mark in kickoff efficiency and then numbers in the 70+ range in FG value (70th), kick return efficiency (72nd), punt efficiency (78th) and punt return efficiency (80th). ESPN has them at 107th in special teams efficiency after an 84th-best finish last season.
Individually, Lyn-J Dixon's 14.6 'highlight' yards per opportunity stands out most among advanced metrics, crediting his yards after the blockers have done their job downfield. With a bigger workload, Travis Etienne's 9.29 yards average is quite impressive as well.
Also of note season-to-season, the sack rate for Clemson's starting QB has gone down from 6.4 with Bryant to 3.8 with Lawrence, and the freshman has improved by just short of two yards per pass attempt on his predecessor as well (8.1-6.2).
Continuing the trend of impact freshmen, Justyn Ross carries a team-leading 15.9 yards per target to go with a top-25 nationally 20.4 yards per catch. Hunter Renfrow joins him in double-digit yards per target (10) with a 77.3 catch rate (third-best, min. 8 targets).
On the defensive side, Clelin Ferrell leads Clemson in both sacks (6) and runs stuffs (9.5) with a team-best 8 TFL.
Backing up the special teams rankings above, freshman BT Potter holds a 97.7 kickoff success rate** in 43 kickoffs, while sophomore Will Spiers has had a 54.2 punt success rate in 24 attempts.
(S&P+ is a Football Study Hall/Football Outsiders metric that combines ratings for the five factors of efficiency, explosiveness, field position, finishing drives and turnovers.
* Success rate on offense and defense is determined by gaining 50 percent of the necessary yardage on first down, 70 percent on second down and 100 percent on third and fourth down.
** Success determined by whether a team is held to its 25 or further back.)